Onus on landlords to open shops suitably
Guwahati has over 65,000 retail stores and nearly 1,200 wholesalers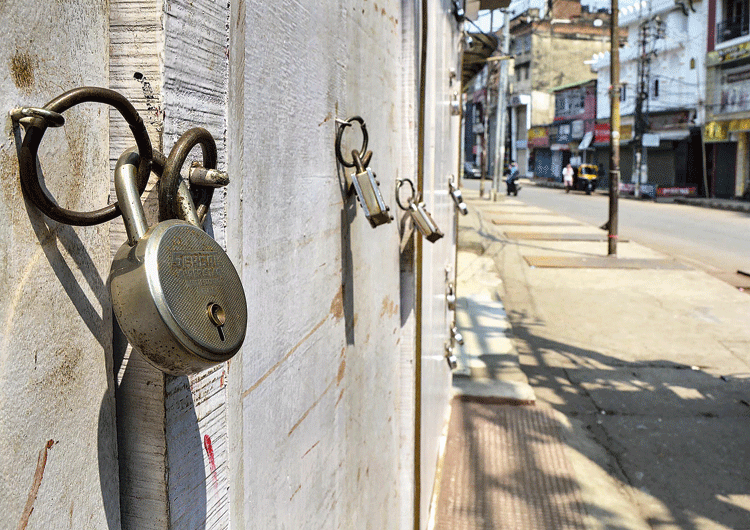 The district administration warned that violation may attract strict action, including cancellation of trade licences.
(PTI)
---
Guwahati
|
Published 04.05.20, 09:35 PM
|
---
The Kamrup (Metro) district administration on Monday put the onus on landlords to decide which shops and business establishments here will open on a particular day in accordance with the administration's one-third rotation policy to check the threat from the novel coronavirus pandemic.
The city has over 65,000 retail shops and nearly 1,200 wholesalers.
The order came after a meeting between the administration and market and business associations here, a day after Dispur announced a slew of relaxations for the 'green zone' districts during the third phase of the nationwide lockdown from Monday. The administration had on Sunday night asked the traders not to open their shops until the list is finalised.
Deputy commissioner Biswajit Pegu said, "While the standalone shops can remain open, in areas like GS Road, RG Baruah Road and other arterial routes where there are adjacent shops, the landlords of the buildings have to ensure there are at least two closed shops in between two open shops. The landlords are being asked to finalize the lists with shopkeepers citing which shops will remain open on which days of the week and submit it before opening their establishments."
The district administration warned that violation may attract strict action, including cancellation of trade licences.
However, pharmacies, groceries and bookshops were exempted from the purview of the selective openings and can remain open on all the days. "One shop can open at least twice a week and all shops will remain closed on Sundays," Pegu said.
However, all market complexes, shopping malls and weekly markets will remain closed. The metro district is labelled a green zone as its only positive case was reported on April 3. The patient has been discharged.
In many areas, the landlords and shopowners have already marked their shops as 1-2-3 or A-B-C to avoid confusion. "If shop A opens on Monday, then B will open on Tuesday and C the next day," said Bibhuti Kalita, a trader.
Shopkeepers were asked to provide masks for their employees and hand sanitisers for customers. All shops were asked to shut at 5pm as the state has already imposed curfew from 6pm to 6am barring essential services.
Sources said business and trade representatives used the meeting to articulate their concerns before the authorities.
They said they were ready to follow all government guidelines but then the latter too should look after their interests and survival and coming up with "practical and easy to implement guidelines".
Traders and shopkeepers especially stressed on the following:
 Government should allow the opening of 30 per cent shops in market complexes and malls by ensuing safety protocols to truly kickstart the economy.
 Government should request banks to waive/reduce interest on loans and defer EMI payment because RBI has extended them assistance to tide over the ongoing crisis. Banks should extend some benefits to them.
 Government should ask landlords to waive/reduce rent for the affected period. The DC later made an appeal to this effect
Prantush Roy, the general secretary of the All Guwahati Traders Association, said, "If shops are open, government will also gain byway of revenue which has dipped because of the lockdown. We are hoping for a positive response."
The traders have decided to move Prime Minister Narendra Modi with their problems.
Additional reporting by our special correspondent in Guwahati