Northeast wildlife in danger
Sources said during the lockdown, jungles have turned into picnics and hunting hotspots for many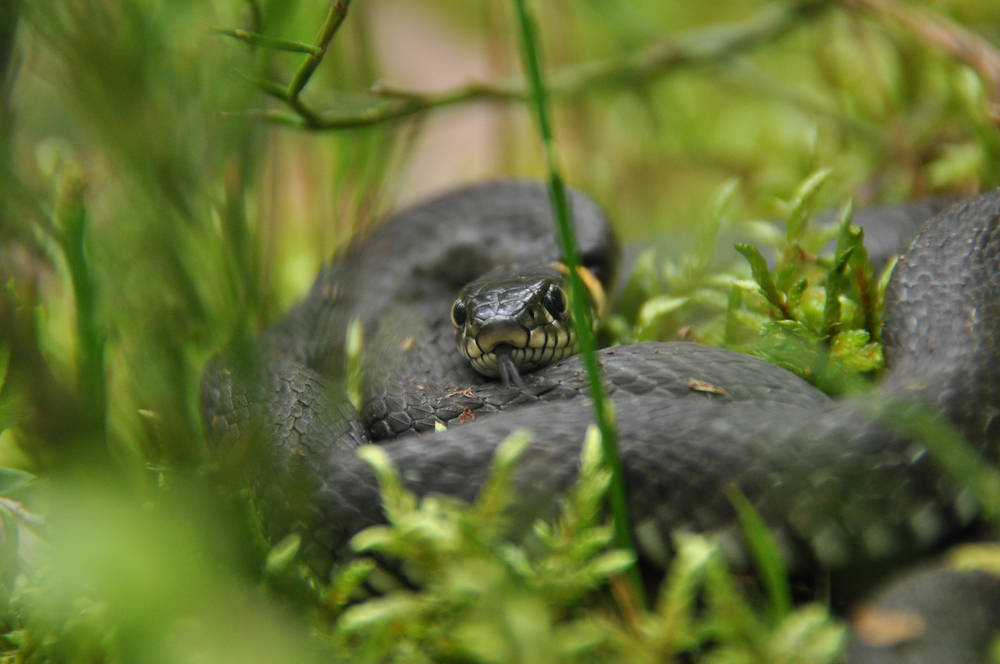 ---
Doomdooma
|
Published 19.04.20, 07:38 PM
|
---
Wildlife is being hunted for meat as people have been entering reserve forest areas in search of food amid a nationwide 40-day lockdown.
A video surfaced on social media (The Telegraph has the video footage) in which three persons are in a hilly location and are seen carrying a dead king cobra. On being questioned about their kill, they answer, "Sarkar kharap mot pao, humlog ka ghar me khane ko nahi tha, lockdown hai na, jungle me xaak-sabji khojne gaya tha, vaha ye king cobra mil gaya, isko khayega. (Government, please don't take it otherwise, we had no food at home due to lockdown so went to jungles in search of vegetables. We found this king cobra, so we will eat it).
Later in the video, they keep the 12-feet snake on a banana leaf, saying all arrangements have been made to cook it.
The video, however, does not reveal the name of the persons, place or the jungles from where the snake was killed and brought but the linguistic and diction indicated that it was from Arunachal Pradesh.
Certain tribes of the Northeast are known to relish eating the meat of wild animals, including insects and worms. Considered to be warriors by nature, they love eating snakes, rats, squirrels, dogs, cats, bats and spider unaware of the coronavirus outbreak, which reportedly spread to humans from bats.
Alarmed by these incidents, Devajit Moran, the secretary of Green Bud Society, an NGO, which works for wildlife conservation, on Sunday sent several pictures of dead wildlife, including squirrels, slow lorises, bats and many birds.
Moran told The Telegraph over phone on Sunday, "Hunting in the reserve forests of Assam is going unchecked during the lockdown. Our on-duty team found and recovered these animals and later called the forest officials and handed them over. It's a matter of grave concern. How are these people able to enter the reserve forests and sanctuaries and hunt them? Hundreds of them are entering and violating the Disaster Management Act in the name searching for wild vegetables and by killing the animals they are violating the Wildlife Protection Acts. I appeal to the government to ensure the safety of each creature, big or small, as they are no less important than humans. Truly speaking, the coronavirus pandemic is the result of harming the flora and fauna of the world."
He also expressed concern over the accidental death of a mother golden langur with its baby in lower Assam on Saturday and the brutal hunting of a wild cat by people to eat.
He appealed to the forest department to take note of such incidents.
He also requested people to drive carefully on roads to save stray animals.
Meanwhile, taking serious cognisance of the offence towards wildlife as circulated on social media, Umesh Kumar, the deputy chief wildlife warden of Arunachal Pradesh, along with other forests and wildlife staff, raided the residence of the cobra hunters at Pachin Colony, Naharlagun.
Kumar, said in a message, "District forest officer in various districts are to be on high alert for such kind of activities in their areas as there are reports that a lot of people are going inside jungles (reserve forests and sanctuaries) for hunting and camping during lockdown."
Sources said during the lockdown, jungles have turned into picnics and hunting hotspots for many.
"The forest department officials are like the parents and guardians of these mute flora and fauna. Should they not come forward to protect them earnestly during this crisis?" Moran asked.