Northeast artistes to entertain over Instagram today
Festival to feature 10 artistes, who will go live on Instagram for 30 minutes each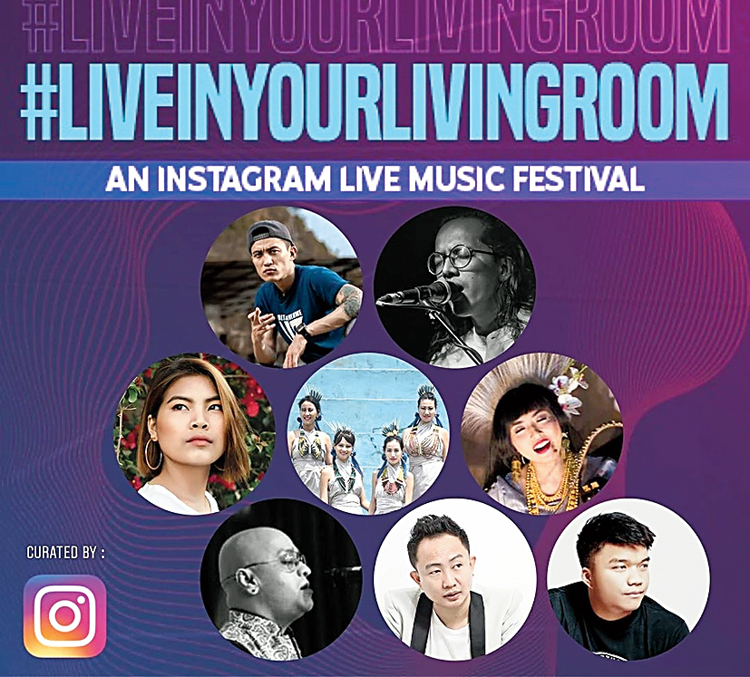 ---
|
Guwahati
|
Published 16.05.20, 07:52 PM
---
As India gears up to enter lockdown 4.0, artistes continue to find new ways to engage with and entertain people. Musicians from the Northeast are also set to present a unique virtual music festival, Live In Your Living Room, on Sunday.
The festival will be held from 6pm till 10pm. It will feature 10 artistes, who will go live on Instagram for 30 minutes each, either individually or in collaboration. The line-up includes Christina Shakum, Mangka, Joi Barua, Jajai Singsit, G'nie, Alobo Naga, Kimkima, Shankuraj Konwar and the Tetseo Sisters.
"Instagram is the place for safe self-expression. As the world comes together to tackle the current health situation, it's heartening to see how people across India are using Instagram to creatively express themselves and keep their friends, family and fans entertained. Assam is known for its vibrant culture and this will be seen with the #LiveInYourLivingRoom music festival as the community showcases its creativity and passion while partnering with us to bring this experience," said Manish Chopra, director and head of partnerships of Facebook India.
Baruah, a popular musician from Assam who is now based in Mumbai, said Instagram has been a godsend to connect with fans and followers, especially during the lockdown.
"The pictures quickly tell a story, without clutter and that makes the whole experience very smart. Plus, for artistes to be able to invite their fans to jam with them live, this has really taken interactions to the next level. In this time of Covid-19, Instagram has been a true connector. In these times, so amazing to be touching lives with #LiveInYourLivingRoom," said Baruah, who has been applauded for his unique voice in Mumbai.
The Tetseo Sisters, a quartet of sisters from Nagaland, well known for their music, are also excited about the show.
"We are definitely excited about the #LiveInYourLivingRoom concert. Instagram has helped us reach new audiences and allowed us to connect with people from places we didn't imagine reaching. Also, it makes it easier for people to reach us, get in touch for events, learn more about us and get to know us better. We hope to bring some cheer and also reach more people with this event. Thanks for connecting us with the world," they said in a release.
Live In Your Living Room is a series of Instagram live music concerts which has seen performances in Hindi, Tamil and Telugu by artistes like Armaan Malik, Lisa Mishra, Naezy, Shalmali Kholgade, Akasa Singh, Monica Dogra, Zaeden, among others.