Hopes wither away in Hojai
Flower cultivators facing problem as they bear the burden of the lockdown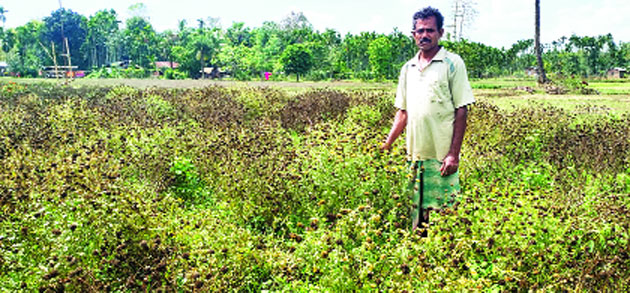 ---
|
Hojai
|
Published 02.05.20, 08:05 PM
---
Hardhan Biswas, a flower cultivator of Matikola village, 5km from the district headquarters, has incurred a loss of nearly Rs 2.5 lakh from March till mid-April, during the lockdown.
"I am in flower business for three decades. People now recognise me as a flower trader. I grow golden marigold, red roses, tuberose, pot marigold (calendula), gerbera and other ornamental flowers in poly house besides decorative plants in my five-bigha land. I also cultivate watermelons, strawberries, bottle gourds in one bigha of land," he told this correspondent.
"Floriculturists wait for this season during which many festivals like Bihu, Ramnavami, Pohela Boishakh (Bengali New Year), Hanuman Jayanti and Akshaya Tritya are held and many weddings are organised. But this year these festivals were not held in a big way because of the lockdown. This has resulted in cancellation of many orders. There is no demand of flowers for decoration or worship. There is hardly any demand for garlands and bouquets. The flowers are withering away. Even the plants are rotting. Why will people buy flowers when they have to struggle for food and stockpile other essentials?" he said.
"My sale is affected as flower vendors have stopped purchasing our produce. All religious places and markets are closed. Those who were dependent on my business too are suffering. Our survival is at stake. I have never faced such a situation. How will I bear the loss?" he wondered.
"The government should come to our aid and provide compensation. The authorities should take steps to provide us water facility. We need sufficient quantity of water to grow flowers and are struggling for that. We need a spring cooler and a permanent floriculture market in Hojai district which will also generate employment," he added.
In Lumding too, many flower cultivators are facing the same problem as they bear the burden of the lockdown.