Artist charts out unique way to fight Covid-19
While some are drawing cartoons, others are penning songs and poems to beat the ennui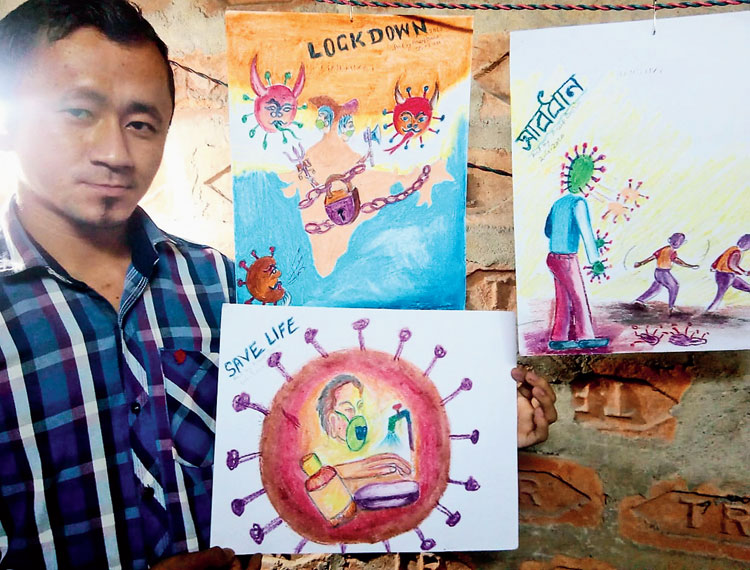 ---
|
Udalguri
|
Published 12.04.20, 06:37 PM
---
Coronavirus has wreaked havoc in India, dealing a big blow to mental peace of the citizens with people frantically finding various ways to beat the pandemic.
While some are drawing cartoons, others are penning songs and poems to beat the ennui.
Arup Boro of Udalguri, a budding artist in his mid-twenties, has come forward to spread awareness on Covid-19 virus through his work. His wizardry in chart paper and pastel has drawn the attention of art connoisseurs.
In one of his work titled, Lockdown, he attempted to project the nationwide lockdown by drawing a lock and chain on a map of India while his another work titled Save Life shows a person wearing a protective mask and washing hands.
"Being an artist, I cannot shun my social responsibility. While the doctors and nurses are risking their lives to cure patients, I think it is my responsibility to contribute and create art for a noble cause such as spreading awareness on Covid-19. The government too is taking strict measures to check the spread of the coronavirus. If my work encourages people to join hands and fight back, my purpose is served," Boro said.
In Careful, he tried to spread awareness on social-distancing norms when coronavirus is posing a threat to lives of millions of people.
Talking to The Telegraph, Boro said originally he thought the coronavirus was "a distant issue", but once he realised the severity of the pandemic, he created the artwork so that unlettered common villagers can also understand the need of awareness to prevent coronavirus spread.
"Coronavirus is scary and uncomfortable for many, but I have tried to make it a little easier for people to understand," he added.
"Otherwise it is too big for us to even comprehend it and it can be really scary. I do not want to project it as invincible. This is the only way to fight the dreaded virus. My aim is to show people that we are united in this trying time. We will definitely overcome the fear and win the battle," Boro said.
"Coronavirus is affecting the entire globe and everyone is spreading awareness in different ways, so I wanted to show my solidarity in a way that, I think, will enlighten the masses," Boro said.
"The world, desperate for respite from the killer epidemic, is seeking anything to end people's pain and art can be a soothing anodyne to lacerated souls," Kaustav Sarma, who admired Boro's work, said.
Boro runs an art and crafts school for children along with fellow artist Nitu Sarma.