Congress MLA faces eviction ire in Assam
Protestors accuse administration of targeting a particular group, a charge which was flatly refuted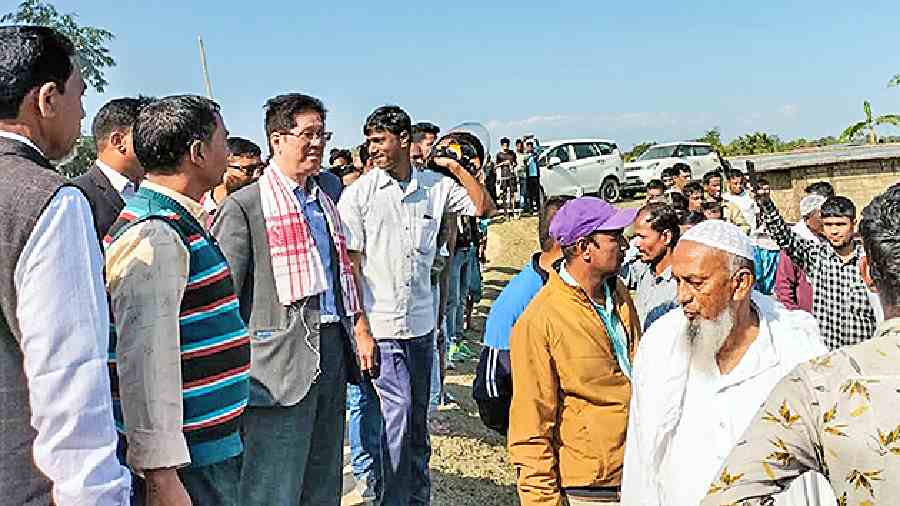 Congress MLA Bharat Chandra Narah with the affected people in the eviction drive in Pabha Reserve Forest on Tuesday
---
Guwahati
|
Published 13.01.23, 03:11 AM
|
---
Opposition Congress MLA Bharat Chandra Narah was greeted with "go back" slogans by a group affected by the eviction drive carried out in Assam's Pabha Reserve Forest.
They even accused the administration of targeting a particular group, a charge which was flatly refuted.
The Lakhimpur district administration had carried out the two-day eviction drive to clear 450 bighas from two adjoining places in the forest — Adhakhana and Mohghuli — amid heavy deployment of security and machines.
Altogether 501 "general category" families were affected in the drive that "ended peacefully and successfully" on Wednesday, leading to clearance of about 450 bighas of the homestead and 800 bighas of farmland, an official told The Telegraph after the drive concluded.
There was "no" change in the number of security personnel (around 800) and labourers (around 200) deployed for the drive since Tuesday but the number of excavators went up to 42 from 38 and tractors to 33 from 21 on Wednesday.
Though the affected did not protest against the administration, which had started area domination a week before the drive was launched on Tuesday, they directed their ire at Narah, the local Nowboicha MLA from the Congress, when he went to meet the affected on Wednesday afternoon.
Narah, a six-time MLA, was greeted with the "go back" slogan, and asked why he did not come on Tuesday and why he did not do anything to stop the eviction drive. The MLA confirmed the sloganeering and that he did not stop them because they were "angry" over the eviction drive "targeting" only one community by the administration.
Assam has a BJP-led government. "Yes, they shouted slogans against me. They said the drive was one-sided and inhumane, that only the Muslims were targeted and the Mising people living in the area were left out. I told them I was in the Opposition and that we have been demanding that the landless should get land before eviction. After a while, they calmed down and I interacted with them," Narah told this newspaper. 
He said since the affected had "voluntarily" left the area, there was no requirement for the "war-like arrangement" for the eviction drive.
"There was hardly anybody within the forest when the eviction took place. Work on the eviction had started six months ago. The administration could have given a month or two more for the affected to clear their mustard and vegetables fields and their ponds...," Narah said.
Lakhimpur DC Sumit Sattawan said the eviction drive was completed without any protest. 
On charges of the drive being one-sided, he said the eviction was carried out under the Forest Rights Act, 2006.
The process for the eviction drive started in November and all due processes were followed owing to which most of them left on their own, he said.