Celebrating womanhood
Read more below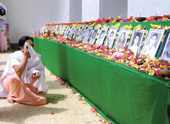 ---
Published 19.10.02, 12:00 AM
|
---
It was a celebration of womanhood. Women from all walks of life got together to take part in the daylong celebration of Jatiya Chetana Divas, observed in memory of martyr Kanaklata Baruah by the Sadou Asom Lekhika Samaroh Samiti in Srimanta Sankardev Kalakshetra recently.
A seminar on "National consciousness and the present situation of Assam" was organised on the occasion where erudite women writers like Nirmal Prabha Bordoloi and Lakhyahira Das aired their views and engaged the audience in intellectual parleys.
The Sadou Asom Lekhika Samaroh Samiti, a strong and closely-knit women's literary organisation, has come a long way since its inception way back in 1974. Launched by a handful of like-minded women, the samaroh has now more than 200 branches all over Assam and in Calcutta, Shillong and Dimapur.
The samiti has its roots in the freedom movement of India. In the pre-Independence days, the social status of Assamese women had deteriorated due to various socio-political and economic reasons. The freedom struggle, however, reinforced the role of women in social and political transformation. It created an urge among the oppressed millions to struggle for social equity and justice and when the year 1975 was declared International Women's Year, people adopted various measures to raise the status of women.
The previous year, at a small gathering in Tezpur in 1974, Sheela Borthakur, lecturer in Darrang College, made a proposal for a separate literary organisation for women in Assam. Her vision materialised in the form of the Sadou Asom Lekhika Samaroh Samiti with its head office in Tezpur.
The Samiti now has a long list of accomplishments to its credit and has become a powerful forum upholding the age-old creative instinct in women, which is inherent in the earliest forms of folk literature like folk songs, lullabies and folk tales.
The samiti provides the platform to unite and emancipate the women of Assam through creative pursuits, especially literature. "It has become a common forum for sharing the feelings and ideas of the Northeast women," said Borthakur, who is at present chairperson of the samiti.
In its untiring efforts to enrich Assamese literature and empower women through literary expression, the samiti has published a number of valuable books. The four volumes of Lekhikar Jibani have proved to be a chronicle in the history of Assamese literature. The first two volumes of the book contain lives of women writers from the15th century onwards.
"It was a difficult enterprise because people till the 19th and even the 20th century did not think it worthwhile to chronicle the lives and preserve the works of women writers," said Borthakur.
The third volume of Lekhikar Jibani was edited by Swarna Saikia, which includes lives of 27 women writers of the 19th and 20th century. "The fourth volume is going to be published very soon. All these books are used for reference in research work on Assamese literature," said Borthakur.
Noted poet and writer, Nirmal Prabha Bordoloi, while appreciating the efforts of the samiti in bringing out the complete works of three eminent women writers — Nalini Bala Devi, Dharmeswari Devi Baruani and Sneha Devi — said: "What the Sahitya Akademi could not accomplish in all these years has been accomplished by the Samiti."
The evocative poems of a visually impaired poetess, Dharmeswari Devi Baruani, was compiled in four books of poetry titled Dharmeswari Devi Baruani Rachana Sambhar in 1992, her birth centenary year. "One manuscript containing a collection of her songs was found in a tattered state in Guwahati's All India Radio office," said Borthakur.
The third compilation contains the works of another powerful short story writer of our times and winner of the Sahitya Akademi award, Sneha Devi, Sneha Devi Rachana Sambhar. The samiti also published Padmabhushan Puspalatar Chintar Rengani, a compilation of the thought-provoking writings of Pushpalata Das. Mahasweta is another publication on the works of Padmashree Nalini Bala Devi.
In fact, the first Assamese women's magazine called Ghar Jeuti, edited by Kamala Laya Kakati and Kanaklata Chaliha, which was published from Sivasagar in the Thirties, was a valuable source material while compiling the works of women writers. "The copies of these magazines revealed the status of women in those times and brought to light many women writers who would have otherwise sunk into oblivion," added Borthakur.
According to noted academician Anima Guha, "The samiti has been very active in promoting literary works in the region. It has created a base for Assamese women to express their creative urge and realise their intellectual aspirations. And they have been successful in generating awareness among the men too."
Guha, who is also a life member of the samiti, recalled her trips to nondescript villages were women came up with their writings. "Once, at a meeting held at Biswanath Chariali, more than 100 women poets recited their poems," she said.
Short stories are another arena in which the samiti has made commendable contribution. Borma Tomak, edited by Hemlata Dutta and Galpa Taranga by Sabitri Gogoi are valuable anthologies of Assamese short stories by women writers. Satabdir Sadhu by Swarna Gogoi Baruah is a collection of Assamese short stories of a hundred years.
The samiti has also published a bibliography of Assamese women writers called Lekhikar Grantha Panji, thereby fulfilling a longstanding demand for such a book. Asamiya Sahityat Nari, edited by Binita Dutta, is a powerful literary criticism on women characters in the works of eminent male writers.
Mrinali Chetia, president of the Tezpur district branch, who used to co-ordinate the women's section of the local weekly, Mahajati, published from Sonitpur said, "We encouraged a lot of women to come out of their shells and get their write-ups published. In fact, we were able to discover many latent talents." Laying equal emphasis on the promotion of children's literature, the samiti published several of their works. Aitai Sadhu Koi is a compilation of short stories written by women writers over a hundred years.
Their mouthpiece is Lekhika, the biennial magazine of the samiti. Twenty-one issues of the Lekhika have already been released on different occasions like International Children's Year, International Year of the Disabled and International Women's Year.
"A writer cannot be created but an atmosphere for intellectual development can," said Borthakur. The samiti has created an environment for creative writing and inspired its members to publish different books on short stories, novels, poems and other thoughtful writings.
Abha Bora, working president of the Nagaon branch of the samiti, said, "We urged the interested teachers and students of schools in far-flung villages to hold literary sittings and the response has been very encouraging."
Almost all branches of Lekhika Samaroh Samiti have their own publications along with an annual magazine. Some of the important publications of the branches are Sotorupa, Manihar, Sandhani, Salankrita, Chayanika, Sreelekha, Anulekha, Ananya, Sonalimegh, Dulari, Mirdan, Nari Aru Nyaktitya and Jibanar Jonaki Pohar.
A common meeting ground for its members has been its 19 state-level conferences held so far. Each conference is marked by a symposium, release of books, poets' forum, open session, book fair, exhibition, cultural procession. The 20th session will be held in Chabua near Tinsukia next year.
"One of our important functions is to encourage budding writers. We also organise literary competitions of various hues and award prizes to the winners," said Borthakur.
The samiti, however, has been unable to implement many of its schemes due to dearth of funds. Their only source of funds is people's contribution and support.
"A cultural revolution is the need of the hour. Women have a big role to play in this and I am optimistic that the Sadou Asom Lekhika Samaroh Samiti can play a pivotal role in this regard," said Bordoloi.