BSF hands over Rohingya found on border to Tripura police
The 31 refugees were found between the international border and a barbed wire fence in Rayermura on January 18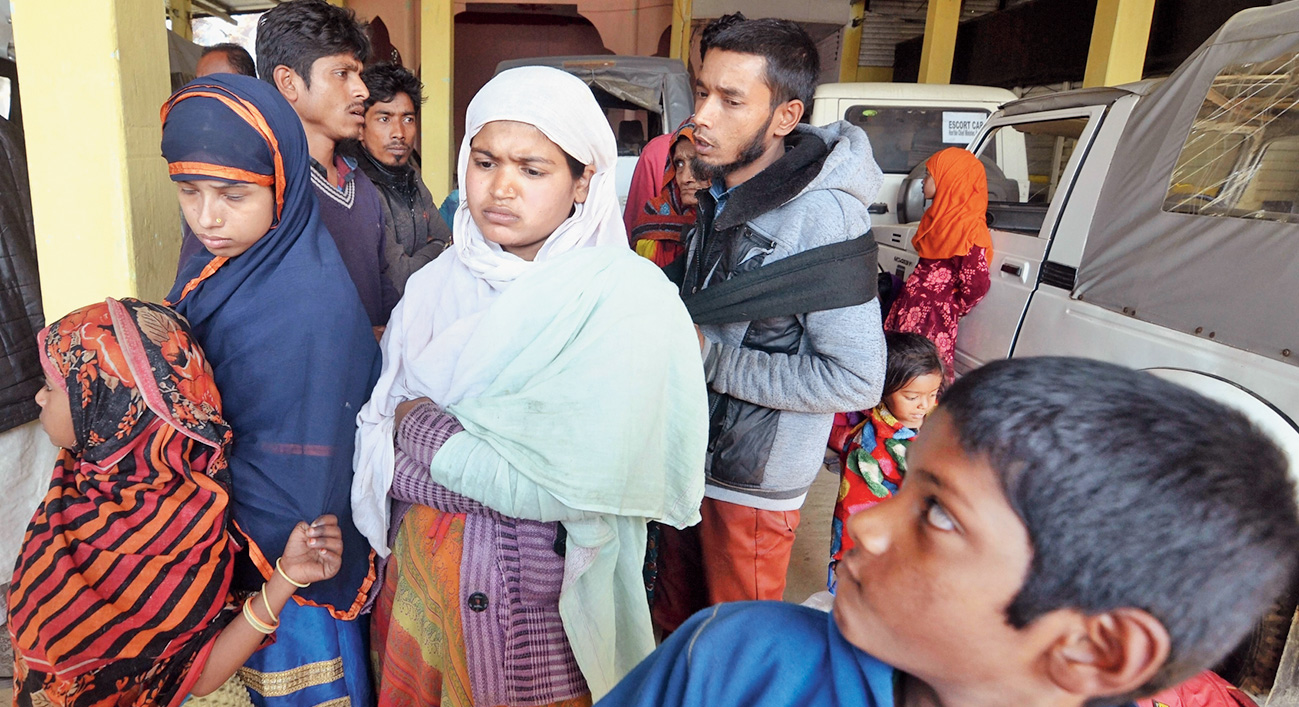 ---
|
Agartala
|
Published 22.01.19, 06:53 PM
---
The 31 Rohingya refugees who were stuck between the international border and the barbed wire fence at Rayermura in West Tripura district, about 15km from here, were handed over to Tripura police on Tuesday.
Speaking to The Telegraph, the officer-in-charge of Amtali police station here, Pranab Sengupta, said the Rohingya refugees including 16 children, six women and nine men were handed over to Tripura police by the BSF Tripura Frontier.
"We then sent them to Tripura Medical College for check-up," Sengupta said.
He said their health condition was found to be fine. They were then produced in West Tripura district court where they were remanded in 14-day jail custody.
The refugees were stranded since January 18. They were trying to enter India from the Bangladesh side but the BSF prevented them from doing so.
Sengupta said the BSF provided them food, water and other basic needs from their own resources on humanitarian grounds.
The Border Guards Bangladesh (BGB) accused the Rohingya of having come from India but the BSF clarified that there was no sign of breach of fence on the Indian side. The BSF asked the BGB to join in a survey of the Indian side to identify any sign of breach.
However, the Bangladesh authorities declined and stuck with asking the BSF to accept the Rohingya into India.
BSF deputy inspector-general Brijesh Kumar on Tuesday said, "We took up the matter with the BGB but they refused to take them back. As the matter could not be sorted out though talks, we apprehended them and handed them over to police."
Altogether 12 Rohingya refugees were apprehended in Tripura in 2017 and 62 in 2018.
30 refugees sent to jail
The 30 Rohingya refugees detained by by Assam police at Churaibari check gate on Monday were sent to the district jail after being produced in the chief judicial magistrate court in Karimganj. They will be produced in court again on Thursday.
The refugees were picked up after routine checking in a night super bus going from Agartala to Guwahati. The raid was conducted by the gate in-charge police officer Supriyo Bhattacharjee. The 30 Rohingya refugees are members of seven families and were shifting to another place because of financial reasons.
Additional reporting by Our Correspondent in Hailakandi