BJP will work for all groups: Sarbananda Sonowal
Sonwal attended rallies at Rangapara-Phulbari, Borghat-Jaroni, Balipara and Chardwar to campaign for Rajen Borthakur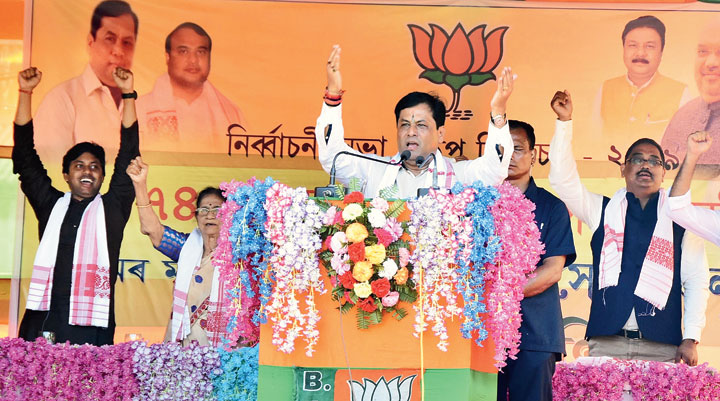 Chief minister Sarbananda Sonowal speaks at a rally on Wednesday
UB Photos
---
Tezpur
|
Published 16.10.19, 08:12 PM
|
---
Assam chief minister Sarbananda Sonowal on Wednesday said the BJP-led state government was always committed to working for the welfare of every community.
Sonwal, who attended a series of rallies at Rangapara-Phulbari, Borghat-Jaroni, Balipara and Chardwar to campaign for the BJP candidate Rajen Borthakur from Rangapara Assembly constituency, said there had been no development in the area under the Congress. "In 2016, after Pallab Lochan Das of the BJP won from the seat, he managed to expedite development works within a short period. However, he was then elected to represent the people of Tezpur parliamentary seat in the Lok Sabha. His remaining work in Rangapara will be carried out by Rajen Borthakur," he said.
He also countered the Congress allegation that the "BJP conducted divisive politics in the name of religion" and claimed that the Congress had used the communal card to win elections in the past. "During the BJP rule under the able leadership of internationally acclaimed Prime Minister Narendra Modi, nobody has been harassed in the name of religion, no minorities humiliated or interrupted in their religious activities. Since the Congress has lost its base among the people, it was now busy maligning the image of the BJP government with certain baseless issues."
He said different communities like tea tribes, Bodo, Nepali and Muslims resided in Rangapara constituency and the BJP was committed to working for their development. He said the BJP would win all the seats. On the allegation by Nowgong Congress MP Pradyut Bordoloi about Sonowal's involvement in illegal coal trade, the chief minister said the syndicate culture was begun by Congress and better known to leaders like Bordoloi.