BJP not serious about NRC: Tarun Gogoi
Gogoi claimed that the final NRC might end up creating more problems than solving the earlier ones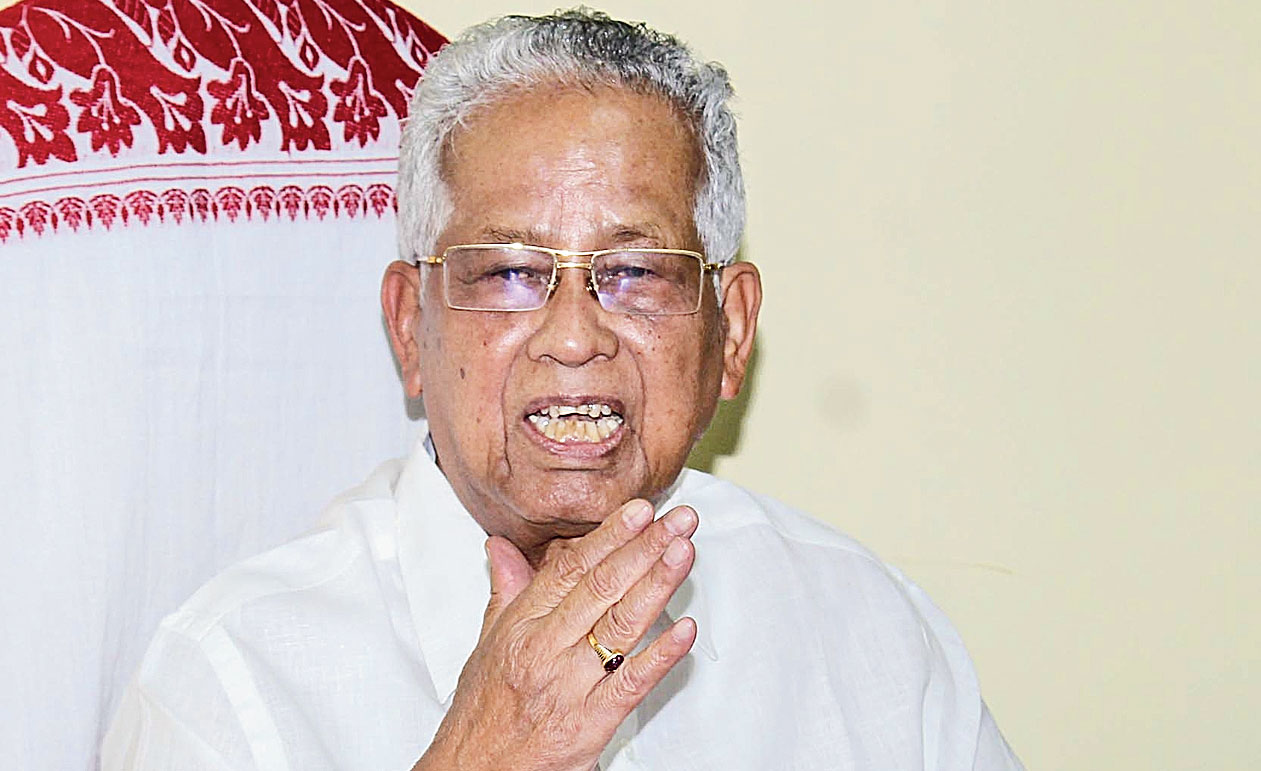 Tarun Gogoi in Guwahati on Saturday.
Picture by UB Photos
---
Guwahati
|
Published 03.08.19, 06:50 PM
|
---
Former Assam chief minister Tarun Gogoi on Saturday slammed the BJP governments at the Centre and the state for not being "serious enough" about the National Register of Citizens (NRC).
"I don't think the BJP actually wants to solve the problem. I have not seen any cabinet committee set up to enquire if the NRC update was going on smoothly or not. If not, it should have raised the issue with the Centre. If the NRC coordinator Prateek Hajela was not doing his job properly and the state government was really unhappy, it should have informed the court" Gogoi told reporters here.
He said the Centre was not even "capable of making an error-free NRC". Gogoi also alleged that Union home minister and BJP national president Amit Shah was not taking the NRC update seriously.
"Either they are not sincere or incapable of making a perfect list. The Centre is not even capable of publishing an error-free NRC, forget about detection and detention of illegal migrants. Modi had told us before the elections that all illegal foreigners will be deported. Can he answer now how many of them have been deported? They are confused. Now the BJP also wants to bring back the Citizenship (Amendment) Bill," Gogoi said.
Gogoi also claimed that the final NRC might end up creating more problems than solving the earlier ones.
"I hope the final NRC will be error-free but I'm doubtful now after the recent developments. I have seen many genuine Indians being left out in the draft list. So, how can I expect the final list will not leave them out again? There are Hindu Bengalis, Gorkhas, tea tribes and Muslims among those excluded. Even some illegal foreigners will be included. It seems they (NRC authority) have carried out the exercise carelessly. Why can't they punish the officials? There should be an inquiry on who added foreigners' names and left Indians out or else I will have to believe the BJP actually doesn't want the NRC to happen," he said.
Slamming Shah, Gogoi said he had never seen the home minister discussing the NRC issue with the state government.
"It's such a serious issue, but I have never seen Shah discuss the exercise with the state government. My question is if Hajela had committed any mistake, why was the Centre not taking any action? He is not a constitutional authority, not even a boss, he is just an official of the government," Gogoi said.
The draft NRC, which is being updated only in Assam, has excluded around 41 lakh applicants, while the final list is scheduled to be published on August 31. It was to be published on July 31 but the Supreme Court extended the date by a month because of floods.