Bill to give 2nd class citizenship, says AIUDF
The AIUDF also termed the bill contradictory to the state government's population control policy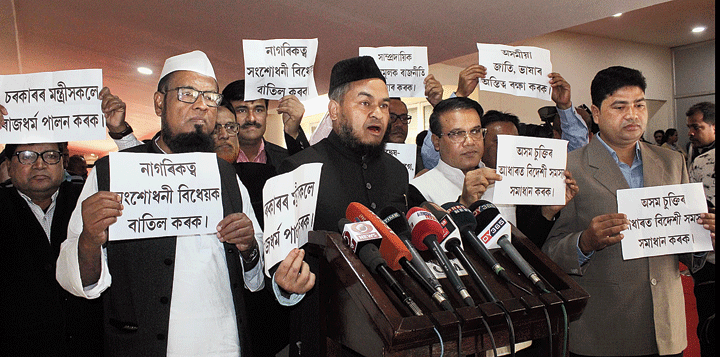 ---
|
Guwahati
|
Published 16.11.19, 06:53 PM
---
The All India United Democratic Front (AIUDF) on Saturday alleged that the BJP government would only grant "second class" citizenship to Hindu Bangladeshis, who were victims of religious persecution, under the Citizenship (Amendment) Bill.
AIUDF general secretary Aminul Islam, said: "While with help of the bill the government is granting citizenship to the victims of religious persecution from Bangladesh, they are also going to strip them of their fundamental rights by implementing Clause 6 of the Assam Accord."
Adding that the bill and the clause contradict each other, he said: "By implementing Clause 6 of the Assam Accord, the government will ensure constitutional, legislative and administrative safeguards of the indigenous people of the state. It means those who will be granted citizenship under the bill will not get any rights over government jobs or to contest elections."
Saying that the Hindus in Bangladesh were enjoying political rights and even holding high positions in the administration, Islam added: "Like any democracy, every citizen in Bangladesh enjoys equal rights. But they will lose several fundamental rights in India if they seek citizenship under the bill. Moreover, it is going to be a Herculean task to prove that they are victims of religious persecution."
The AIUDF general secretary also termed the bill contradictory to the state government's population control policy. He alleged that while the Assam government had been trying to control population by implementing the two-child norm in the state, it was ready to add lakhs of people under the bill.
Earlier, the state cabinet had approved the policy of making government jobs out of bounds for people with more than two children from January 1, 2021. "It is simply contradictory and shows the double standards of the government. The bill is based on religion and we are going to oppose it," he added.
The AIUDF has also announced a series of protests across the state as well as in New Delhi against the bill. Already, several organisations and political parties of the region have announced protests against the contentious bill from Monday when the winter session of Parliament is slated to begin. The bill is likely to be placed in both Houses of Parliament in this session.
BJP spokesperson Sayed Mominul Awal said: "The government has been in constant discussion with all the stakeholders regarding the bill and a revised version of the bill is likely to be placed. Therefore, it is too early to assume and protest against it."