Bill fast in Tripura, hill state peaceful
Bin CAB, says Tripura party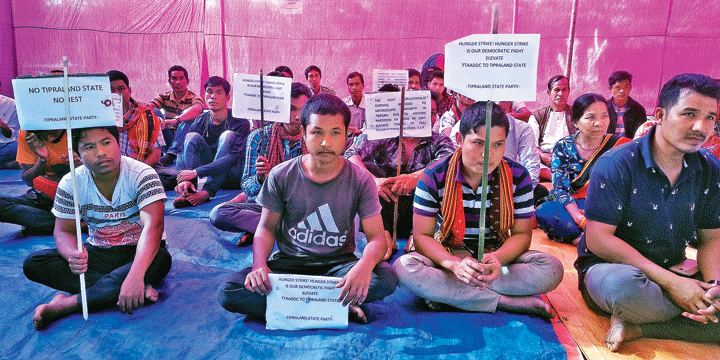 ---
|
Agartala
|
Published 19.11.19, 08:10 PM
---
The Tipraland State Party (TSP), a regional party of Tripura, staged a dawn-to-dusk hunger strike from 5am on Tuesday at Baramura hill range in West district, demanding scrapping of the Citizenship (Amendment) Bill and a separate state of Tipraland for the indigenous people of the state.
TSP president Chittaranjan Debbarma told The Telegraph, "We demand elevation of Tripura Tribal Areas to a full-fledged state, Tipraland, under Article 3 of the Constitution and scrapping of the Citizenship (Amendment) Bill. Influx of refugees from erstwhile East Pakistan, now Bangladesh, changed Tripura's demography, turning its indigenous people into a minority. This is the reason we are demanding Tipraland and scrapping of the citizenship bill."
He said post-Partition influx affected Tripura so much that its indigenous people, comprising 20 communities, who were in a majority in the fifties were found to have been reduced to minority in the seventies.
He said if the bill is passed, nobody will be an illegal migrant in Tripura any more.
"From being a majority to minority, we have been reduced so much that a time will come when the indigenous communities will become threatened like the Jarawas of Andaman and Nicobar Islands. A separate state is the only way to save the indigenous tribes," Debbarma said.
He feels Tripura should be excluded from the purview of the bill in the Northeast.
"Our state, which covers 10,497 square km, is one of the smallest in the country. If the Centre wants to rehabilitate the immigrants, they can take them elsewhere. India is a vast country. We have to save these 20 indigenous communities from extinction. We strongly demand scrapping of the bill and a separate state of Tipraland for the indigenous people of Tripura," he said.
On the Bru refugees living in Tripura, he said neither were the displaced Reangs rehabilitated not were they given ration. "We want justice to be meted out immediately to the displaced Brus. They should be properly rehabilitated," he said.