Bhupen-da crowned Bharat Ratna
Hazarika is the 2nd from Assam, after the state's first chief minister Gopinath Bordoloi, to have been honoured with Bharat Ratna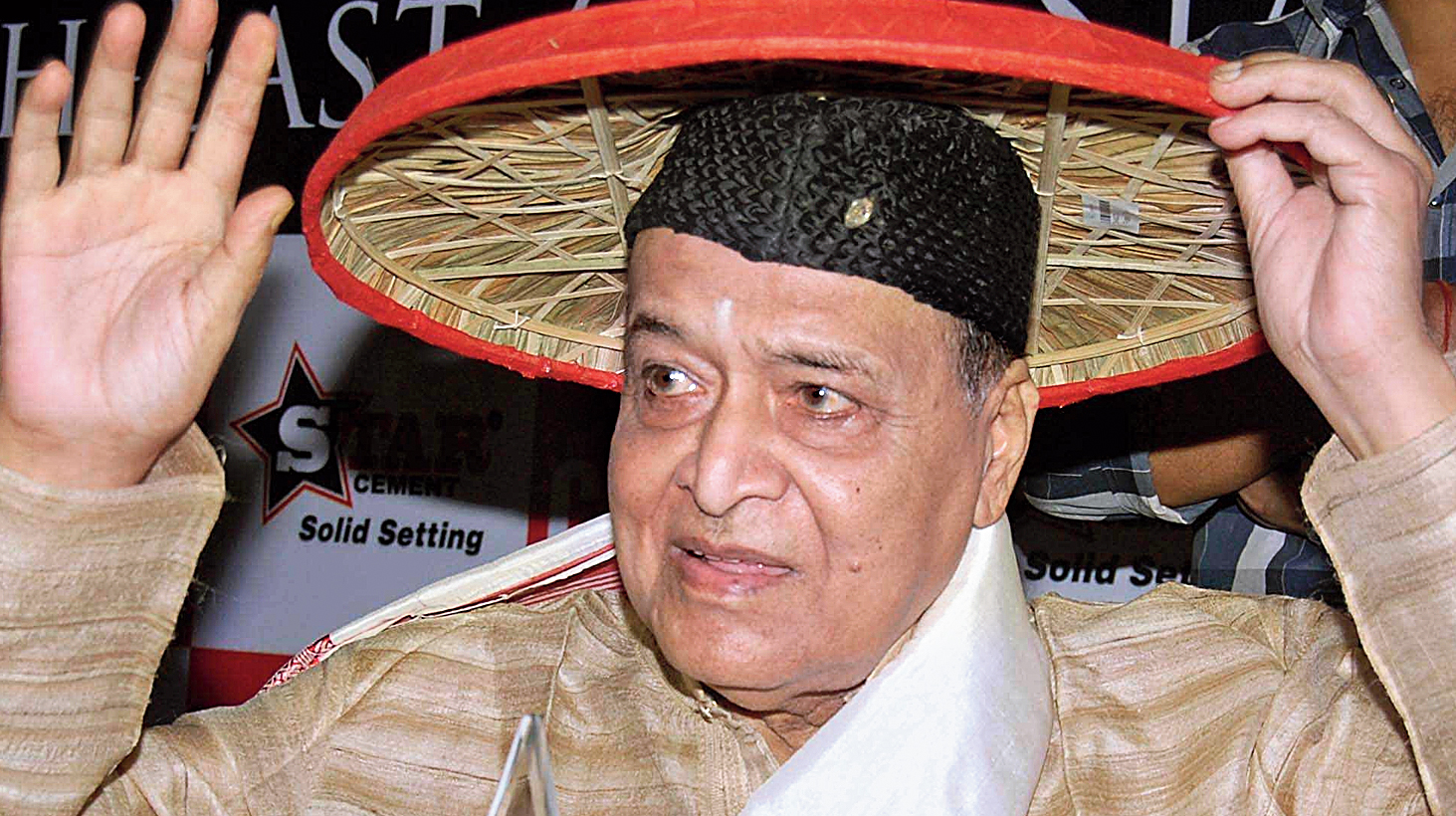 Bhupen Hazarika
The Telegraph file picture
---
New Delhi
|
Published 25.01.19, 10:46 PM
|
---
Music maestro late Bhupen Hazarika, former President Pranab Mukherjee and Bharatiya Jana Sangh leader late Nanaji Deshmukh were on Friday conferred the country's highest civilian award, Bharat Ratna.
In an official statement, the government said Deshmukh and Hazarika were conferred the award posthumously. Mukherjee was President between 2012 and 2017.
Hazarika is the second from Assam, after the state's first chief minister Gopinath Bordoloi, to have been honoured with Bharat Ratna which is conferred "in recognition of exceptional service/performance of the highest order" without distinction of race, occupation, position or gender.
People in Assam have been demanding Bharat Ratna for Hazarika whose songs have mesmerised, inspired and guided generations. The demand got intensified when the singer-cum-film director passed away on November 5, 2011 at the age of 85.
Prime Minister Narendra Modi, expressing happiness, tweeted: "The songs and music of Bhupen Hazarika are admired by people across generations. From them radiates the message of justice, harmony and brotherhood. He popularised India's musical traditions globally. Happy that the Bharat Ratna has been conferred on Bhupen Da".
However, many wished that the award had been conferred on the singer during his lifetime.
Raveena Tandon, who had acted in Daman, whose music was composed by Hazarika, tweeted in reply to Modi's tweet, "Rightly so... though I wish these honours are conferred onto some people while they are still alive."
Daman was directed by Hazarika's long-time partner Kalpana Lajmi who had approached the Centre to confer Bharat Ratna on Hazarika. Lajmi died in September last year.
"Bhupenda would have been very happy if he had got the award when he was alive although his works cannot be measured merely by awards. Today I am also missing Kalpana Lajmi who had done so much for him. She had pursued the matter with the Centre. She should have been here today," said Manisha Hazarika, Bhupen's sister in law. Assam chief minister Sarbananda Sonowal welcomed the Centre's decision and thanked Modi for taking a step to confer the award on Hazarika. He described Hazarika as "one of India's greatest sons and unifiers." "Great honour for Assam and its glorious culture. A proud moment for all of us," he said.
Asam Sahitya Sabha welcomed the decision, saying that Hazarika was an asset not only for Assam but the country. "Bhupenda should have been awarded the Bharat Ratna when he was alive. We had raised the demand when he was alive and after his death. He deserved it. We welcome the Centre's decision," Sabha president Paramananda Rajbongshi said.
Guitarist Kamal Kataky, who played the guitar with Hazarika throughout his life, was elated. "At the age of 13, Bhupenda had penned the song Agnijugor firingti moi, which showed that he was a great ambassador of the country's culture. The year was 1939 and the country was under the British rule when Bhupenda wrote that he would make a new India," Kataky said.
Cabinet minister Himanta Biswa Sarma tweeted, "It is a matter of great pride and delight that Dr Bhupen Hazarika has been posthumously conferred with Bharat Ratna. My gratitude to Prime Minister Modi. We are all elated."
All Assam Students' Union adviser Samujjal Bhattacharjya welcomed the news but also requested the Centre to scrap the Citizenship (Amendment) Bill, 2019. "We welcome the Centre's decision to award Bhupenda with the Bharat Ratna. He had guided us all. We are happy that he has been awarded although it is late. But, at the same time, we request the Centre to scrap the citizenship bill," Bhattacharjya said.
AGP president Atul Bora and Assam BJP president Ranjeet Kumar Dass also welcomed the news.
Modi, expressing delight at the former President being awarded the Bharat Ratna, said Mukherjee left a strong imprint on the nation's growth trajectory with his selfless work.
"Pranab-da is an outstanding statesman of our times. He has served the nation selflessly and tirelessly for decades, leaving a strong imprint on the nation's growth trajectory. His wisdom and intellect have few parallels. Delighted that he has been conferred the Bharat Ratna," the Prime Minister wrote on Twitter.
Modi said Deshmukh's stellar contribution towards rural development showed the way for a new paradigm of empowering those living in villages.
"He personifies humility, compassion and service to the downtrodden. He is a Bharat Ratna in the truest sense!" the Prime Minister said.
Addressing the nation on the eve of Republic Day, President Ram Nath Kovind chose to highlight the positives instead of reflecting on the full spectrum of national life, skipping the major challenges and contemporary concerns dominating the public discourse. Previous Presidents had usually focused on the national mood and appeared more detached with governmental achievements.
He talked of rapid development and widespread appreciation by people who witnessed crisis in the past while exhorting people to vote wisely in the coming parliamentary election.
President Kovind said: "This year, the people of India have another responsibility: of voting in the general election and electing the 17th Lok Sabha. Our country is at a key juncture. In some respects this is as critical and formative a period as the late 1940s and early 1950s. Decisions and actions of today will shape the India of the remainder of the 21st century. As such, this is not just a once-in-a-generation moment – it is a once-in-a-century moment."
Padma Shri awardees
Assam surgeon Ilias Ali and social innovator Udhab Kumar Bharali have got Padma Shri awards. Ali is known for working on family planning and education of Muslim women. Bharali has more than 100 innovations to his credit, mostly at the grassroots level.
The others to get Padma Shri from the Northeast are archer Bombayla Devi Laishram from Manipur and musician Thanga Darlong from Tripura.
Tripura chief minister Biplab Kumar Deb tweeted: "Heartiest greetings to Shri Thanga Darlong ji on being conferred the Padma Shri Award".
An exceptional musical genius from Tripura, Darlong has made exemplary efforts to nurture the indigenous culture of the Northeast, especially the art of playing rosem musical instrument.