Assam wary of jobs as compensation
A decade after Ganeshguri blasts, minister says giving jobs to kin of victims will deprive youth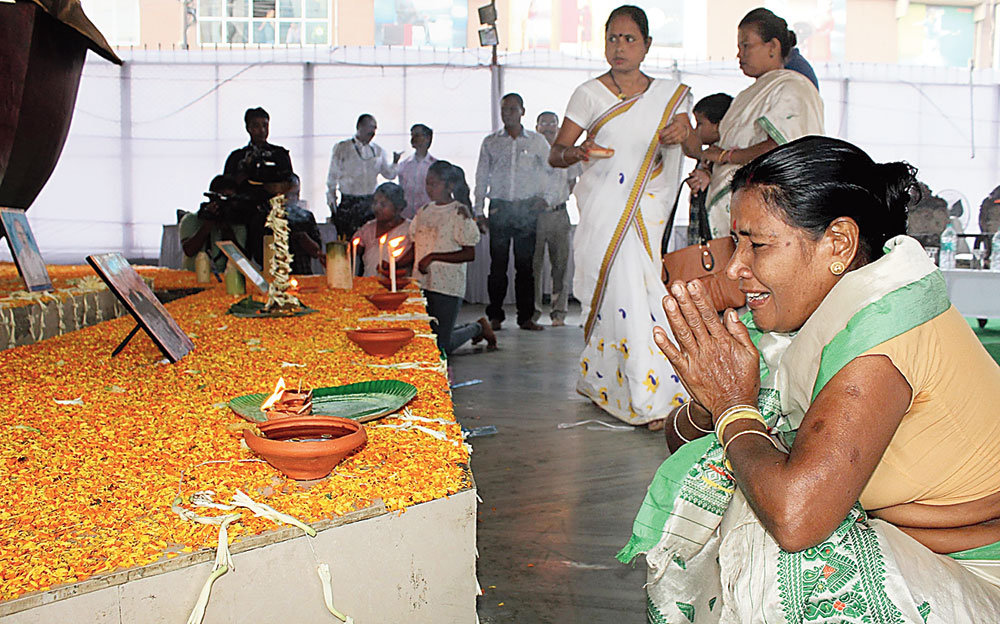 A woman pays tribute to the victims of the serial bomb blasts in Guwahati on Tuesday.
UB Photos
---
Guwahati
|
Published 30.10.18, 07:28 PM
|
---
The Assam government expressed its inability to provide jobs to the families of victims of the October 30, 2008, bombing at Ganeshguri with education minister Siddhartha Bhattacharya saying he does not have the courage to deprive an eligible youth of a job to give to victims' kin.
Dispur MLA Akon Bora, on the other hand, promised to arrange a meeting between the chief minister and the victims' families to place their demands.
On the 10th anniversary of the bombing on Tuesday, Bhattacharya and Bora paid tributes at the memorial beneath the Ganeshguri flyover to those who were killed or injure. A plaque, placed at the spot, lists the names of 53 dead or injured in the blast that rocked the area that day.
Bhattacharya said, "The victims' families have been given compensation. To give a job to someone's son, we will have to snatch the job away from somebody. Many candidates may not be eligible for the job. I don't have the courage to deprive an eligible candidate to give the job to the family of a victim."
Bora said, "The victims' families have received compensation from the previous government and the present one. However, complaints will remain. I will take up their complaints with the government and arrange a meeting with the chief minister so that they can place their demands. I will see to it that the families don't have to complain next year on this date. The tribute ceremonies will go on till the sun shines. My younger brother Simanta Bora was also grievously injured. He still has splinters in his head and legs."
Skill, employment and entrepreneurship development minister Chandra Mohan Patowary, replying to a query by AIUDF MLA Abul Kalam Azad in the Assembly on September 26, had said the state has nearly 20 lakh literate and semi-literate unemployed youths till December 31, 2017.
Most of the victims' families present at the function confirmed that they had received compensation ranging between Rs 3 lakh to Rs 7 lakh. Those injured received Rs 50,000 as medical expenses.
Altogether 11 bomb blasts in quick succession ripped through Guwahati, Kokrajhar, Bongaigaon and Barpeta Road before noon on October 30, 2008, killing at least 88 people and seriously injuring 141.
The All Assam Students Union, while paying tribute to the victims of the blasts and wishing good health of the survivors, appealed for an end to terrorism.
The Lawyers' Association, Guwahati, observed the anniversary as a "Black Day" to protest against terrorism and prayed for those who perished in the blast at the CJM court.