Assam recalls Lachit valour
The chief minister called on people to take a pledge to build the motherland Bor-phukan had dreamt of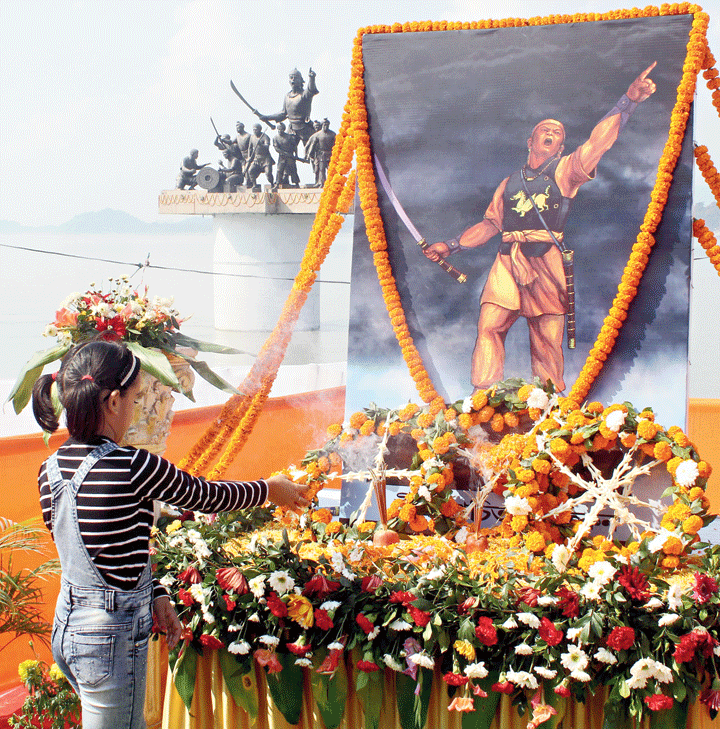 ---
|
Guwahati
|
Published 24.11.19, 08:15 PM
---
Assam chief minister Sarbananda Sonowal on Sunday urged people to follow the ideals of Ahom army general Lachit Borphukan, to take the state to the path of development.
Addressing a gathering at an event organised on the birth anniversary of the Ahom general at Kachomari Ghat along the Brahmaputra in Fancy Bazar here on Sunday, Sonowal said the youths must have sincerity, dedication and passion in their respective fields to contribute to the state's growth.
The Battle of Saraighat in 1671 between the Mughal empire, led by Raja Ramsingh I and the Ahom Kingdom, led by Borphukan at Saraighat and the subsequent victory of the Ahoms created the foundation of Assam's supremacy in the larger contour of the country, Sonowal added.
He added that Borphukan's valour and resistance that prevented the Mughals to win Assam is an example of the rich legacy of the state and its people. The unflappable heroics of the Ahom general and his patriotism should be emulated by the youth to revive Assam's lost glory, he said.
The chief minister called on people to take a pledge to build the motherland Bor-phukan had dreamt of. "We need to work hard to re-establish our supremacy," he said.
Sonowal also presented awards to the winners who participated in the art competition as part of the programme, organised by the cultural affairs department.
Education minister Siddhartha Bhattacharya, cultural affairs minister Naba Kumar Doley and member of Parliament Queen Oja spoke.
Commissioner and secretary of the cultural affairs department Preetom Saikia, director of the department Bishnu Kamal Bora, Assam Tourism Development Corporation chairman Jayanta Mallah Baruah and a host of other dignitaries attended the event.
Earlier, the chief minister attended another programme, organised by Raised, a voluntary organisation, at Lachit Borphukan Park in Jalukbari.
Aid for maidam: The day was celebrated with Tai rituals at Lachit Maidam, where the Ahom general was buried, at Hoolungaparaa Gohain Gaon under Teok revenue circle in Jorhat.
Addressing a meeting organised by the district administration, Jorhat MP Topon Kumar Gogoi spoke about the contribution of Borphukan for Assam's emergence as an independent entity. The MP announced Rs 10 lakh for the maidam's beautification.
Jorhat deputy commissioner Rashni Aparanji Korati, principal of Kendriya Mahabidyalay Munindra Konwar, among others, attended the programme.
Additional reporting by Devajit Boruah in Jorhat