Assam pride on sleeve in exam halls
Nearly 1,200 students wrote their end-semester exams draped in gamosas to mark their protest against CAA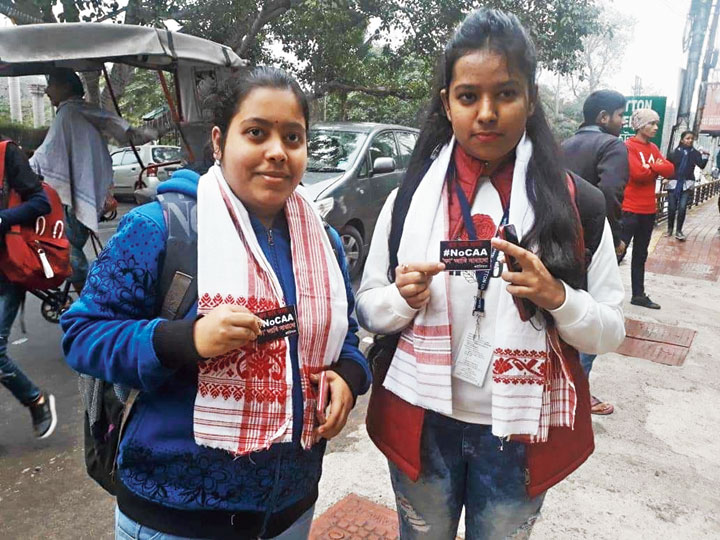 Cotton University students on Friday.
Picture by Rokibuz Zaman
---
Guwahati
|
Published 03.01.20, 08:35 PM
|
---
The scene inside the exam halls at Cotton University on Friday was slightly different from the previous ones, courtesy gamosas.
Nearly 1,200 students entered the campus and wrote their end-semester exams for three hours with gamosas draped around their head or shoulder to mark their protest against the Citizenship Amendment Act (CAA).
Gamosas, the traditional Assamese white rectangular piece of cloth with red border on three sides along with woven motifs, have been the symbol of protests across Assam since the anti-CAA movement started early last month.
Some of them sported black badges too with slogans like "I Oppose CAA", "We Oppose CAA", "Ami CAA namanu" (I will not accept CAA) written on them.
"The people of Assam are vehemently opposing the Act which poses a threat to the Assamese identity, demography and language. Students of the university have appeared in the exams wearing black badges and gamosas to show their solidarity to the agitators across the state. The students will protest the Act in every possible way but at the same time we will continue our studies," general secretary of the Cotton University Students' Union Rahul Bordoloi told The Telegraph.
Gamosas are being used by men, women and youths during any anti-CAA rally or demonstration.
Jintu Thakuria, a second-year postgraduate student and former general secretary of the union, said, "A gamosa, even a sight of it, makes an Assamese sentimental about his/her cultural identity. We love to uphold our traditional and ethnic heritage by using gamosas. It is a way to create awareness against the divisive and contentious Act."
On Monday, Gauhati University students, too, wore black badges and draped gamosas around their heads while appearing in their end-semester exams.
"We will continue to protest until the Act is scrapped. Protests will continue in different forms. Study and protest will go together. All protesters have been flaunting gamosas with pride. I am a proud Assamese and will do my bit to oppose the Act," said Abhilasha Neog, assistant general secretary of the Cotton University Students' Union.
Leading organisations, spearheading the protests, have opined that agitation and studies should go simultaneously, and not at the cost of a student's career. During the Assam Agitation students lost a year while conducting a movement against illegal influx.
Cotton University students have started Saturday Against CAA, a protest programme, to be held after classes every Saturday.