Assam poultry ban not to affect Bihu
The state govt had imposed the temporary ban as a preventive measure to check the possible outbreak of bird flu in the state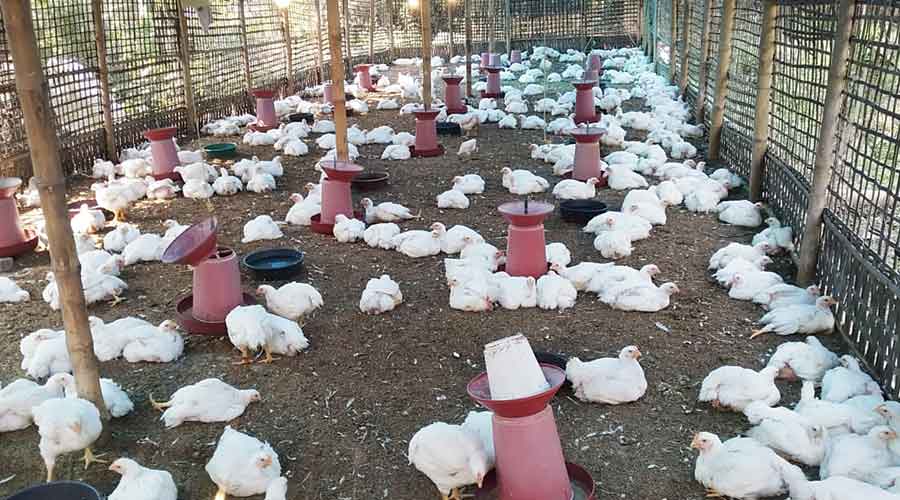 ---
|
Guwahati
|
Published 12.01.21, 02:14 AM
---
Assam can cope with the bird flu-triggered temporary ban on poultry for about six weeks but anything beyond that could severely impact the booming sector that was just about recovering after being hit by the Covid pandemic.
The state government had on Friday imposed the temporary ban as a preventive measure to check the possible outbreak of bird flu in the state. Neighbouring states have also stepped up vigil.
The ban came just days ahead of one of the state's most popular festivals (Bhogali Bihu or Magh Bihu) of which feasting is an integral part, sparking off apprehension about possible shortage and price hike of poultry.    
Both Assam Livestock & Poultry Corporation Limited (ALPCL) chairman Manoj Saikia and All Assam Poultry Farmers & Traders Association president Dr Mridul Borah in separate conversation with The Telegraph that the state is self-sufficient in chicken, a must during the Bhogali Bihu feast, for about six weeks.
"We are self-sufficient for six weeks. Price line will not be affected. Moreover, there is no ban on import of feed or eggs. So we have nothing to worry. The ban was imposed to save local farmers who
have already suffered due to Covid-19 and also save the poultry business in the Northeast because everything imported has to pass through Assam, through the two check gates in Kokrajhar and Dhubri districts," Saikia said.
Assam produces 60 lakh kg of chicken meat a week against a requirement of 58 lakh kg. Besides domestic consumption, it also exports to Arunachal Pradesh, Nagaland, Meghalaya and Manipur.
On the other hand, it  imports about 60 tonne chicken a day from outside, most of which goes to other states in the region.
APF&TA president Borah said there is nothing to worry about availability of chicken for six weeks, no ban on consumption of chicken and
other fowl because there is "no infection from bird to human" and prices will remain stable.
"Cause of concern would have been a ban on import of eggs and feed but luckily these have been allowed. Our members have been alerted to remain vigilant against possible outbreak," Borah said.
Assam requirement of egg is 53 lakh a day but it produces only two lakh a day, a huge shortfall.
According to Borah, the poultry sector suffered an average loss of Rs 100 crore a month during the pandemic.
"If bird flu strikes us, this average loss will mount to Rs 150 crore a month due to rise in input cost during Covid-19, an amount which will not only aversely impact the sector but will force many to fold up. We just hope these precautionary measures yield the desired results," Borah said.
Around 35,000 families from Assam are involved in the poultry sector, mostly in farming.
Officials said the veterinary department will be holding a meeting with the health department to take stock of the emerging situation and jointly announce steps to tackle the same, including removing any confusion related to the ban.
"This is a welcome step, removing confusion over consumption and what is banned. For example, there is no harm in consumption since no case has been reported in the state, that there is no ban on import of eggs and feeds.
Ban leads to panic sale which is not good," a poultry farmer said.