AHRC takes note of Akhil 'torture'
'I've been tortured heavily. It's a conspiracy to divert the movement but people of Assam must fight for justice'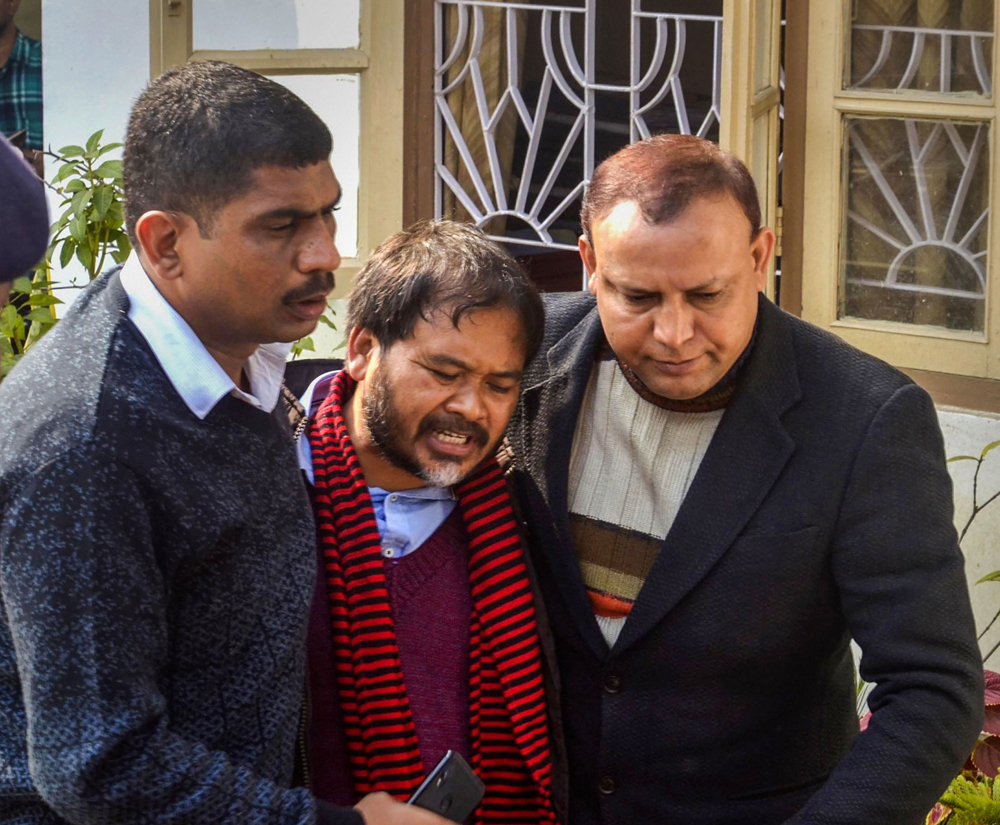 KMSS advisor Akhil Gogoi being produced in an NIA court in Guwahati, Tuesday, December 17, 2019.
(PTI)
---
Guwahati
|
Published 19.12.19, 09:54 PM
|
---
The Assam Human Rights' Commission (AHRC) has decided to take suo moto cognizance of media reports of alleged atrocities on Krishak Mukti Sangram Samiti (KMSS) leader Akhil Gogoi who was arrested by the National Investigation Agency (NIA) on Tuesday for allegedly having nexus with Maoist groups.
AHRC member Deva Kuma Sakia told The Telegraph, "The AHRC has decided to take suo moto cognizance of reports of alleged torture upon Akhil Gogoi, particularly the way he was brought to the court in handcuffs."
On Tuesday, Akhil was seen in handcuffs while being brought to the special NIA court at Chandmari here. As Gogoi was being taken to the court, he alleged that he was subjected to extreme torture. "I've been tortured heavily. It's a conspiracy to divert the movement but people of Assam must fight for justice," he said.
Akhil's lawyer Santanu Borthakur had also objected to the NIA handcuffing the peasant leader.
Akhil was arrested by the NIA under several sections of the IPC and the Unlawful Activities (Prevention) Act. After getting Akhil's custody for 10 days on Tuesday, NIA sleuths flew him to New Delhi on Wednesday. Before being arrested by the NIA, Akhil was arrested by the state police in Jorhat on December 12 during a protest against the Citizenship (Amendment) Act as a preventive measure.
Sakia said the AHRC was also discussing recommending interim relief to the families of the five persons who were killed in police firing or baton charge by security forces. However, the commission is yet to fix the compensation amount.
On Wednesday, the AHRC had taken suo motu cognizance of media reports and ordered the state government to constitute a high-level probe into the death of five persons and injuries to at least 27 persons during the ongoing protests across the state against the Act. It also directed the state government to furnish a detailed report within a month.
The AHRC has received several complaints, including from Congress MP Ripun Bora and students of Cotton University and the Deaf and Dumb School here, against police's atrocities upon students and protesters during the anti-CAA protests in the state. Bora had demanded his unconditional release on Wednesday, alleging that he had been framed.
Former chief minister Tarun Gogoi, too, questioned why was he was not arrested before the violence if the police had incriminating details.
Debabrata Saikia, the leader of the Opposition in Assam, said Akhil Gogoi was not a terrorist and was being punished by the "vindictive ruling BJP".
"This is because he has persistently opposed the anti-Assam policy of the Modi and Sonowal governments," he added.