Assam groups urge people to keep up fight against citizen bill
Rajya Sabha unlikely to clear it, unless BSP and SP back BJP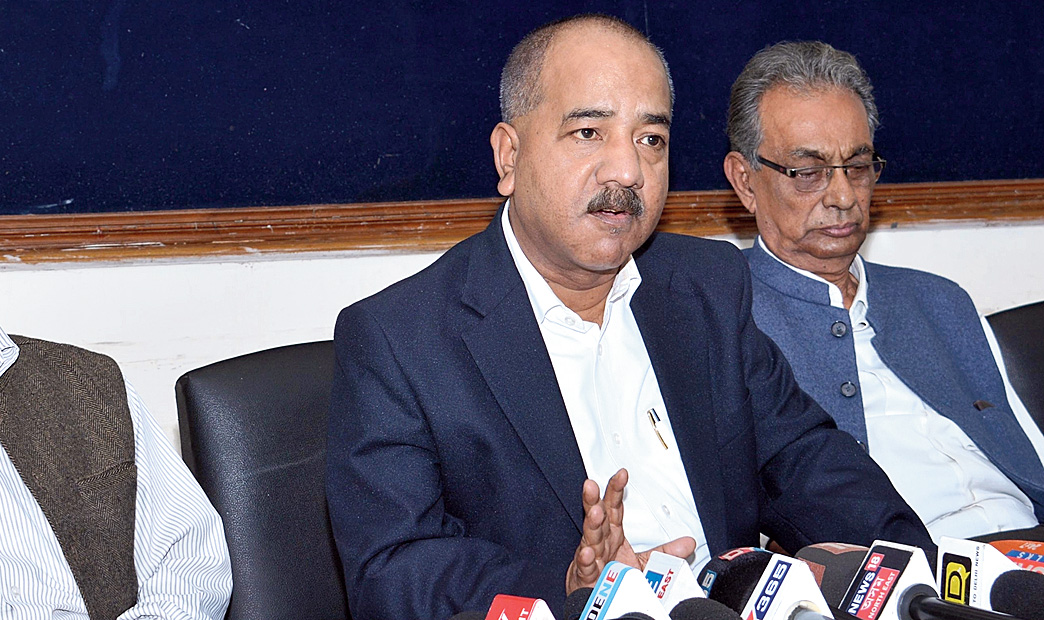 Manjit Mahanta (left) in Guwahati on Tuesday.
UB Photos
---
Guwahati
|
Published 05.02.19, 06:40 PM
|
---
The Forum Against Citizenship Act Amendment Bill and Krishak Mukti Sangram Samiti on Tuesday urged the people of the Northeast to continue protesting against the Citizenship (Amendment) Bill, 2019.
The appeal came a day after BJP national secretary Ram Madhav told reporters here that the bill was likely to be placed in the Rajya Sabha during the ongoing budget session as a supplementary bill.
Forum convener Manjit Mahanta told reporters here on Tuesday that the bill was not listed in the business list of the Rajya Sabha and the Business Advisory Committee of the Upper House, under the chairmanship of Venkaiah Naidu, had put the bill on hold in a meeting on Monday.
"But, as said by Madhav, the home ministry might introduce the bill as a supplementary bill if the BJP feels it has enough support in the Rajya Sabha. Hence, we should continue putting pressure through our relentless protest till February 13, the last day of the budget session of Parliament," he said.
"With the Congress and its allies and some BJP allies opposing the bill, its chances of being passed in the Rajya Sabha are slim. But we are apprehensive that the Samajwadi Party (13 seats) and the Bahujan Samaj Party (4 seats) might support the bill," Mahanta added.
KMSS adviser Akhil Gogoi said, "Madhav has made it clear that the government is hell bent on passing the bill. Hence, we should maintain the pressure."
Mahanta and Akhil were among the teams which met Congress president Rahul Gandhi on Monday with the appeal to vote against the bill in the Rajya Sabha. Three teams had met Rahul — North East Students' Organisation-All Assam Students' Union, 70 organisations led by the KMSS and Forum leaders led by Hiren Gohain.
BJP leader Jayanta Malla Baruah told The Telegraph that the anti-bill protests were "sponsored" by the Congress: "Pictures have made it apparent that the protesters have been closely associated with the Congress since the anti-bill protests gained momentum."
Both Mahanta and Akhil said the meeting with Rahul was "inevitable" as the Congress, with 50 seats, has the second highest majority in the Upper House after the BJP, which has 73 seats.