Assam groups for muted Bihu to protest citizenship bill
Akhil Gogoi of the KMSS, which has been spearheading protests against the bill, will sit on a daylong hunger strike on Bihu eve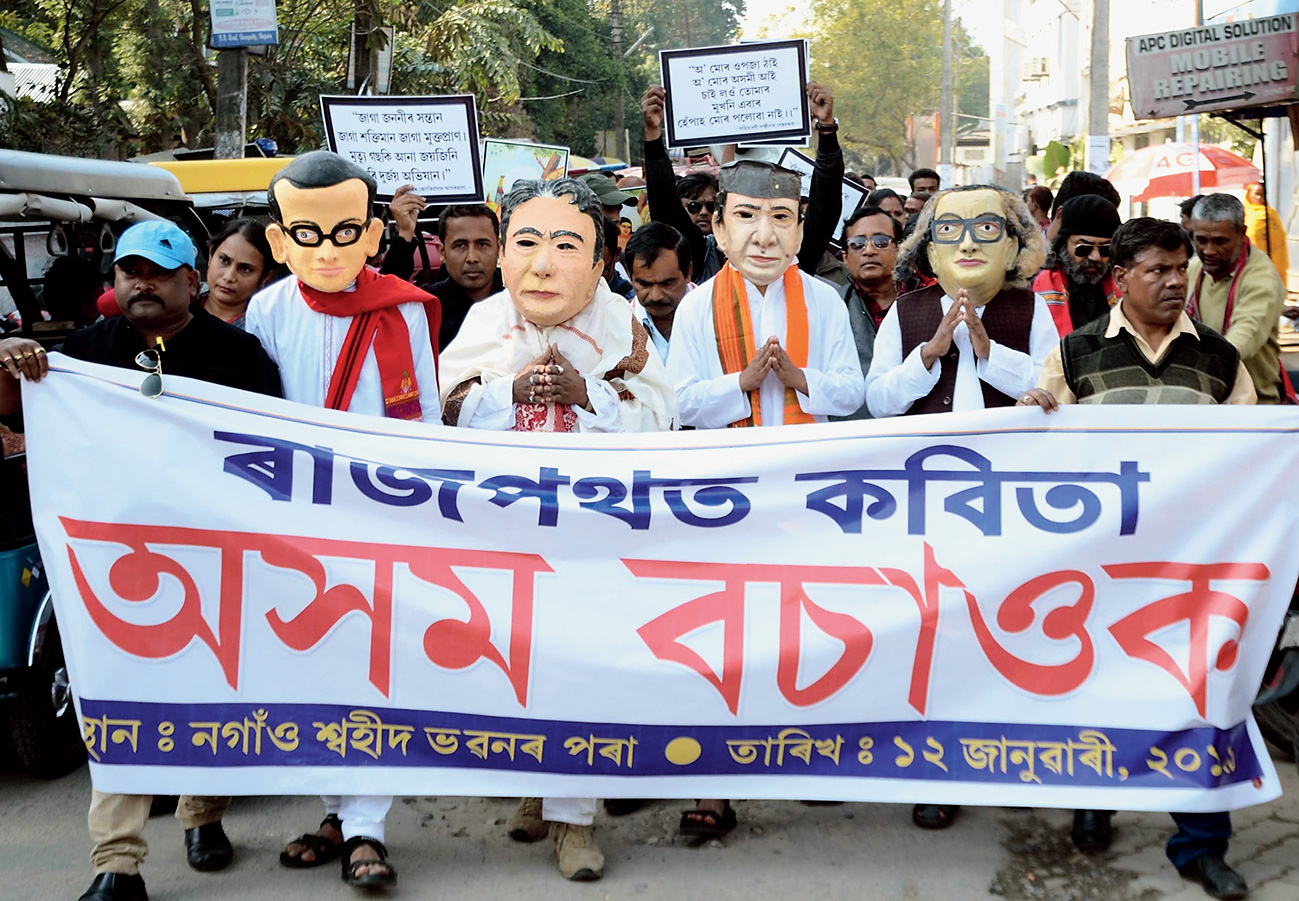 Protesters wear masks of Assam littérateurs in Nagaon on Saturday.
UB Photos
---
Guwahati
|
Published 12.01.19, 06:57 PM
|
---
Several groups and organisations in Assam have appealed to the people to celebrate Bhogali Bihu in a subdued manner to protest the passage of the Citizenship (Amendment) Bill, 2019, in the Lok Sabha.
Akhil Gogoi, adviser of the Krishak Mukti Sangram Samiti, which has been spearheading protests against the bill, will sit on a daylong hunger strike on Bihu eve. Bhogali Bihu will be celebrated on January 15 and 16.
"Let's not forget the bill is on the verge of being passed. We must continue this agitation till the bill is scrapped. I urge the people to observe Bihu in a subdued way to make our voice even stronger against the bill," Akhil said on Saturday.
"I will stage hunger strike on uruka (January 14) for almost 24 hours till the meji is burnt the next day. If anyone wants to join me for the cause, come be a part of it," he added.
He also urged the people to burn copies of the bill on January 15 morning and hoist gamosas as a mark of their Assamese identity.
Members of 69 other organisations, who have been opposing the bill, said they would also stage a hunger strike during Bihu.
"Let the people celebrate Bihu but we appeal to them not to forget the main issue about opposing the bill. I will stage a hunger strike at Sivasagar on uruka. Some of the other members will also stage hunger strikes in different places across the state," said Madhurjya Baruah, an advocate and general secretary of the Axom Chatro Yuva Sanmilan.
Durlav Chamua, adviser to the All Assam Koch Rajbongshi Sanmilani, which has been fighting for Scheduled Tribes status to six communities, said, "This is not the time to celebrate but safeguard our land from the conspiracy by the government. We must stand united and oppose the bill. This is my personal request to the people of Assam."
Ulfa, in a statement, also urged upon the indigenous people not only to celebrate Bihu as a festival of feasting and fun but as a point of "emergence of Assamese national consciousness".