Assam discharges first 2 coronavirus patients
The number of Covid-19 patients has reached 32 in the state; one of the 32 patients had died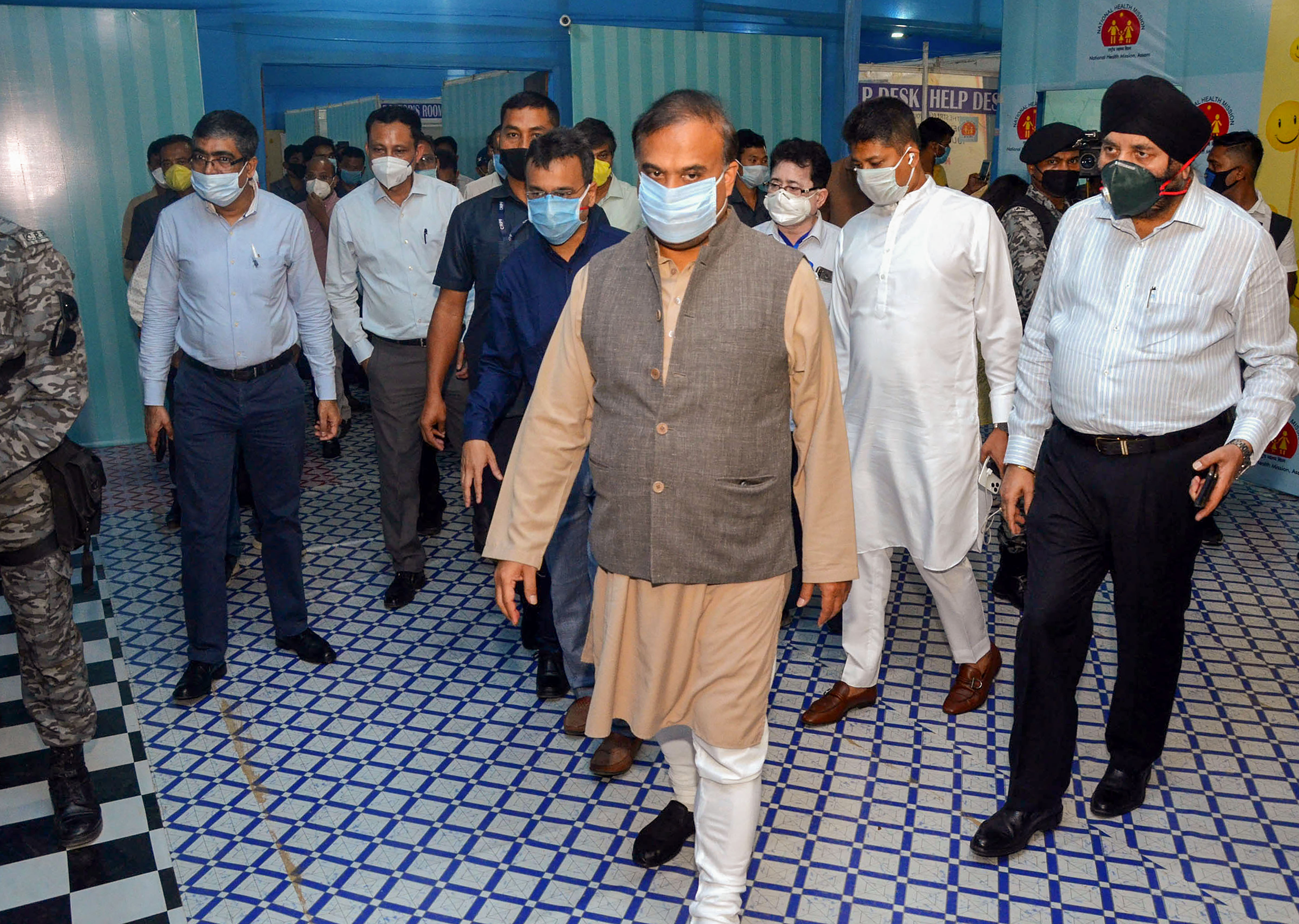 Assam State Finance Minister Himanta Biswa Sarma reviews a quarantine centre setup for COVID19 patients during the nationwide lockdown, at Sarusojoi Sports Complex, in Guwahati on Monday.
(PTI)
---
Dhubri
|
Published 16.04.20, 12:04 AM
|
---
Assam on Wednesday discharged its first two Covid-19 patients after two successive tests found them to be negative. The number of Covid-19 patients has reached 32 in the state with the detection of a new case in lower Assam's Dhubri district on Tuesday.
One of the 32 patients had died.
Assam health minister Himanta Biswa Sarma told the media that a Covid-19 patient is discharged after he clears two samples tests on the 14th and 15th day, if he clears the chest X-ray and if he is without symptoms like fever and cough.
The two patients had cleared all these and had been discharged, he added. 
"But according to WHO guidelines, a patients discharged from hospital should be at home for the next 14 days. We have advised the duo to be in the guesthouse of Nagaon Paper Mill so that we can monitor their condition as they are our first released patients. They agreed," Sarma said, adding that from now the two were like any other person.
Sarma said another patient was found to be negative on April 13 but positive on Wednesday.
"He will not be discharged," the minister said.
He said he was hopeful of discharging most of the patients by April 30.
Sarma said the patient from Dhubri was the wife of a person who had earlier tested positive for Covid-19.
Her husband had attended religious congregations at Nizamuddin in Delhi and Athgaon Kabarsthan Masjid in Guwahati.
The couple are residents of Bilasipara subdivision.
Her husband is undergoing treatment at Mahindra Mohan Choudhary Hospital (MMCH) in Guwahati since April 7.
Dhubri circle officer J.S. Sarma said the woman had also been sent to MMCH on Tuesday night according to the state government directives.
Sarma said her three children have tested negative.
Dhubri has reported four Covid-19 cases, of whom two had attended the religious congregations.
The Dhubri district administration has aplaced at least 19 people, including the family members of the positive patients, under mass quarantine centres.
The Assam government has got 50,000 personal protective equipment (PPE) kits from China.
"Keeping life first as the motive we are glad to have imported 50,000 PPE kits from Guangzhou, China." Sarma tweeted.
The health department suspended a joint health director of Dibrugarh district on charges of dereliction of duty. It also started the routine immunisation programme which had been suspended for a brief period because of Covid-19.
"We will ensure that no child in the state is deprived of immunisation support," Sarma said.
The health department ensured that the doctors and nurses who have been quarantined in different hotels after treating Covid-19 patients were greeted on Bihu with gamosa, ladu and pitha. Sarma also visited Taj Vivanta in Guwahati where 43 doctors and nurses are quarantined after treating Covid-19 patients.