Assam Congress alleges harassment of members
Several Congress members had been harassed and arrested by police following baseless allegations: PCC spokesperson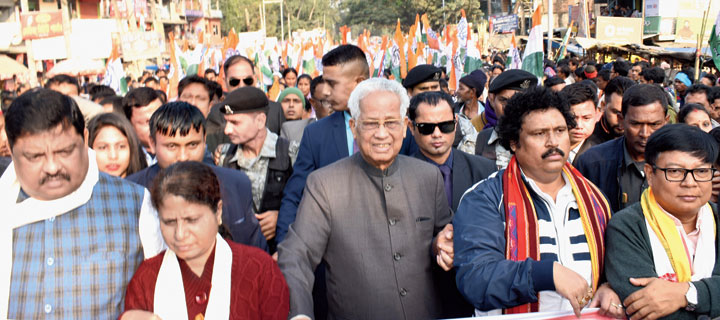 Congress members take part in a rally in Chaygaon on Sunday.
Picture by UB Photos
---
Guwahati
|
Published 05.01.20, 10:05 PM
|
---
Assam PCC spokesperson Apurba Kumar Bhattacharjee on Sunday said if state BJP president Ranjeet Kumar Dass was a "proud Assamese" as he claimed, then why did he not oppose the Citizenship Amendment Bill (CAB) when it was being turned into an Act.
Speaking to the media, Bhattacharjee said in the past few days several Congress members had been harassed and arrested by police following baseless allegations. "The members were harassed only because they were protesting against an unconstitutional Act which the government wants to forcefully impose on the people. Most of the charges against Congress members, including a state-level spokesperson, are non-bailable. No one can put non-bailable charges on a person who is protesting democratically," Bhattacharjee said.
He added that the Congress had been vocal about the CAA and was agitating for the greater interest of the people and such allegations would not stop them from protesting against what is wrong.
Bhattacharjee said allegations against a National Students' Union of India (NSUI) leader being involved in vandalism was completely false because the leader, Jubair Anam, was not even in Guwahati when the protests took place. The NSUI is the student wing of the Congress.
"Anam is framed just like Youth Congress leader Kamrul Islam Choudhury. We believe that these people are being targeted only because they have been vocal about the CAA and various other issues in the state."
Bhattacharjee said: "BJP state president Ranjeet Kumar Dass says that we are protesting without any reason. He is trying to defame our protest. He says that he is a proud Assamese. But if questions are raised, Dass has a lot to answer. If he really is a 'proud Assamese' then how come this CAA came into existence in Assam? He should have protested against it."
He alleged that an MP from Maharashtra said that Majuli was filled with Bangladeshis which is a "blatant" lie. Bhattacharjee termed the statement an "insult to the people Assam" . "Did Dass's sentiments go numb when these words were said by one of their MPs in Rajya Sabha?" he asked.
On the BJP's booth presidents' meeting in Khanapara on Saturday, Bhattacharjee said: "Some people of the ruling party said 90,000 booth presidents attended the meeting, but surprisingly there are only 24,287 booths in Assam."
In Chaygaon, the Congress committee, in the presence of local MLA Rekibuddin Ahmed, organised a rally to protest against the Act on Sunday. Former chief minister Tarun Gogoi, PCC president Ripun Bora, leader of the Opposition Debabrata Saikia, former PWD minister Ajanta Neog, Rupahihat MLA Nurul Huda and Congress spokesperson Kamal Kumar Medhi took part in the rally.
The rally started around noon from Rajiv Bhavan. Before the rally, the dignitaries paid floral tributes to CAA protest martyr Dipanjal Das.
Bora said the Assam Congress has continuously opposed the Act since 2016, because it was totally unconstitutional.
Gogoi said chief minister Sarbananda Sonowal and minister Himanta Biswa Sarma thought that they were the kings of Assam and can do anything. "But they forgot that they formed their government with support of the public. Now the public has come out to protest against CAA," he added.
Additional reporting by Kulendu Kalita in Boko