Sahitya sabhas in unity call over Citizenship bill
The Asam Sahitya Sabha during the three-hour citizens' protest at Dighalipukhuri urged people of Assam to unite against the "unsecular" bill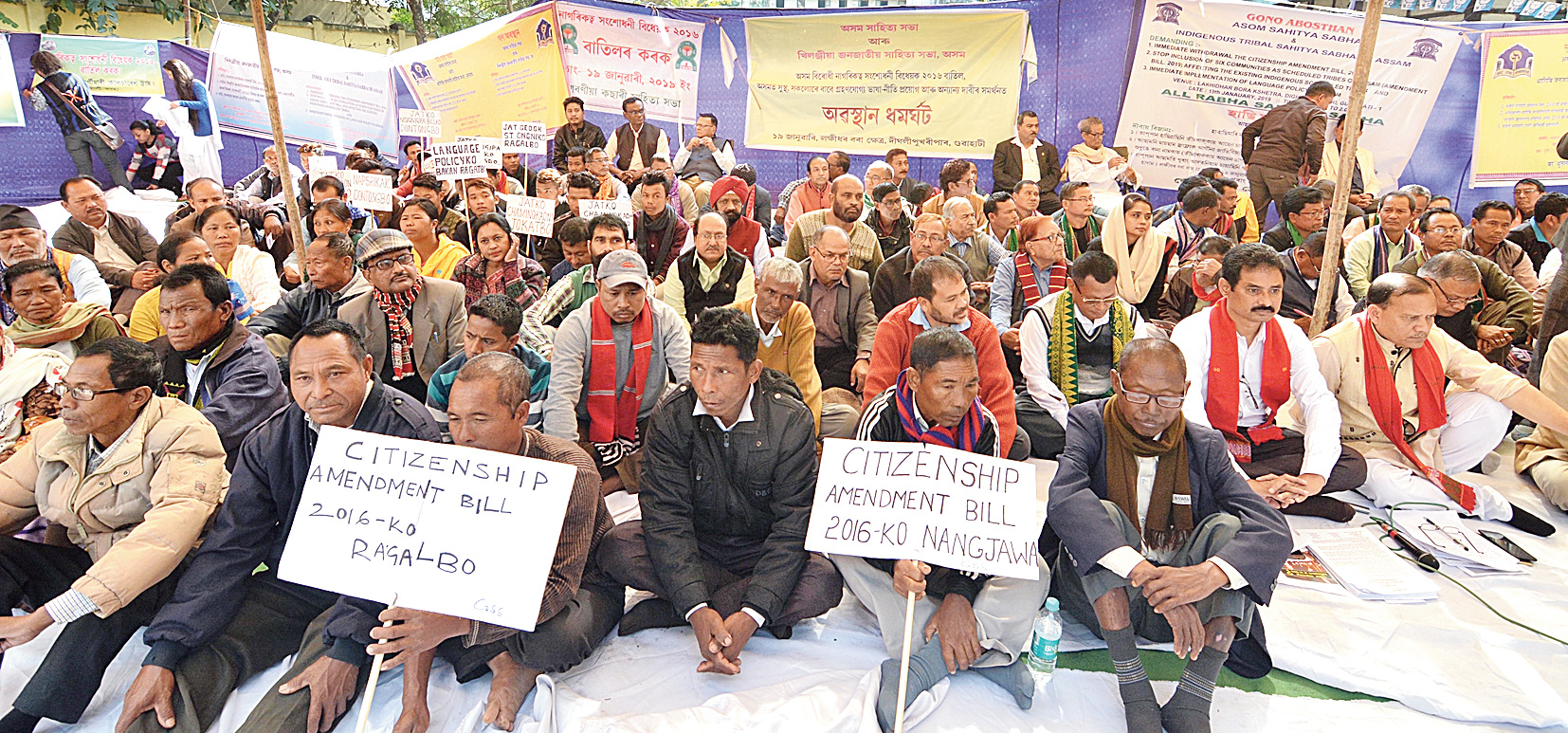 Members of Assam Sahitya Sabha and other literary bodies in Guwahati on Saturday.
UB Photos
---
Guwahati
|
Published 19.01.19, 07:04 PM
|
---
Voices against the Citizenship (Amendment) Bill, 2019, continued to grow shriller in Assam with a sit-in organised by the Asam Sahitya Sabha here and singer Zubeen Garg releasing his first song against the bill at Bongaigaon on Saturday.
The Asam Sahitya Sabha, along with seven other Sahitya Sabhas and citizens' organisations, during the three-hour citizens' protest at Dighalipukhuri here urged people of Assam, including Bengalis, to unite against the "unsecular" bill.
"The lingual polarisation that the BJP is trying to do through this bill has become apparent and I am sure that the Bengalis have also noticed it. We are in touch with some Bengali organisations and they have expressed displeasure. I urge the Bengalis to unite with other lingual sections and voice protests against this unsecular bill. We will not allow a clash between people of different languages," the Sabha's president Paramananda Rajbongshi said.
The bill that seeks to grant citizenship to Hindus, Sikhs, Buddhists, Jains, Parsis and Christians who had fled Afghanistan, Bangladesh and Pakistan is feared to harm the culture and language of Assam by increasing the numbers of Hindu Bengalis from Bangladesh. It also received support from a section of Bengali organisations in Barak Valley where Bengalis are a majority.
Rajbongshi said he supports the Centre's decision to implement Clause 6 of the Assam Accord that dwells on constitutional, legislative and administrative safeguards, as may be appropriate, and provide protection, preservation and promotion of the cultural, social, linguistic identity and heritage of Assamese people, but not at the cost of secularism.
"We support the government's decision to incorporate the recommendations of Clause 6 of the Assam Accord in Article 371 of the Constitution, but not at the cost of amending the Citizenship Act, 1955 on the basis of religion. The BJP has played shrewd politics here," Rajbongshi said.
At a function in Bongaigaon, Zubeen released his song Politics nokoriba bondhu (Don't do politics my friend) as a protest against the bill. Zubeen first protested on January 8, the day the amendment bill was passed in the Lok Sabha. In a letter to Assam chief minister Sarbananda Sonowal on Saturday, he said he is not part of any political party and hence will continue his protest. "I neither belong to the Congress nor the BJP. I was paid by both during the polls. I sang their songs. If required, I can return their money. I am a socialist and will continue voicing against this bill which is against Assamese society."