Assam alert: Don't let your future go up in smoke
Tobacco use has spiralled in Assam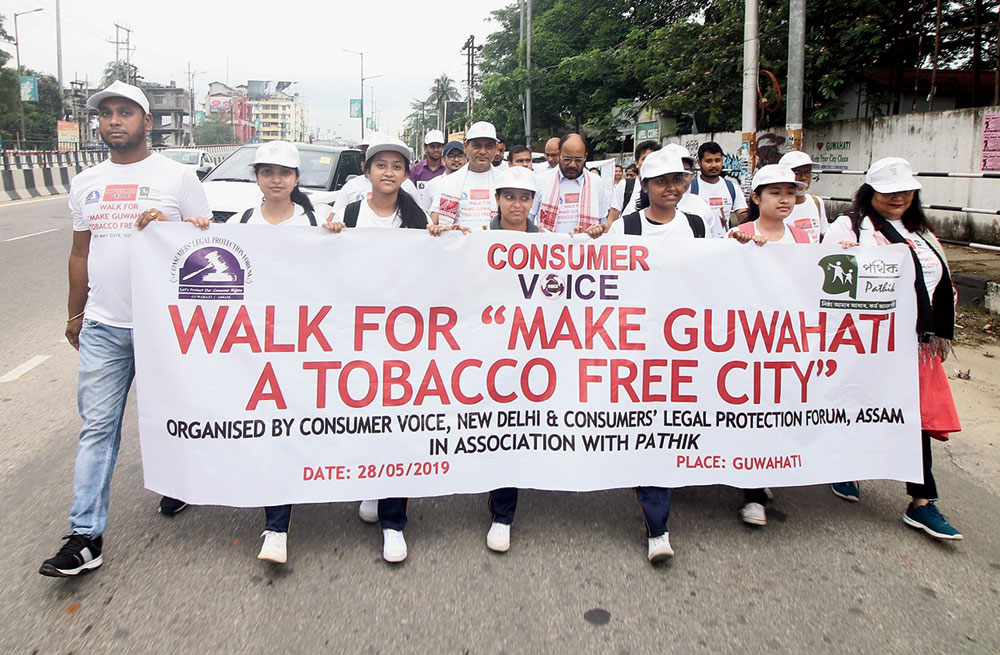 Students participate in a walkathon to observe World No Tobacco Day in Guwahati on Tuesday
Picture by UB Photos
---
Guwahati
|
Published 29.05.19, 12:36 AM
|
---
I wish we could do something useful with tobacco — like making fertilizer out of it
— Paul Dudley White
Contrary to the countrywide trend, tobacco use has spiralled in Assam, sending alarm bells ringing among health workers.
The Global Adult Tobacco Survey (GATS) 2 carried out in 2016-17 says tobacco use in the country decreased from 34.6 per to 28.6 per cent while in Assam it increased from 39.3 per cent to 48.2 per cent in five years.
With World No Tobacco Day on May 31, the state tobacco control cell and district tobacco control cell, Kamrup (Metro), on Tuesday announced a campaign to raise awareness on the dangers of tobacco use, in line with this year's focus on Tobacco and Lung Health.
World No Tobacco Day is observed by the World Health Organisation on May 31 every year to raise awareness on tobacco's dangers.
Friday's campaign will raise awareness on the risks of smoking tobacco and second-hand smoke, its dangers for lung health, the magnitude of death and illness globally from lung diseases caused by tobacco, including chronic respiratory diseases and lung cancer, link between tobacco and tuberculosis deaths, importance of lung health in achieving overall health and well-being, and steps the public and government can take to reduce risks to lung health posed by tobacco.
In the run-up to World No Tobacco Day, more than 700 citizens took part in a 5km walkathon on Tuesday morning with the slogan, Make Guwahati a Tobacco-Free City. The Consumers' Legal Protection Forum, Assam, and Consumer VOICE, New Delhi, in association with NGO Pathik, organised the walkathon from Hiteswar Saikia College (City College), Six Mile, to Ganesh Mandir Indoor Stadium, Khanapara.
It was flagged off at 7am by Assam additional director-general of police (CID) L.R. Bishnoi, GMC commissioner Debeswar Malakar, Dr B. Borooah Cancer Institute director Dr Amal Chandra Kataki, the nodal officer of state tobacco control cell Dr Arundhuti Deka and senior executive of Assam Cancer Care Foundation Akash Pradhan. Students, teachers, celebrities, civil society, police and government officials and senior citizens participated in the event.
The walkathon aimed at creating awareness on effective tobacco-control measures to protect the youth from tobacco menace and make the city tobacco-free.
According to GATS, in Assam 25.3 per cent men, 0.8 per cent women and 13.3 per cent of all adults smoke tobacco.
Significantly, 50.5 per cent men, 32.5 per cent women and 41.7 per cent of all adults use smokeless tobacco.