Asha workers show ray of hope in Assam
As many as 33,000 Ashas are rendering their best effort to combat Covid-19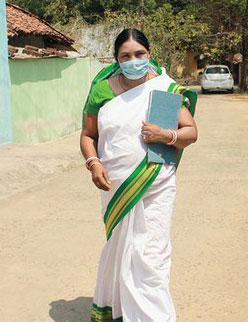 ---
|
Bokakhat
|
Published 29.03.20, 08:00 PM
---
At a time when the world is facing the coronavirus threat, the health department highly depends on Accredited Social Health Activists (Ashas) as they are the primary frontline workers at the community level.
They are the most dedicated and successful frontline staff. As many as 33,000 Ashas, engaged under the National Rural Health Mission, are rendering their best effort to combat Covid-19 in Assam.
Normally their duty is community development through healthcare awareness and immunisation programmes. As they are voluntary workers they are given only incentives. At present, there are various categories of activities for which they are entitled to incentives. A sum of Rs 1,000 per month is fixed for 13 activities while Rs 2,000 is fixed for eight other activities. In addition to that they may get small incentives for several other activities.
At present, they are working round the clock to combat the coronavirus outbreak. They give information about patients with coronavirus symptoms and about persons coming from outside. They go door-to-door in their respective areas visiting nearly 300 households everyday.
Golaghat deputy commissioner Bibhash Chandra Modi said Ashas were the real frontline workers to combat corona pandemic. "I talk to five to 10 Asha workers daily over phone to encourage them."
Golaghat district community mobiliser (DCM), Jesmin Rahman, said Asha workers were the primary field-level workers in the healthcare sector.
"Asha teams along with Anganwadi workers, multi-purpose workers (MPW), nurses, health educators, led by Asha supervisers, are doing their best at their levels," Rahman said.
The president of Asha Association, Golaghat district committee, Amiya Bora, said though they are facing tough situations on the ground, they were happy to help the government in this hour of crisis.
"We never think of our financial insecurity but perform our duties wholeheartedly. And we have succeeded in our effort to make the community members aware about the Covid-19 outbreak," Bora said.
Asha worker at Balijan Babita Kurmi also echoed Bora.
The Sadou Asam Karmachari Parishad, the organisation of state government employees, has urged the government to ensure security of the frontline workers.
In a press release issued by the general secretary of the organisation, Mrinal Das, it has urged the government to arrange police cover for the workers as some of them were attacked by persons who were home-quarantined.
Several organisations and individuals have urged the government to regularise the services of Asha workers for the sake of community healthcare.