Apathy-hit Assam villagers to boycott elections
Deprived of basic amenities for 27 years, villagers of 2 panchayats under Tezpur subdivision decide to not vote in panchayat polls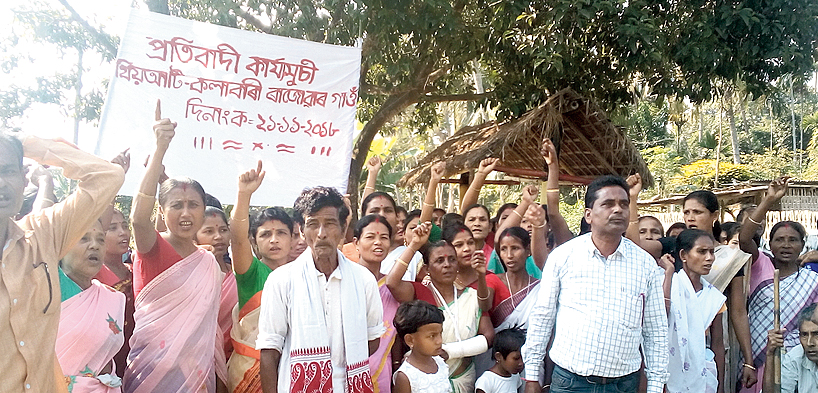 ---
Tezpur
|
Published 22.11.18, 08:35 AM
|
---
The villagers of Thiyo Aati Kolabari Rajuar comprising Number 1 Bihoguri panchayat and Bahbari panchayat under Tezpur subdivision of Assam will not cast votes in the panchyat polls to protest apathy of the administration.
The area falls under Barsala constituency of Sonitpur district.
For the past 27 years, the villagers are not getting basic amenities.
They have now decided that if anybody casts vote he/she will have to shell out a fine of Rs 5,000 and will be ostracised for 12 years.
On Wednesday, villagers of the two panchayats took out a protest rally against deprivation of civic amenities.
Thiyo Aati Kolabari Rajuar is about 15km from Tezpur, 7km from National Highway 15 and 165km from Guwahati.
The protesters said condition of a key village road is totally deplorable.
They also demanded drinking water. Though the public health engineering department had set up a drinking water-distribution facility in the village, it has been lying abandoned for the last three years. During floods, they face acute shortage of drinking water and have to depend on unhygienic turbid water of tubewells.
The villagers alleged that AGP legislator from Barsala late Prafulla Goswami, three-time MLA Tanka Bahadur Rai and incumbent MLA Ganesh Limbu only gave assurances but did not fulfil their demands.
The villagers shouted anti-government slogans and threatened to boycott Lok Sabha elections as well if the administration continues to neglect their demands.