Anti-bill show of strength at AASU rally
Thousands of students, youth and elderly from all walks of life vowed to stand together in the fight against Citizenship bill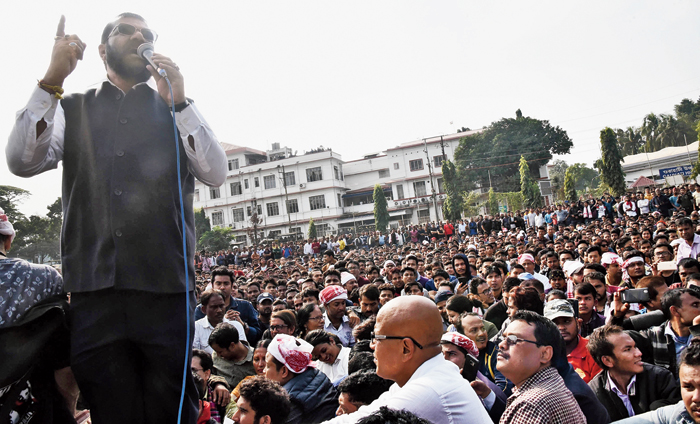 AASU adviser Samujjal Bhattacharjya speaks at the rally
Picture by UB Photos
---
Guwahati
|
Published 12.12.19, 10:05 PM
|
---
Thousands assembled at a huge rally at Latasil field here on Thursday, organised by All Assam Students' Union to protest against the Citizenship (Amendment) Bill, despite enforcement of an indefinite curfew in widespread protests following passage of the legislation.
Thousands of residents, including students, youth and elderly from all walks of life vowed to stand together in the fight against CAB.
The deployment of an additional 5,000 central troops, to aid the state police in neutralising agitators, could not stop the rally. Police and army troops forcefully attempted to stop and disperse the protesters but thousands of them forced them to open the entrance.
AASU general secretary Lurinjyoti Gogoi said, "This mass gathering shows that we have dismissed CAB. We have shown our strength today. We will not succumb to Dispur and Delhi's subjugation. They cannot suppress our voices. We are not fighting against any religion. Our movement is to scrap the anti-constitutional bill. We will maintain peace and democracy while continuing our protests."
Azara resident Damayanti Kalita, 53, said: "Police cannot stop us from protesting. We have not come here to rehearse war against the government. Our objective is to listen to our leaders and continue the course of protests."
Damayanti walked around 21km, along with 25 others. "We started walking from around 5.30am," she added.
Mrinali Bharali, 47, said, "We came here on foot. We have been fighting CAB from the moment it was passed in the Rajya Sabha. We have come to let the leaders feel that they are not alone." She came with 40 from Panikhaiti, around 14km away.
AASU adviser Samujjal Bhattacharjya said, "At this juncture, we do have anger and frustration. But we must not transform our anger and frustration into violence. Delhi and Dispur governments will consider violence as our weakness. We must prove our strength through a peaceful and democratic movement. We must make it clear to the Centre that no Assamese is ready to accept even a single foreigner who came and settled after 1971."
He alleged the BJP has been "trying to dump lakhs of illegal foreigners making excuse of Clause 6 of the Assam Accord".
"The BJP must know that after providing citizenship to lakhs of foreigners till December 31, 2014, talking about Clause 6 is meaningless. The government is committing to providing safeguards to the people of Assam. At the same time, they are forcing us to take in more foreigners. This is quite irrational and an injustice to the people."
Citing the scenario in Tripura, Bhattacharjya said, "Foreigners have gradually outnumbered the indigenous Tripuris in their own land. We cannot let Assam face the same fate as that of Tripura."
AASU announced a hunger strike at Chandmari on Friday from 6am. "Today it is Latasil, tomorrow it will be Chandmari. We will continue our democratic protest. I want to convey to the masses to have patience and maintain peace because it is going to be a long drawn movement against CAB," Gogoi said.