An innovative evening raga
Read more below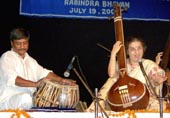 ---
---
Ashwini Bhide Deshpande in full flow at Rabindra Bhawan. Picture by Eastern Projections
A journey spanning over two decades of mellifluous rendition of Hindustani vocal brought singer Ashwini Bhide Deshpande to Guwahati for a recital at Rabindra Bhawan.
Deshpande has emerged as the latest singer to join the ranks of elite Hindustani classical vocalists.
The programme was organised by Taal and Saptak on July 19 and proved to be one of the most significant classical music soirees held in Guwahati.
Deshpande, a disciple of vocalist Kishori Amonkar of the Jaipur-Atrauli gharana, has proved to be a formidable exponent of classical music by dint of sheer talent and innovative ideas.
She began the khayal in raga Miyan ki Malhar and unfurled the swaras in vilambit, set to teentaal.
The most impressive part of her recital was the madhya laya, also set to teentaal.With graceful support from Paban Bordoloi on the tabla, the singer showed her superb control over laya and swara in all saptaks with an enchanting bandish, Bol re papi hara.... Raga Miyan ki Malhar is a complex composition where both Gandhar and Nishad are used in both shudh and komal forms. But Deshpande's skill brought a unique coherence among the swaras in all four forms. The drut part of the raga was set to the uncommon ada choutaal.
The next two items Deshpande presented were a kajri inspired by raga Shivranjani and a bhajan in raag Bhairavi. The kajri was matchless for its enchanting bandish, Jhamake jhuke aye badariya aye, jhula jhule nand kishore....
Similarly, the bhajan Shiv Shiv ke man charan ho..., which began with a Sanskrit shloka, held the audience spellbound, with Deshpande imbuing it with devotional fervour. Both compositions were set to kaharva taal.
The evening began with singer Mitali De's bhajan (accompanied by Khagen Goswami on the tabla) and Nabin Rajkonwar's sitar recital in raga Shuddh Kalyan (accompanied by Dibyajyoti Changmai on the tabla). Pradyut Mishra's harmonium provided a worthy accompaniment to all the performances.