Amnesty: Free FT of pressure
Amnesty recommended that the Centre sign and ratify the 1954 Convention relating to the status of stateless persons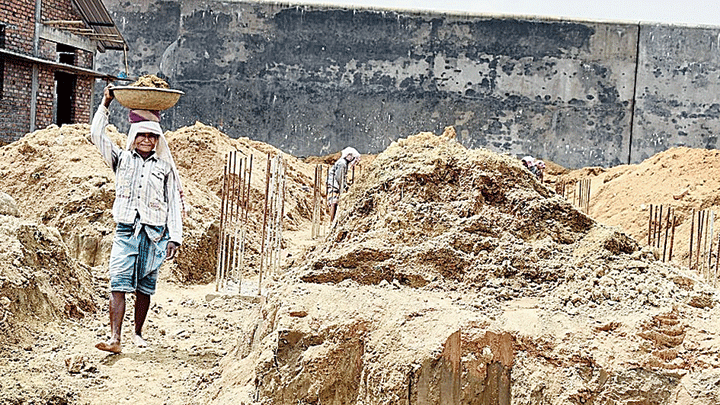 A labourer works at the detention camp in Goalpara.
File picture
---
Guwahati
|
Published 27.11.19, 08:56 PM
|
---
Amnesty International India, in a report on Assam's foreigners tribunals on Wednesday, recommended that the state and the central governments review the members of the tribunal and ensure they are protected from "undue influence of the executive bodies such as home and political department of the state."
The 60-page report, titled Designed to Exclude: How India's Courts are Allowing Foreigners Tribunals to Render People Stateless in Assam, has chapters on issues like the complicity of courts, problematic laws, foreigners tribunals and their impact on the ground along with recommendations. The recommendations say the authors of the report state that the review of the recruitment process of FT members should be based on a process which must include a written examination and intensive training by National Judicial Academy.
The final chapter includes the recommendations and asks the state and central governments to fix the tenure of the members of the FT, conduct public hearings in line with human rights standards, and publicly make available the orders of the FTs under Section 4 of the Right to Information Act, 2005.
Among the other recommendations to the state, the report asks it "to review the opinions of the FTs in their case to determine whether fair trial standards enshrined in national and international laws were followed in determining their nationality and take immediate steps to restore the nationality of the persons who were arbitrarily deprived of their nationality, carry out a comprehensive exercise to identify all those who are stateless and at risk of statelessness and to compile disaggregated data by gender, age, status and location in cooperation with the National Human Rights Commission and other human rights organisation."
Amnesty recommended that the Centre immediately sign and ratify the 1954 Convention relating to the status of stateless persons and the 1961 Convention on the Reduction of Statelessness, to provide free and efficient legal aid service to those accused of doubtful nationality at the time of interrogation by border police, make efforts to regularise migration by promoting access to safe channels, ensure that no one is deprived of citizenship due to lack of document papers, and others.
The report gives out a detailed picture of how an FT functions and so as to what a FT is, the role of the Citizenship Act of 1955, Foreigners Act 1946, FT Order of 1964, competence and independence of FT, lists of performance appraisal of the newly appointed members of FT, FTs and their impact at the ground level. The report also carries case studies of people affected by FT orders.