Akhil Gogoi in jail amid clamour for release
Akhil told the media that he was going through a 'hard time' in the jail and was unwell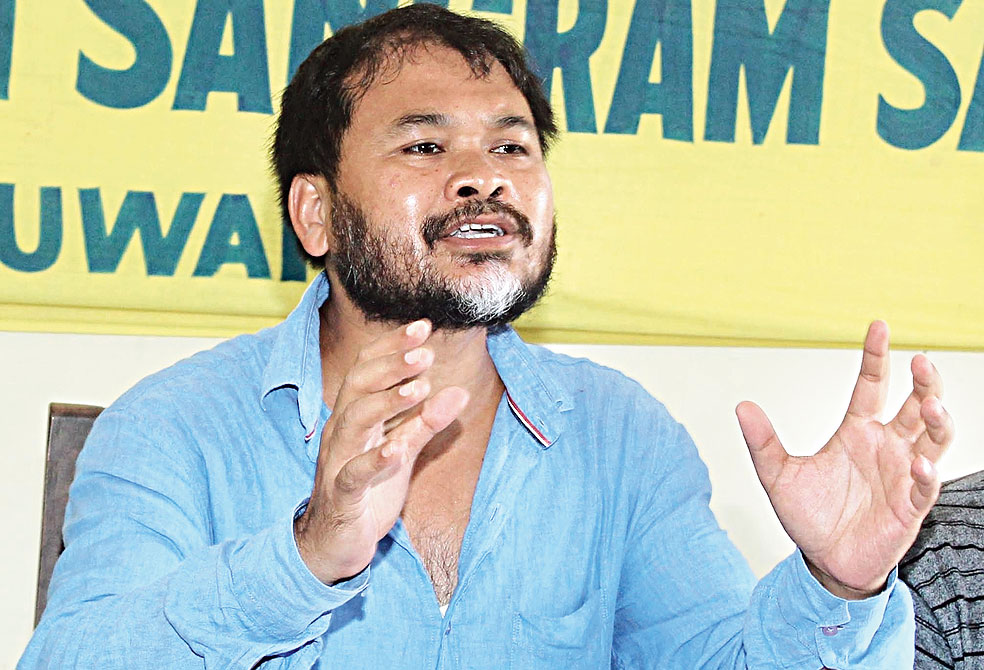 ---
|
Guwahati
|
Published 23.04.20, 07:41 PM
---
Krishak Mukti Sangram Samiti (KMSS) leader Akhil Gogoi was again remanded in judicial custody on Thursday by a special National Investigation Agency court.
Gogoi was sent to judicial custody over a case lodged with the NIA under Sections 120B, 124A, 153A, 153B of the IPC and Sections 18 and 39 of the Unlawful Activities (Prevention) Act.
He was brought to Guwahati on Wednesday night from Dibrugarh jail where he was lodged in connection with a case in Chabua police station.
He will be lodged in Guwahati Central Jail now.
Akhil told the media that he was going through a "hard time" in the jail and was unwell.
"Since there is a pandemic outbreak, I demand the government help those people who are stranded in various parts of the country. I will request the citizens to main social distancing norms," he added.
Akhil has been in judicial custody since December 27, 2019, for alleged links with the Maoists. Akhil was first arrested by Assam police on December 12 from Jorhat and was then handed over to the NIA on December 17.
Mass petition: The Anti CAA Coordination Committee started a mass petition which will be submitted to the Chief Justice of India, demanding release of Akhil and his associates and stop the "vindictive politics", which is a dangerous "political virus".
The mass petition was signed by the committee's president Hiren Gohain and its coordinator Deben Tamuly. "We appeal to the honorable Chief Justice of India to intervene in the interest of due process and justice and order that Akhil Gogoi and other workers of the KMSS are granted bail without further delay," a statement of the committee which was released on Thursday said.
It added: "This relentless hounding of Akhil is a travesty of justice. The process of arrest-bail-rearrest has exposed many sordid aspects of this legal harassment."
"A mass leader like Akhil, who has been granted bail by the court over and over again, has become the victim of the ire of the government. We are deeply pained and anguished at such an attitude of the government. It has failed to show even basic humanitarian concern. The current regime of Assam has manifested its vindictive politics," it said.
The application also said human rights have been violated by imposing new cases on Akhil.
"In Article 9 of the Human Right Charters arbitrary arrest and arbitrary detention of an individual in a case — in which there is no likelihood or evidence that he committed a crime against legal statute or in which there has been no proper due process of law or order — is unlawful."
The application added the humanity will fight out the coronavirus very soon, but if vindictive politics is not contained, "democracy and human rights will be ruined".
"Gogoi is not a dreaded criminal. Democratic movement is a right bestowed upon the citizens by the Constitution itself," the application said.
It also criticised the BJP government in the state.
Additional reporting by Rokibuz Zaman