AGP banks on social media
The party on Monday decided to explore all popular social media platforms like Facebook and Twitter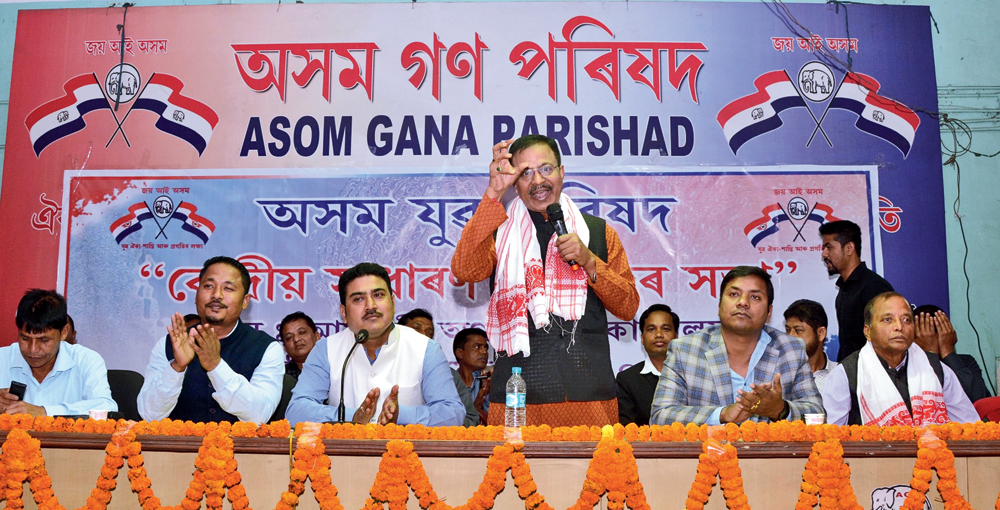 ---
|
Guwahati
|
Published 17.02.20, 06:40 PM
---
The AGP is planning to create "vigorous online presence" with an aim to popularise the spirit of "regionalism" among the young and tech-savvy generation of Assam.
The party on Monday decided to explore all popular social media platforms like Facebook and Twitter to expand its reach among the youngsters and establish communication to understand them.
Holding a discussion with the youth and women wings on Monday at its headquarters at Ambari here, the AGP leadership asked its members to start building the party's grip in the state ahead of the 2021 Assembly polls and to take its vision to all sections of the people.
Youth wing Asom Yuva Parishad (AYP) president Sunil Deka told The Telegraph, "It's the need of the hour that the party should catch the attention of the young generation and popularise the idea of regionalism. Internet is the best and the most popular to way to do so. Therefore, today we decided to create a 'strong and aggressive' online presence."
He said the district units of the youth and women wings have been directed to deploy tech-savvy members and create an IT cell in each district.
"There are IT cells of the AGP functioning in many districts but we need to activate such cells across the state. These cells will ensure our presence on Facebook, Twitter and all other popular networking sites to reach out to the young population of the state," he added.
AGP president and agriculture minister Atul Bora said, "It's necessary to make the party strong from the grassroots level and to make it happen, it needs to have a stronghold and following from the youth and women population of the state. Therefore, the party has decided to make an all-out effort to make its youth and women wings highly active and strong."
The youth wing also proposed 30 per cent reservation of young nominees in the candidate list for the next Assembly polls.
The AGP had formed a student wing too last year amid the growing anti-Citizenship Amendment Act (CAA) protests in the state. The party, which came into being as a result of the six-year Assam Movement, faced criticism for its stand over CAA.
In early 2019, the party had snapped ties with the ruling BJP before the Lok Sabha elections, opposing the Citizenship Amendment Bill (CAB). However, it renewed the alliance over a seat-sharing arrangement. After CAA was passed in Parliament, the AGP decided to challenge it in the Supreme Court, allegedly buckling under increased public pressure.
The AGP has been facing public furore as three of its legislators, including Bora, working president Keshab Mahanta and its legislature party leader Phani Bhusan Choudhury continued to hold onto their portfolios in the BJP-led state government, while its general secretary Birendra Prasad Baishya voted in favour of CAB in the Rajya Sabha.