Agatha, Vincent file papers
Meghalaya votes in a single phase on April 11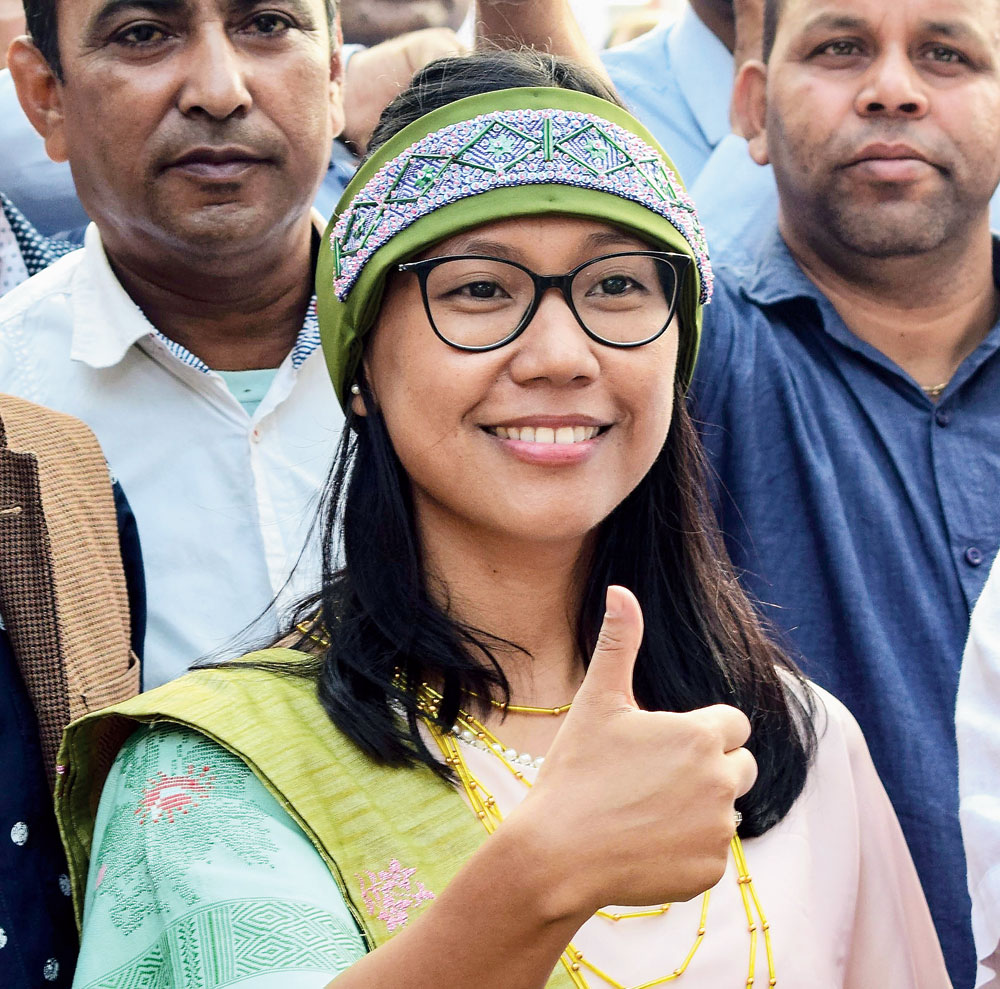 NPP's Tura candidate Agatha K. Sangma gives a thumbs-up after filing her nomination on Friday
Picture by PTI
---
Shillong
|
Published 22.03.19, 07:06 PM
|
---
Congress MP Vincent H. Pala, who is seeking re-election for the third time from Shillong constituency, and former Union minister Agatha K. Sangma, who is looking to secure a third win from Tura, both Lok Sabha seats in Meghalaya, filed their nominations on Friday.
The state votes in a single phase on April 11.
After filing his nomination, Pala said, "I have taken up several issues in Parliament and I admit that I cannot meet all the expectations. However, the problem with me is that whatever I have done I did not publicise or blow my own trumpet."
The PRS Legislative Research, which compiled data on performances of MPs for the current term (2014-2019), shows that Pala participated in 32 debates on matters related to Meghalaya and other issues, asked 264 questions and moved four private member bills with 92 per cent attendance in Parliament.
Pala said he took up issues related to amendment to Sixth Schedule and the Mines and Minerals (Development and Regulation) Act, besides coal, inter-state and international borders, more border haats, employment and problems at the North Eastern Indira Gandhi Regional Institute of Health and Medical Sciences, including infrastructure and medical facilities.
He said the erstwhile Congress government in the state had passed a resolution, requesting the Centre to invoke para 12A(b) of the Sixth Schedule to exempt the state from central laws related to mining. The present state government has repeated the resolution but the Centre has not done anything yet, he added.
Listing his initiatives and achievements in the past decade, he cited the Jorabat-Umïam four-lane stretch on Guwahati-Shillong Road, Shillong-Nongstoiñ-Rongjeng-Tura road, setting up of regional passport office in Shillong, initiative to expand Umroi airport and the need to establish Meghalaya High Court. He said implementation of the projects was slow due to the land tenure system.
Through his MP local area development funds, colleges have been set up and other development projects have been implemented, he added.
He promised to focus on empowering youths with skills training and improving connectivity, employment and education if re-elected.
He said Congress president Rahul Gandhi had promised to launch the minimum income guarantee scheme and the national rural employment guarantee scheme if the Congress comes to power.
On influx and Citizenship (Amendment) Bill, 2019, Pala said, "As indigenous people, we want to exist. To ensure there is no citizenship bill, the only way is no BJP."
Pala was accompanied by Rajya Sabha MP Wansuk Syiem, state Congress president Celestine Lyngdoh, legislators, party leaders and relatives while filing his nomination.
Agatha optimistic
Agatha Sangma, the National People's Party (NPP) candidate, filed her nomination papers for Tura parliamentary constituency at the office of the West Garo Hills deputy commissioner in Tura. She was accompanied by supporters.
Agatha was elected MP in 2008 and 2009. She had held the post of a Union minister of state for rural development in the UPA-II government.
She will take on former chief minister Mukul M. Sangma in a high-pitched electoral battle this time.
Mukul, leader of the Opposition, is likely to file his papers on March 25, the last date for filing of nominations.
After filing her nomination, Agatha said the mood for the elections has begun and that development would be the focus of her campaign.
"The state government has performed so well in the past year. The mandate will reflect the people's support to this government," she added.
"I am very optimistic. I believe that the people of Garo hills will never forget my father for the contributions he had made. They also appreciate this party for the work it is doing," she added.
The NPP candidate for Selsella Assembly bypoll, Ferlin C.A. Sangma, also filed her nomination papers along with Agatha. United Democratic Party (UDP) candidate Sayeedullah Nongrum also filed papers on Friday. Congress candidate June Eliana R. Marak will file her papers on Monday. The bypoll was necessitated following the demise of Congress legislator Clement Marak last year and the party chose his widow, June, as its candidate.