AASU frowns on legal help offer
The decision to provide legal help to those who will be excluded from the final NRC is against the interest of indigenous people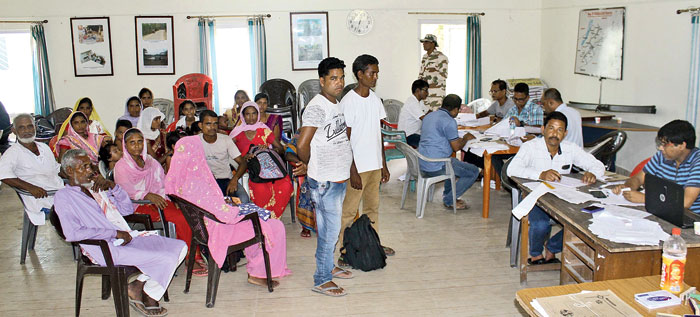 ---
|
Guwahati
|
Published 23.08.19, 09:57 PM
---
All Assam Students' Union (AASU) on Friday said the government's decision to provide legal help to those who will be excluded from the final National Register of Citizens (NRC) is against the interest of indigenous people and will encourage illegal migrants.
A meeting held between Union home minister Amit Shah and Assam chief minister Sarbananda Sonowal on August 19 had decided that Assam government will make arrangements to provide legal aid to the needy people whose names were excluded from the NRC.
"The decision to give government legal help to illegal foreigners identified by NRC is against the interest of the indigenous people of Assam. Such declaration will encourage the illegal Bangladeshi staying in Assam," said AASU president Dipanka Kumar Nath.
Names of 40 lakh people were not in the final draft NRC published last year. Names of 1.02 lakh more people were excluded from it by the NRC authorities later. After the August 19 meeting the Centre clarified that non-inclusion of a person's name in the NRC does not by itself amount to him or her being declared as a foreigner and only the foreigners tribunals are empowered to do so. AASU, on the other hand, said these people would naturally be illegal citizens.
"Names of only those people will be excluded from the final NRC who failed to submit certain documents prior to 1971. They will be naturally illegal foreigners," AASU general secretary Lurinjyoti Gogoi said adding that what the Centre had said is correct only from the legal standpoint.
AASU also opposed the Centre's decision to extend the time limit of filing petition from 60 days to 120 days with the foreigners tribunals to those who are excluded from the final NRC.
"Increasing the time limit to 120 days by amending rules will only encourage the illegal foreigners. This decision is also against the interest of the indigenous people of the state," Gogoi said alleging that the decision was a conspiracy to protect illegal foreigners.
The Centre had said it was amending the Citizenship (Registration of Citizens and Issue of National Identity Cards) Rules, 2003 to extend the time limit to 120 days.
AASU expressed confidence in the Supreme Court and hoped that the people of Assam would get an error-free NRC under its monitoring. The court has been monitoring the NRC update exercise.