AAPSU clears stand on refugees
Chakmas are predominantly Buddhists while the Hajongs are Hindus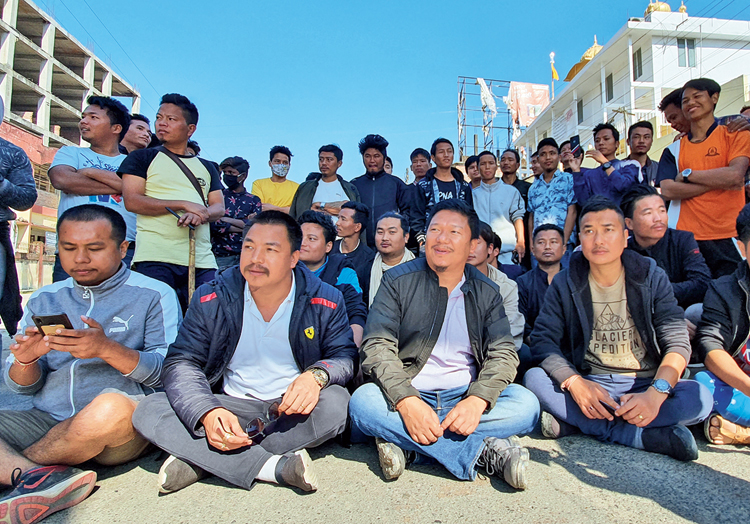 AAPSU president Hawa Bagang (second from right) at the protest on Tuesday
Photo by Damien Lepcha
---
Itanagar
|
Published 10.12.19, 06:55 PM
|
---
The All Arunachal Pradesh Students' Union (AAPSU) on Tuesday said Chakma and Hajong refugees would get citizenship if the Citizenship Amendment Bill is implemented but they would still require an inner line permit to enter the state.
"This is an assurance that Union home minister Amit Shah gave us," AAPSU president Hawa Bagang told The Telegraph during the North East Students' Organisation (Neso) bandh here.
Bagang said "The AAPSU's stand has and will always remain the same and they have told Shah that they want the Chakma and Hajongs to be deported from the state."
He also added that once they become Indian citizens, the central and state governments would stop providing them with basic amenities that refugees are entitled to.
Union general secretary Tobom Dai said, "Though the AAPSU's stand and demand are clear, there is an ambiguity as the Centre's stand is unclear about them."
"Once the Chakmas and Hajongs receive citizenship, they have to leave the state, but whether that deportation will practically be carried out by the central and state government is still questionable."
Neso co-ordinator Pritam Bhai Sonam said, "Neso along with AAPSU have been fighting against the Chakma and Hajong refugees for decades and many student leaders have lost their lives in this process. We cannot simply let their sacrifices go in vain."
The Chakmas and Hajongs, originally residents of the Chittagong Hill Tracts of former East Pakistan, had to flee when their land was submerged by the Kaptai dam project in the 1960s. The groups entered India through what was then the Lushai Hills district of Assam (today's Mizoram).
Chakmas are predominantly Buddhists while the Hajongs are Hindus.
The current population of the Chakmas and Hajongs settled in Arunachal is believed to be above one lakh.