A study of tourism trends
The 78th round of survey will start from Wednesday and continue till December 31, 2020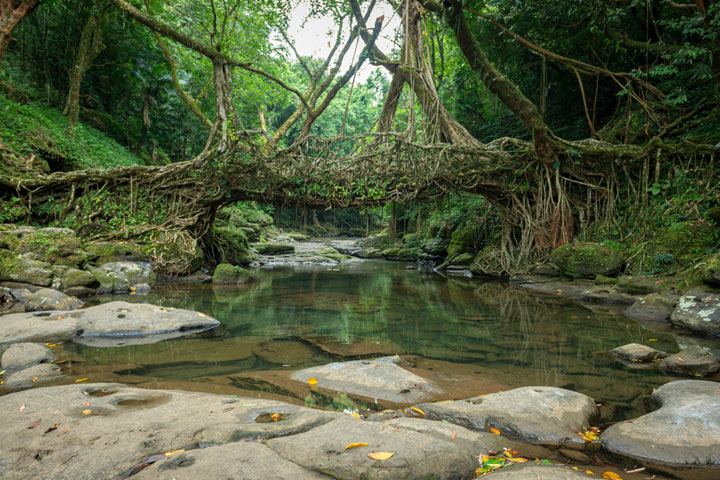 Living Root bridge near Cherrapunjee, Meghalaya is one of the major tourist attractions of the Northeast
Shutterstock
---
Guwahati
|
Published 31.12.19, 07:40 PM
|
---
The field operations division of the ministry of statistics and programme implementation will conduct a socio-economic survey on domestic tourism expenditure (DTE) and multiple indicators this year.
The 78th round of survey will start from Wednesday and continue till December 31, 2020.
The survey on domestic expenditure will be a full-fledged one compared to previous years' survey.
The Guwahati region of National Statistical Office (NSO) has organised a three-day regional training camp at Beltola from Tuesday to Thursday for the field officers and staff to be involved in data collection procedures.
"The surveys undertaken by NSO are of specific importance and its results are used for planning, policy formation and decision making at various levels within the government and outside. NSO is gradually moving towards digital data collection through tablets in all schemes," NSO additional director general Arun Kumar Biswas said.
"The DTE survey of 2020 is designed to collect detailed information of expenditure on domestic tourism along with some information on various household characteristics for preparation of a tourism satellite account (TSA) which will be done by the ministry of tourism," NSO director Jagat Hazarika said.
"The multiple indicator survey will be done to gather information for developing some important indicators like health and consumption to achieve sustainable development goals in 2030. Information on access to mass media and availability of birth registration will also be collected through this survey," Hazarika said.
Officials at the ministry said the survey will cover a wide range of information on month of starting the trip, purpose, main destination, means of transport used during the trip, type of accommodation and services used for trip.
"These will constitute a valuable information base for further policy research and formulation of specific policies for creation and development of infrastructure and tour packages," an official said.