63,000 detained in Assam
Union minister of state for home affairs G. Kishan Reddy said this in the Lok Sabha on Tuesday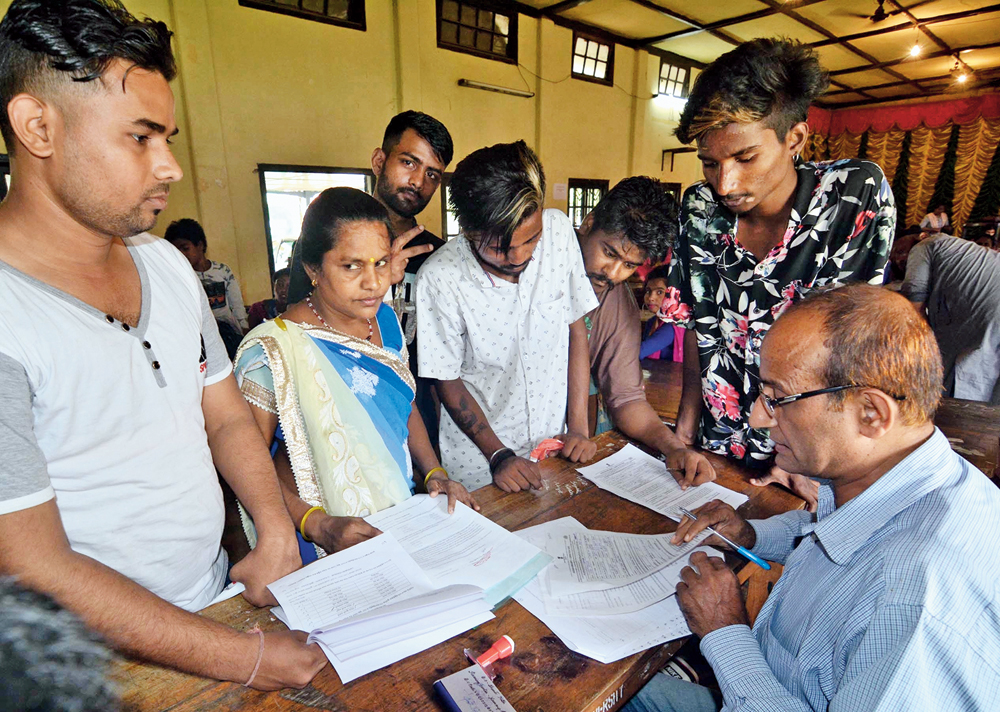 ---
Guwahati
|
Published 02.07.19, 06:45 PM
|
---
Altogether 63,959 people were declared foreigners through ex parte proceedings by foreigners tribunals in Assam between 1985 and February 28 this year.
Union minister of state for home affairs G. Kishan Reddy said this in the Lok Sabha on Tuesday in response to an unstarred question from Congress MP Shashi Tharoor.
Ex parte orders are passed without hearing the accused and, thereby, not giving them a chance to defend themselves. There have been allegations that many accused, whose citizenship was found to be doubtful, were not served prior notices. As a result, they failed to contest their cases and, consequently, the tribunals passed ex parte judgments declaring them foreigners.
Reddy said on June 25, 2019, there were 1,133 persons in Assam's six detention centres, which were set up to lodge doubtful voters and declared foreigners. Of these, 769 inmates have been detained for more than a year and 335 for more than three years.
"Free legal aid is being provided by the District Legal Services Authority to detainees who are in need of it," Reddy said.
Replying to another question from Telugu Desam Party (TDP) MP Ram Mohan Naidu Kinjarapu, Reddy said the home ministry has prepared a "model detention centre/holding centre/camp manual", which was circulated to all the states and Union Territories on January 9, 2019.
"The model manual specifies the amenities to be provided in detention centres/holding centres/camps. The guidelines, inter-alia, provide that such centres should be designed to provide all necessary facilities for the inmates to maintain a standard of living in consonance with human dignity. It lays down that basic amenities like electricity, drinking water, hygiene, accommodation with beds, sufficient toilets with running water, communication facilities and provision for kitchen shall be provided," the minister said.
"Special attention is to be given to women/nursing mothers and children. Children lodged in detention centres are to be provided educational facilities in nearby schools," he added.
Reddy said the government attaches high importance to providing timely consular access to foreign missions to their nationals detained in India.
"State governments are required to give immediate intimation of the arrest/detention of a foreigner in any part of the country to the ministry of external affairs, which, in turn, notifies the foreign embassy concerned," he said.
"Likewise, upon request from any foreign mission for consular access to any of their nationals detained/imprisoned in India, the external affairs ministry notifies the relevant authorities who are required to provide consular access thus sought. The ministry of home affairs has issued advisories to the states and Union Territories on various aspects of prison administration, provision of legal aid and video-conference facility to prisoners," he said.
Reddy said the Model Prison Manual, 2016, circulated to all the states and Union Territories also has chapters on legal aid, welfare of prisoners and repatriation of foreign prisoners.
Gaurav Gogoi of the Congress had raised the issue of some prominent Gorkha citizens being excluded from the draft National Register of Citizens (NRC) in the Lok Sabha during zero hour on Monday.