31 Rohingya refugees stuck on border
Bangladesh refuses entry to refugees, says they were being pushed in by India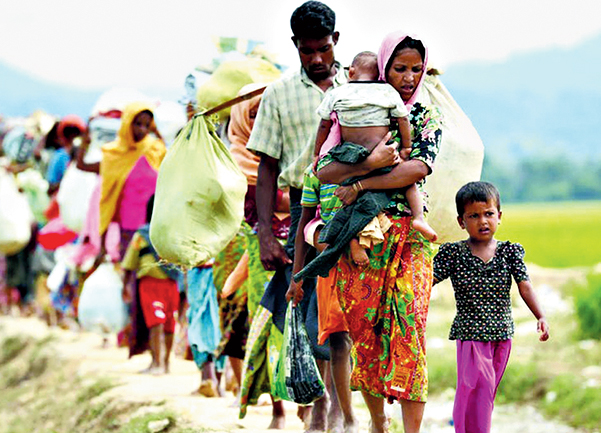 ---
|
Agartala
|
Published 21.01.19, 06:50 PM
---
At least 31 Rohingya have been stranded for the last 72 hours at the Indo-Bangla border at Rayermura in West Tripura district, a BSF officer said on Monday.
BSF deputy inspector general C.L. Belwa told The Telegraph, "We have been supplying water, medicines and other basic amenities from our own resources to the Rohingya people on humanitarian grounds since Saturday. The Border Guards Bangladesh (BGB) has accused the Rohingya of having come from India but the BSF has clarified that there is no sign of breach of fence on the Indian side. The BSF has also asked the BGB to join in a survey of the Indian side to identify any sign of breach."
Belwa said the Rohingya people stranded along the international border and the barbed wire were trying to enter Indian territory from the Bangladesh side but the BSF prevented them from doing so.
On January 18, BGB commanding officer Lt Col Gomal Kabir called BSF commandant Ratnesh Kumar and told him that they had detained 31 Rohingya Muslims at the border.
"Kabir insisted the BSF commandant take over those Rohingya people inside the border fencing and alleged that the BSF have been pushing Rohingya folk into Bangladesh territory," Belwa said.
He said they were expecting the BGB to contact them for a flag meeting but they have not communicated since January 19.
"An officer-level meeting was conducted at the zero line last Saturday where the second-in-command of our battalion and the second-in-command of their battalion met," Belwa said.
A battalion commander-level meeting was held on Sunday where the BGB battalion commander alleged that the Rohingya men came from the Indian side.
"We have denied their allegations and said there is no tell-tale sign of breach of fence on the Indian side. They might have come from the other side," Belwa said.