With winter setting in and Kolkatans slowly taking out their woollens, another annual visitor, the painted stork, is back in its favourite habitat in Rabindra Sarobar. Painted storks are large birds with long slender legs and a long beak. They have pinkish patches near the tail and hence the name.
Every winter, they make their way to the plains of India from the foothills of the Himalayas. They spend the winter in various waterbodies of the plains, including Rabindra Sarobar. They breed, and at the end of winter, they fly back with their chicks.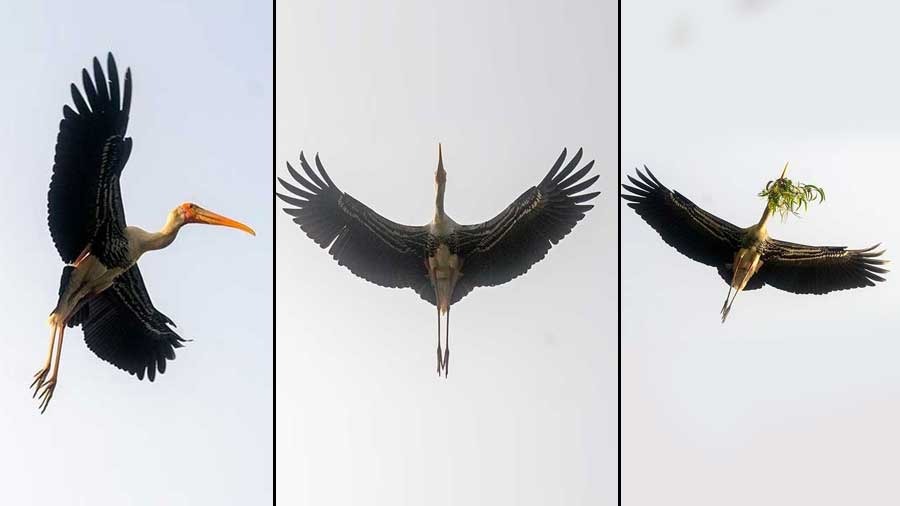 A trio of painted storks
Rangan Datta
But things have not been so good for the painted storks at Rabindra Sarobar. In the winter of 2016, the birds were just started to arrive, but the excessive water pollution and the sound of crackers during the Chhath Puja forced them to turn around. And they didn't return for the next few years. But with a curb on Chhath Puja celebrations since 2020, they have started returning in large numbers and continue to do so this winter season.
Kolkata is known for its high pollution levels, but Rabindra Sarobar with its lake and green cover has always served as an oasis in a polluted surrounding for nature lovers. The idea of the lake was conceived a 100 years ago.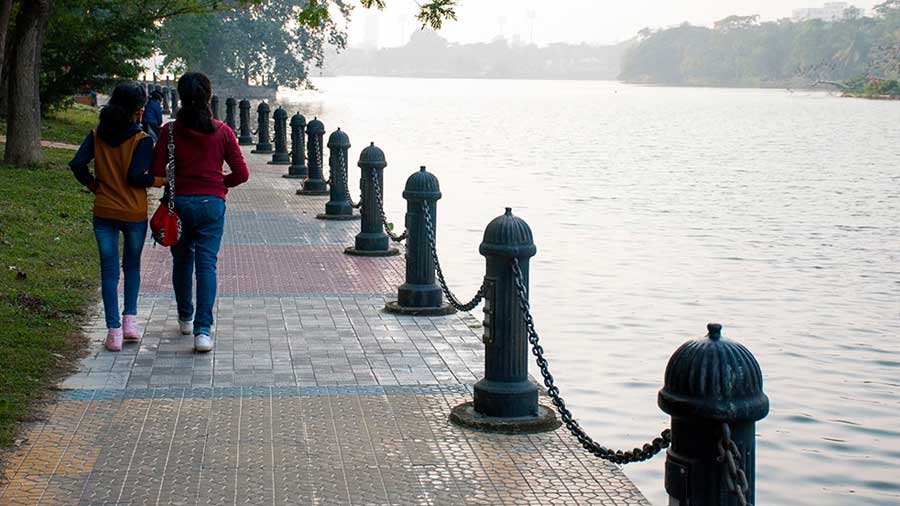 Rabindra Sarobar serves as an oasis in a polluted surrounding for nature lovers
Rangan Datta
In 1920, the Calcutta Improvement Trust (now Kolkata Improvement Trust) took up the initiative of beautifying the southern fringes of the city and making it suitable for habitation. The area covered 192 acres and the plan included digging of a large 73-acre lake and beautifying the surrounding areas by planting trees.
The excavation, which was completed in 1929, was initiated by British engineer Cecil Henry Bompas and the lake was initially called Bompas Lake. Later, it came to be known as Dhakuria Lake and later in 1958, it was renamed Rabindra Sarobar. But many people still prefer to call it Dhakuria Lake or simply 'Lake'. In 1997, it got the status of a national lake.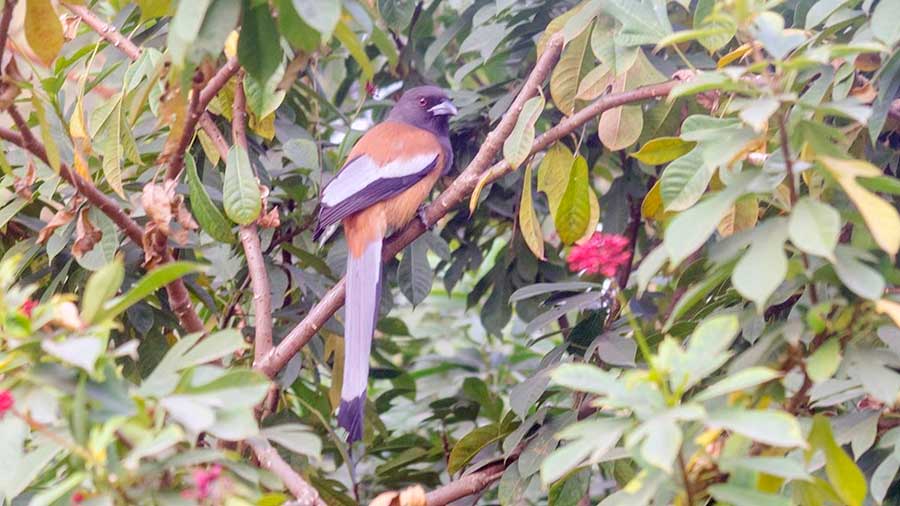 A rufous treepie
Rangan Datta
Even till a decade ago, the lake was suffering from neglect with no maintenance of the water body and its green cover. After dark it served as a hub of antisocial activities, forcing people to avoid the area during the late evenings and nights.
But things have taken a positive turn in the last 10 years and the area has been beautified. The lake has been fenced with short pillars connected by dangling chains. The pillars have dim lights, which not only provides illumination, but creates a magical environment during the evenings. The area also has paved pathways for joggers and morning walkers.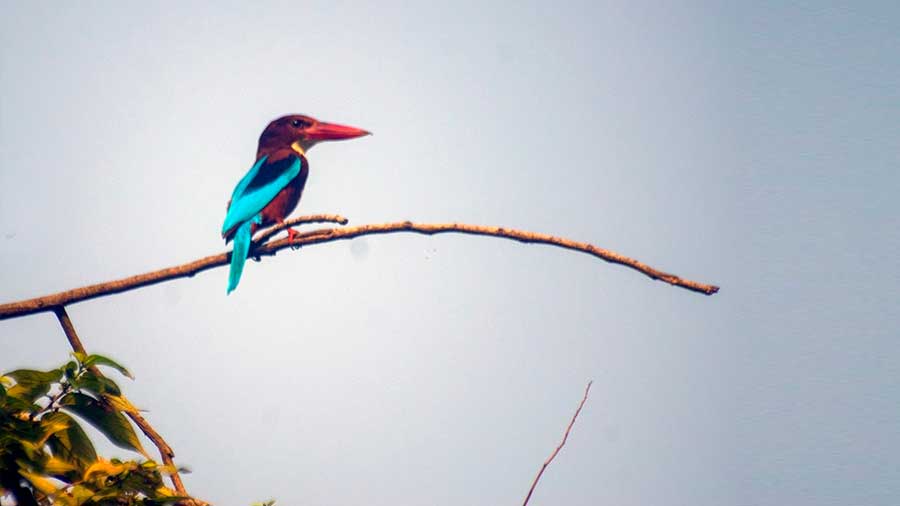 A white-breasted kingfisher
Rangan Datta
The green cover has 11,000 trees, of which 7,500 are over 75 years old. This, along with the water bodies, create an ecosystem that attracts local and migratory birds. Till date, 107 species of birds, which is about 8 per cent of the total species found in India, have been recorded. It consists of 69 resident birds, 14 local migrants, 23 long-distance migrants and one summer visitor. The area is a favourite hunting ground for birders and photographers — and they come armed not with guns but cameras and lenses.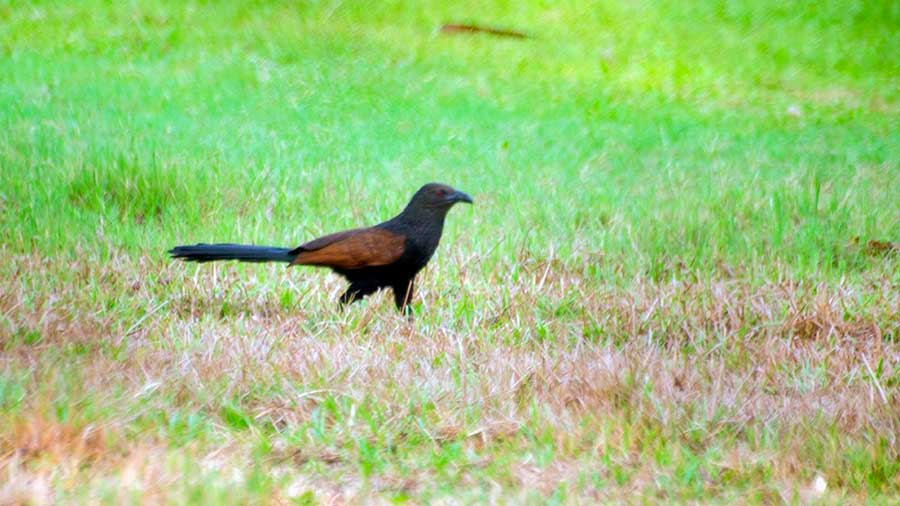 A greater coucal
Rangan Datta
This session, the winged visitors from far away have started pouring in and more are likely to follow. In the recent months, the undergrowth beneath the trees has been cleared for beautification. Experts believe this may destroy the habitat of many birds, thus turning them away. Regular birders and birding expert suggest the need for a more scientific beatification project, which will balance environment and aesthetics.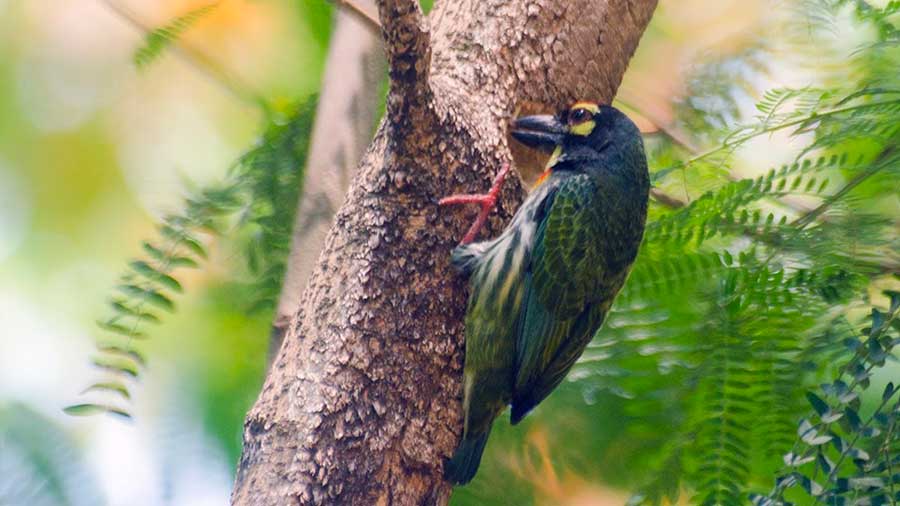 A coppersmith barbet
Rangan Datta
Presently, under the Corona situation, the park is open from 6am to 9am and from 4pm to 6pm. Only persons with double vaccinations are allowed inside.
Rangan Datta is a mathematics and management teacher by profession and a travel writer and photographer by passion. He has been addicted to discovering off-beat places since his undergraduate days at St. Xavier's College. Blogging and contributing to Wikipedia are his other passions.