There's no way you won't be charmed by Sushmita Sen. The warmest of smiles, the tightest of hugs, and that confidence. Oh so sexy! A global icon, Sushmita has been a role model for so many of us ever since she beamed from our black-and-white television sets back in 1994, cupping her mouth in wide-eyed wonderment to the magic of life. Decades later, she still believes in that magic. A state of mind that immediately endears you to her. And when she calls you 'shona ma', you feel you are baring your heart out to an elder sister who has the gentlest of words and a certain assertion that has made her Sushmita, the woman who came, saw, conquered and lived. A t2oS chat with Sushmita on her recent Calcutta trip...
How are you? You look lovely!
Thank you. Last night we played para'r badminton till three in the morning. Tanya (Jaiswal), Gautam (Vir Prashad), Rohman (Shawl), Charu (Asopa)... my sister-in-law, my brother... they have been playing badminton every night. Last night I joined them. I have had a late night. Nice of you to say that I am looking nice, but actually I need 10 hours more of sleep. I leave tomorrow, finally. It's been a long trip this time... 10-11 days. I came with my children. They are all with dadu (Sushmita's dad Shubeer Sen) right now at home and are feeling very sad because it is a different world. South End Park for us is so many stories and we go back in time. Both Renee and Alisah have grown up with a lot of sense of belonging. They come here much more than I do and they come here and stay with Tata and he has just got himself a new house in the same building. So now each one of them have their own rooms and they are very excited.
Renee, when she was very small and started speaking, I was teaching her eta dadu, dida. She started calling him 'Tata'... baba told me not to insist. 'Let her call whatever she wants to call me', he said. That's how he got christened Tata. My younger one came 10 years later and how they usually are, like parrots. Didi o Tata dakchhe, aamio Tata dakbo. So now his name is Tata.
It must have been emotional. You met your parents after how long?
Ma was with me because I first went to see her in Dubai. Then after that I came to see baba. During the Covid lockdown, my bigger concern was my baba was all alone. I hadn't seen him for a year almost... 10 months actually.
So, 10 days is nothing...
Yeah, it's really nothing. I need to actually head back because we are starting the second season of Aarya. I have to go do workshops. That has been delayed because my cousin sister got married. It was a close-knit family affair. I definitely needed to be here because baba was doing kanyadaan and ma was doing the pujo. Me being the elder sister, I got to do a lot of fun stuff at the wedding, which was nice. So, we finished all that. I had to delay Aarya's workshop a little bit because of that. Er theke beshi delay ora korte parbe na because we go off to Jaipur to shoot. And Jaipur is a bubble. We have two hotels and, once you enter, you cannot get out. I wish I could have stayed longer, but duty. Besides, children's school has started again. It is online, but they are busy. It's time to get back, but we are bribing baba that aamra elam, ebar tumi asho, tarpor aamra pherot ashbo.
How do you deal with separation now? You have been on the move since you were 16-17, but we are all getting older...
I don't know why, but my father's always had this effect on me where he just brings me to tears (just) like that. Thinking about him does that. He has got very strong hold on my heart. He loves Calcutta and doesn't want to move from here. I keep telling him that we have to balance it a little bit, but he doesn't listen. That is the only thing that worries me and he is getting older and his health has always been a bit of a concern. Again I have moved to tears. Every time I talk about him, I move to tears. We just love him.
He comes to Bombay after my children make all sorts of excuses. 'Aamar sports day aachhe. Tata ashtey hobe!' (Laughs) Then once he reaches Bombay, I keep cancelling his flights three-four times. Then he is stuck and I think he has gotten a little scared of that! (Laughs)
During the lockdown, we were on FaceTime... touch wood, I am happy that Tanya and Gautam live there and it's the para you know... kaku is there and everybody comes and looks after him whenever needed, but we would love for him to come and be with us in Bombay longer than he does usually.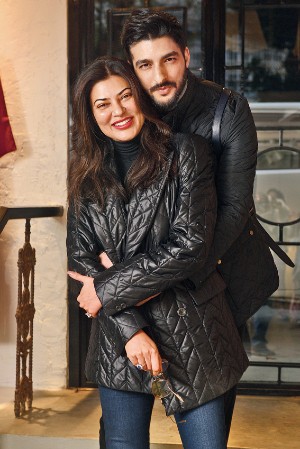 Sushmita Sen with her "jaan" Rohman Shawl
You have always been philosophical about life, but what new aspects have emerged in the last year?
One of the things I have known, but it reaffirmed it... two things actually. One, that you cannot take anything for granted. The minute you do that, nature has a way of telling you that you are wrong. You just have to appreciate whatever it is that you have, the freedom that you have to be anywhere and do anything, explore life and to live and make a living. You think about the levels of pain and suffering that people went through or are going through at this point. Someone lost their job and someone a family member and somebody lost everything. Then you think, in comparison, we are missing people we love and suddenly, you are way down the order of problems you are going through.
The second thing is you don't live in isolation. Whenever they spoke of the flapping of the butterfly's wings and how it changes the environment and impacts lives globally, often people think it is a lovely poetic idea, but such a tiny virus can make you realise how true that is. Everybody's lives affect everybody and, in a moment just like that, we all thought life's going great and we have everything planned out for at least the next one year, it just shut everything down and put everybody in a state of introspection. We had to go inside and say 'now what?' It's been a lovely time for healing for people like us who are always running. We were forced to stop and introspect.
It's been a great leveller too...
It has... oh no doubt about it.
No matter how much money or fame you have, it doesn't matter...
Nothing matters. I was reading some of the interviews... the billionaire's daughter who said 'my father died of Covid and he died of wanting to catch one breath and all the money stayed at home'. So true. Everybody I know has lost somebody. Famous people you admired deeply didn't even get a farewell. That aside, I know personally because my sister is in New York, that a lot of our friends and family members couldn't even go to the hospital to see them through that last phase. It's crazy. You start to now second-guess everything around you and you start to live in fear, which is the one thing I have never done. I don't know how to live in fear. But I can see what it is doing to people.
Whatever is happening, I try to see the lessons in it which are the important lessons, but I don't want to live in fear. That is not something I want to take away from the Covid pandemic or want my children to take away from it, kind of go back in time and learn how to have a human connect because they have lost that. Aamar ma khub bokte thake aamake... 'haath lagatey dili keno?' (Laughs) I am like she is wearing a mask and is applying sanitiser. If people cannot meet people, you just feel there is a void that keeps on increasing and you have to be careful. Be careful, but don't live in fear.
How have you transformed pain and fear into positive things?
Every cell in my body is positive. I sometimes think I am born that way, but I also realise that's not true. It's a quality you develop and you develop how? You get a bad news or something goes wrong in your life and then I have realised that if you shift your perspective and attention to the solution, oh my god, what people realise in hindsight, you realise with foresight. It is trying to teach you something, what is it?
The moment you change this perspective where you had this strong sense of lack, you suddenly find people in hordes coming to help you with a sense of abundance. That's where I think I have been very blessed.
Whenever some dhakka comes and it comes for everybody and for me, it comes pretty regularly, I just go 'Dugga, Dugga'. It is my first reaction. I don't want to be crushed by it and I want to think correctly. 'Dugga, Dugga' has become a trigger word for me to shift my attention from the problem to the solution. And it is magic. This time I went to Kalibari... I always do that when I am in Calcutta...
You feel secure that it's going to be okay...
I bawl like a child every time I go and stand before her. It's uncontrollable. I consider myself a pretty strong person, but with her I become a child. I feel a release when I see her. It's a beautiful feeling.
Now the good things that happened in the lockdown, like Aarya...
See God's timing. We had finished filming Aarya just when we heard about Wuhan. Within two weeks it had travelled and we were hearing of Europe and then India had one case and the lockdown process begins by which time the only thing left is dubbing. And, because we shot in sync sound, the dubbing was not for the entire bit. So, we got into the closets in our house and dubbed to kill environmental sounds. We were done in four days and 23 primary casts.... This is all God's divine timing. Then they said promotions... so here we are dressed from here to here (head to torso) and then pyjamas and chappals and sitting in front of the computer and doing the promotions of Aarya. (Laughs)
Then Aarya released. I have to say that success and failure and the attempts that have failed so far in my career have been plenty, but what has been absolutely heart-warming is the warmth with which they received the comeback. It was like they were looking forward to it and it satiated them. Overnight, Aarya was this massive success both in terms of numbers for Disney+ Hotstar and in terms of creative gratification for all of us. Every one of the 538-member team had put their life and soul into it. So, they deserve it.
Sacred Games was possibly the last thing that people remembered because of a Saif (Ali Khan) presence and then excellent work like Delhi Crime, Mirzapur, Paatal Lok, but Aarya was a stand-alone headline by a strong woman. It was a Godfather adaptation. In that sense, how will Indian families take this? There were so many things in our minds. Ram Madhvani being the director he is, said, we aren't going to play it safe and go by the adaptation. It was so well received.... it was like a different era of audience. Then the awards. It is the story of courage and persevering and we were going through times when it was nice to be inspired by as an idea.
Why do you call it comeback? For us, you were never gone...
I call it a comeback because it is easier for people to understand that after 10 years, when you do come back, literally, it is starting from scratch. It is like driving, you don't forget it, but times change and the techniques. I have never shot a 360-degree approach before where you have a 16-page scene and you shoot it in one go. There are no cuts. So, it is like a theatre performance. For me, it was newcomer excitement and now I realise that I am more of a natural in that format.
But you did have a glittering career in Hindi films too...
I always had fun. It was the creativity and joy of creating that was important. They said she has done a Main Hoon Na and is doing Chingaari, what's wrong with her? I would be like, what's wrong with them? I am making a choice.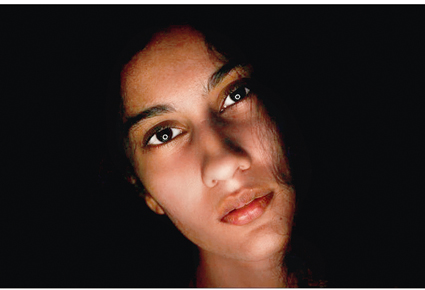 Happyyyy Birthday my first love!!! WE ARE 21 What a journey this has been shona...one that has definitely brought me closer to God!!! I pray you find the courage to be the most authentic version of yourself & always be relentless in the pursuit of your happiness...May all your dreams manifest with hard work & undying passion!! Come on big girl...the world awaits!!! I love you infinity Renee!! #duggadugga Maa, Alisah @rohmanshawl P.S. Renee's photo shoot by Maa!! #milestone #21years #daughter #birthday #motherhood
Instagram: @sushmitasen47
And now Renee has debuted with Suttabazi, a short film...
Renee's always wanted to be an actor unlike me. She is a natural and very confident in front of the camera. She is not a method actor, but she is receptive and perceptive. So, if you give her something and put her in front of the camera, she almost forgets it's there, which is where the confidence comes from. I told her to go have fun. Go by your gut and make your own mistakes and know that if you are not having fun, walk away from it.
What is your priority right now? A lot of people have done away with those who didn't add value to their lives...
I have always lived like that. People come into your life to help you grow. The minute they stagnate you in any way, it's time to move on. My parents sometimes say 'tui eto detached keno re?' I appreciate the fact that everyone has a movement and that is life. We just went in different directions, but life is an experience. And, if you are open to that experience, it will send you messengers to guide you through your path. You have to let people be free. That's one way to live your life fully.
I have compartmentalised my life. When I have to work, that is a priority. When I am with my children, that's a priority. When I am in a relationship and giving it time, that's a priority. That's how simple I keep it. But the only thing that is a constant priority is life.
What are you thankful for?
Oh, everything. You haven't met somebody who has more gratitude for every living breath. I have these childlike ideas about everything... train jachhe... make a wish. Everything is about making a wish. And while everyone in my environment is making a wish, I am the one saying 'thank you'. I think I am beyond blessed and that's why I guess magic happens to me.