Riingo's forthcoming film, produced by Flixbug, and titled A River In Heaven, delves into the age-old myth of water as a powerful agent of change and its repercussions on our lives.
Set in Varanasi, A River in Heaven has one single motif running through it — Ganga, which is worshiped, praised, loved and deified by millions of devotees. However, she has another side to her — even as Ganga fulfils dreams, she can also swallow lives, cause turbulence and lead to disaster.
Set against such a backdrop, A River in Heaven unfolds as a story of human relationships — of love, trust, friendship, betrayal and final reconciliation. The incidents and events depicted here act as Ganga changes lives sometimes for the better and sometimes for the worst — but always for good.
A River in Heaven is a story of relationships — of husbands and wives and parents and children. It is an abiding tale of forgiveness and ultimate realisations.
A River In Heaven stars Chandreyee Ghosh (Bela), Rafiath Rashid Mithila (Bishakha), Amrita Chattopadhyay (Shaon), Debshankar Halder (Babulal Subramanian), Sromona Chakraborty (Bhawari), Sujoy Prosad Chatterjee (Bob Chatterjee) and Tannishtha Biswas (Banno) among others. The story has been written by Riingo.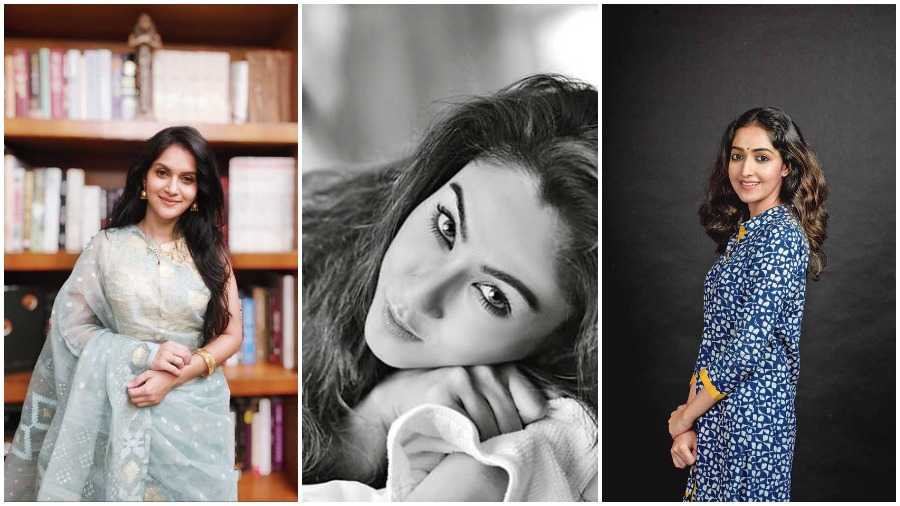 Rafiath Rashid Mithila, Chandreyee and Amrita
Sourced by correspondent
"I said yes to the film because of the brilliant story and my role! These are the two things that matter the most to me. The story connects four different streams of life into one big river. And each of these four streams have very unique storylines, which ultimately flow towards one core ending. It's a non-linear kind of a story. And my character is one of the leads in one of these stories. The character also has various shades. A simple woman suppressed by patriarchy who learns eventually to flow with life just like a river stream," said Mithila.
"Riingoda always comes up with beautiful concepts. When he first narrated my character and the essence of the film to me, I readily jumped into it. My character, Shaon, is very inward, speaks very less, there's a different kind of high in portraying such a character. So looking forward to the shooting . The whole story, how like the river Ganges, streams of stories have merged and created the whole scape. The characters and their crisis are so different, so personal, yet they are universal," said Amrita.
The film will go on floors in September.