A trained airhostess, a beauty queen, a professional model. Add to that the hat of the newly appointed communications director at One8 Commune, owned by Virat Kohli, that has just arrived in Calcutta at 13 Ho Chi Minh Sarani. Ushoshi Sengupta, who turned a year younger on Friday, rang it in with extra cheers. In this candid chat, Usho as we call her, tells what One8 Commune means for her career at this point and why she has never given up.
After I Am She (a pageant spearheaded by Sushmita Sen that Ushoshi won in 2010) that saw you represent India at the Miss Universe that year, this has to be the most prestigious feather in your cap...
Absolutely. Not many know that I have a diploma in hospitality, aviation and travel management from Frankfinn. I had started my career in the hotel and restaurant industry and have worked for Starstruck, Venom, The Leela Mumbai, and I always wanted to fly. My father was in the Indian Air Force and being an airhostess was a more glamorous space for me.
That was also the time I won Tilottama (first runner-up, 2008) and a lot of modelling assignments started pouring in and my life had changed completely. That training had helped me. I knew how to hold a wine glass or sit down for a seven-course meal.
In 2020, when One8 Commune was thinking of coming to Calcutta (to open their second outlet after Delhi), Ankit Tayal, one of the founders of One8 Commune, got in touch with me to pick their face and spokesperson in Calcutta. One thing led to another. The team has been in Calcutta for the last one year and I took them around the city. They asked me how do I have so much understanding of the industry and that's when they offered me to get on board as a communications director for global operations.
That kind of made me realise that anything you learn in life never goes to waste. The fact that I had represented my country, that I identify with Virat. Representing your country is such a powerful feeling and I know when you represent a brand, you have to understand and resonate with it from your soul. So, when One8 happened to me, I knew that this is something I wanted to do.
It must have been a huge high to be the face of a brand owned by Virat Kohli?
Virat is an inspiration who has made it from nowhere to where he is... everything he does inspires people. So, when he chose to be in the hospitality industry and an opportunity came my way, I never really wanted to let it go and of course the fact is it's in my city.... If I get to represent Virat and his brand in my city and all over India, then why not?! Everyone loves him.
One of the most important opportunities this position is giving me is to talk about my love for food, people and my country. I think I would like to spend my life doing that.
I am waiting for Virat to come here and that is going to happen very soon. And t2 will know it first.
How many people have you made jealous?
(Laughs) I don't think jealous would be the right word. I am really lucky. I met Shah Rukh Khan in my first attempt and got mentored by Sushmita Sen and started off in Calcutta with Nayanika Chatterjee and, of course being one of t2's girls... I got really lucky. Nayanika always says to be at the right place at the right time. I think my stars are really aligned.
I want to make the most of every opportunity because I know there are a lot of young girls who are looking at me and getting inspired and I want girls who look like me to see their faces reflected in mine. I want them to know that there is a chance and a possibility. If we try, we can do it. That's why I don't want to say no to any opportunity. To bring about a change through your work is the best way to make the most of your life and if you are not making a few people jealous, then you are not really living your life!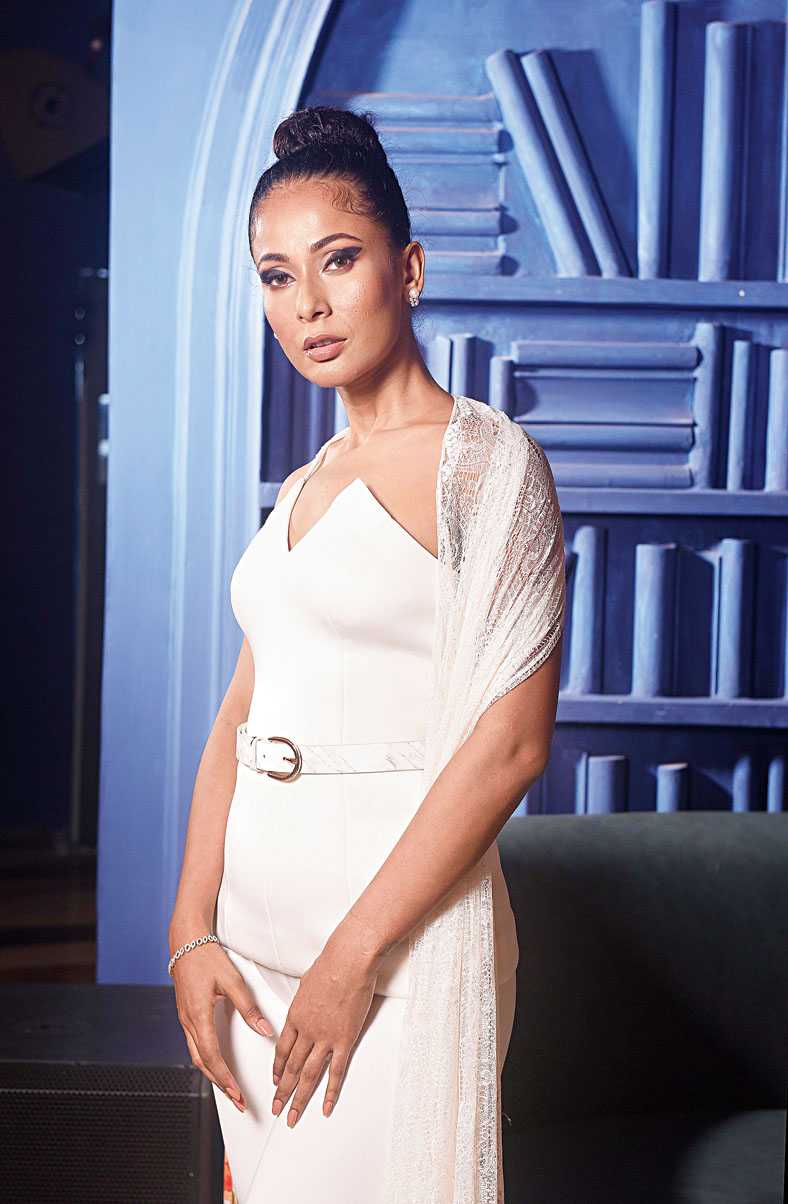 Bold winged eyes, with nude and "highlighted" make-up, a top bun in one and a top ponytail in the other, added to the drama.
This was the turnaround you were really looking for...
Absolutely. I feel like it's a new beginning for myself. I have always had an entrepreneurial aspect in anything I have done. Personally and globally looking at how the pandemic had hit us, and in the last three-four years I had lost so much that it had kind of emotionally drained me out. I lost my grandmom and best friend, and somebody who was probably the same age as mine and had the same dreams as I did. I saw lives turn around.
Tell us how you got out of that phase in your life...
Being a young person, your future starts to look bleak and (you feel) helpless. I have spoken to friends and sought therapy but never really lost hope in terms of finding a better tomorrow. This is what life has taught me that there is always a tomorrow and a chance to make it better.
Grief has to be felt completely for you to feel happiness again. One8 is also coming at a time when people are really tired of not having something to do... what it brings is the charisma of Virat Kohli. I have read all his interviews and especially because I have always admired Anushka (Sharma) and Virat as a couple. They have shown that you can get through any hardship. I have tried to find role models and inspirations in the bleakest of times. That has given me a huge push.
It was taking a day at a time. There were days when I wouldn't want to get out of bed or eat and be scared of losing people I love. My life changed when I was 18. When I was 21, I was travelling to 27-28 countries alone. Then when I hit the psychological block, I remember I couldn't travel from my home (Prince Anwar Shah Road) to South City Mall. But I gave myself the time to heal.
What are your One8 Commune favourites?
My favourite is the wall with Virat's signature. Also, the wall with Virat's jersey, the fact that it is from a match with India written on it... I vibed well with that idea. The reason why people should come to One8 Commune is for chef Pawan Bisht. His food is to die for. We will have month-long food festivals. The soul of One8 Commune is that this is where people come together. The few months ahead are going to be interesting. The team is excited.
Ushoshi's dream table at One8 Commune would have...
Michelle Obama
Princess Diana
Indira Gandhi
Madhuri Dixit
Pictures: Pabitra Das; styling: Ankita Banerjee; hair and make-up: Prasenjit Biswas; on the cover: Ushoshi in separates by Esha Sethi Thirani and jewellery by Divinus Creations