Have you ever wondered what Santa Claus would like for Christmas?
How about a car that oozes elegance like a Bentley S2 or a Bentley 8?
"I'd love that. I'm a huge fan of vintage cars, especially the Bentley, though I don't like Rolls-Royce," exclaimed Georgie Guha, 33, who has been appearing as one of Kolkata's most adorable Santas for the last six years at the Dalhousie Institute (DI).
Would Guha fancy driving around town as Santa in a suave Bentley?
"No, not at all. In that respect, I'm a stickler for tradition. I'd rather come down through the chimney!"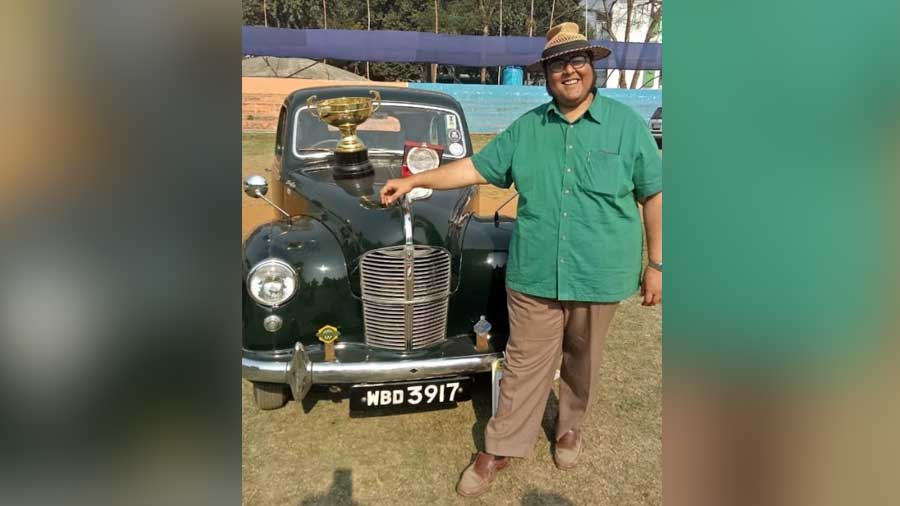 Guha, a huge fan of vintage cars, aspires to own a Bentley someday
Georgie Guha
Guha, whose family owns a 1952 Austin A40 Devon, teaches music at Pratt Memorial School and is a big-time collector of antique clocks when he is not obsessing over classic vehicles. So how did this connoisseur end up becoming Santa?
"DI had someone playing Santa for ages for our annual Christmas party, but when that gentleman passed away, they needed someone else to take it up. Let's just say I fit in quite comfortably, they didn't even have to tailor the Santa costume for me!" grinned Guha.
At his previous job, as music teacher of Garden High School, Guha had also dressed up as Santa on several occasions. Could the students tell it was him or was it a secret? "I think they could tell from the size of Santa," chuckled Guha.
For Nicholas Menezes, 49, who has been Santa for almost as long as Guha at the Goan Association of Bengal Christmas party, the chance to play Father Christmas seemed preordained. "I suppose my name was a giveaway in that I would eventually get to be Santa Claus!" said Menezes, who likes wearing red, and not just as part of his Santa look.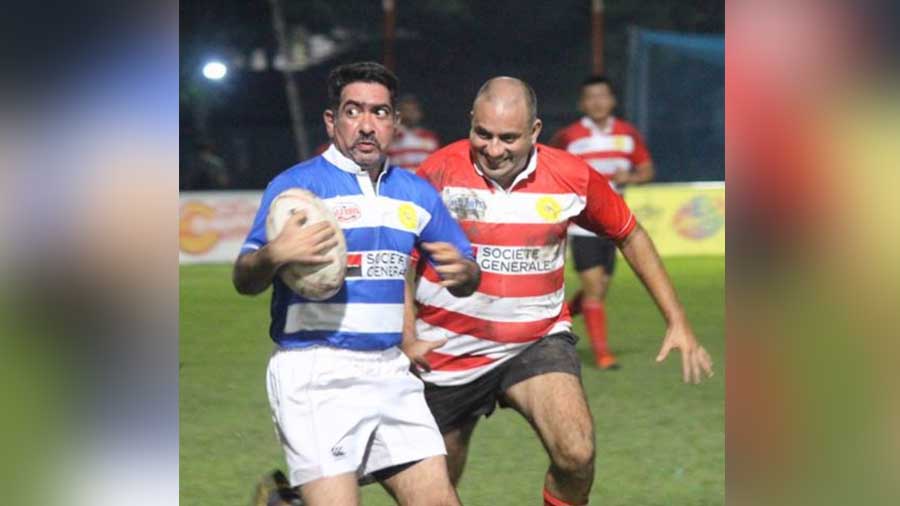 Nicholas Menezes (right) in a different kind of red-and-white attire
Nicholas Menezes
"I'm a huge fan of Liverpool FC. I'm a Red at heart, though not a Red Devil!" clarified Menezes, recapping how he fell in love with the six-time European champions on the day they conjured the Miracle of Istanbul. "Beating such a strong AC Milan team after being three goals down in the Champions League final [in 2005] was incredible. A moment to remember for a lifetime," said Menezes, who has been working as an administrator at the British Deputy High Commission in Kolkata for the past 15 years. Apart from football, Menezes enjoys his fair share of rugby, too.
Smiles on little faces make it all worth it
Both Guha and Menezes admitted that they do not prepare in advance to perform their roles as the harbinger of happiness every winter, but that does not mean they do not take their tasks seriously. 
"Being Santa is about being spontaneous, about doing things impromptu. The things that we do, engaging with kids, running around, dancing or playing games, they can't really be practised," noted Menezes.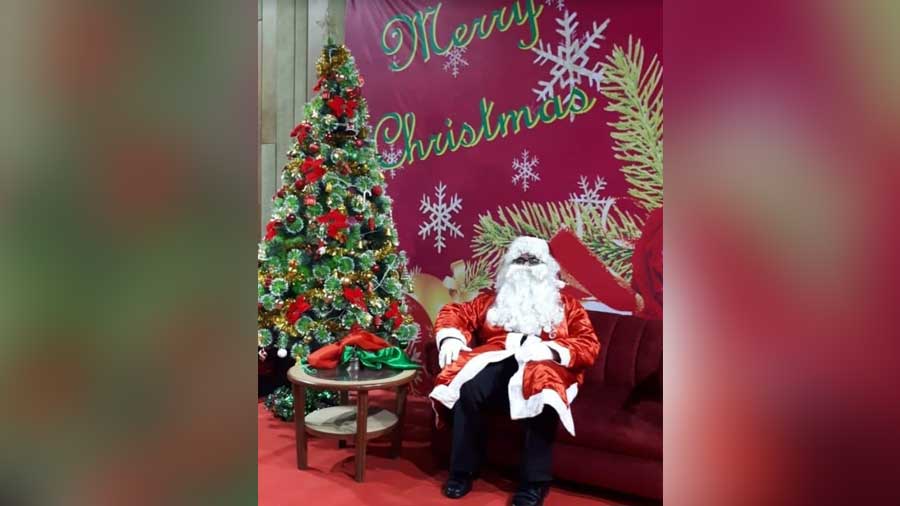 Guha, all decked up, posing with the Christmas tree
Georgie Guha
There are, of course, some things that no prospective Santa can prepare for, such as the unwieldy costume, complete with a giant beard and an oversized hat. "It can be deeply uncomfortable to move around like that for hours. It gets exhausting after a point," sighed Guha.
However, once a drove of kids walks up to Santa and one can see their faces light up instantly, "it all seems worth it", according to Guha. "When you're interacting with the kids, you don't feel the logistical hassles of being Santa. Before the pandemic, I remember how kids would be all around me, some shaking my hands, some pulling at my bag, some sitting on my lap, and some admiring my beard. They would completely change my mood if I happened to be grumpy," recalled Guha. 
One year, though, Guha met a kid who left him in splits: "So, this boy came up to me, and I thought that he, just like everyone else, simply wanted his present from Santa. Instead, he politely asked me, 'Who are you? I have no clue who you are.' Internally, I couldn't stop laughing!"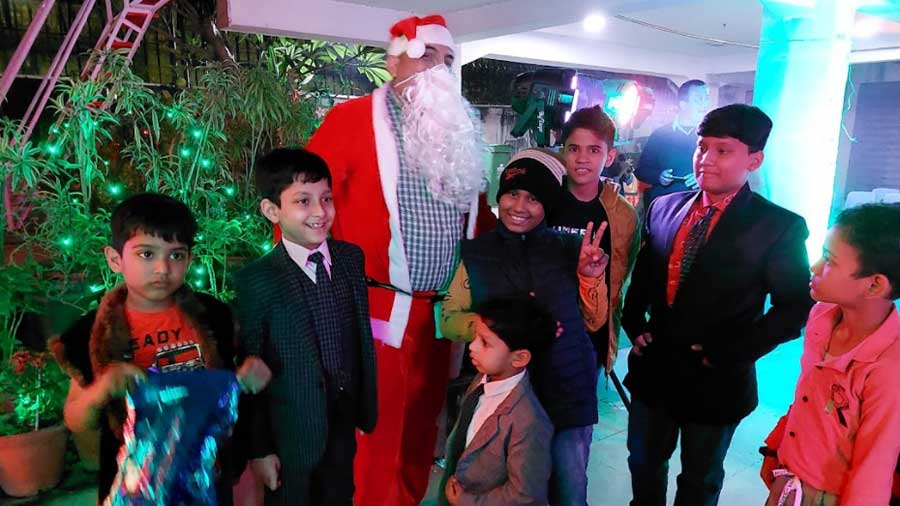 Menezes, as Santa, is a big hit among kids at the Goan Association of Bengal's Christmas party
Nicholas Menezes
Sometimes the seniors can be more childlike than the children
Menezes can also remember a particular kid who left a distinct impression out of the dozens he meets and greets every year. "There was this girl who would come each year and simply be in awe of Santa. She would just stand there and look at Santa as if I were some mythical creature (isn't he, though?!)," said Menezes.
Every year, besides entertaining the kids at their respective Christmas celebrations, Guha and Menezes set aside an hour or so to cheer up the senior citizens in attendance. "Sometimes the seniors can be more childlike than the children. But it's totally understandable," observed Menezes. "After the party with the kids would be over, I'd invariably go up and take pictures with some of the senior members of the club, especially Mrs Joyce O'Brien (who passed away in 2019 and was best known as 'Aunty Joyce')," added Guha.
Covid-19 has meant that neither Guha nor Menezes has had the chance to play Santa and mingle with kids over the last two years. A pandemic-enforced leave from rewarding kids for being nice has given Guha more time to pursue another of his hobbies, one which stems directly from his profession: "I really like listening to Western classical music, chiefly the German composer George Frideric Handel. I'm also extremely fond of church music," said Guha.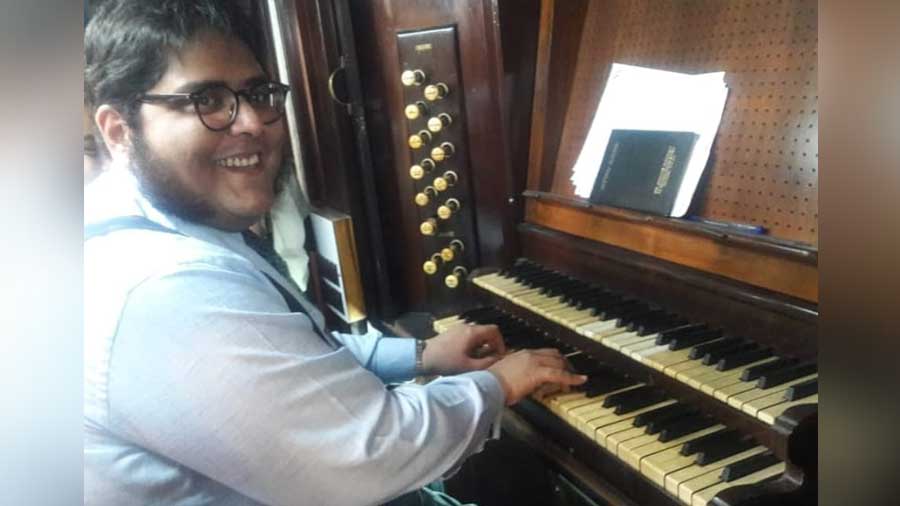 A musician by profession, Guha loves playing the piano
Georgie Guha
For Menezes, the gradual reopening of society after the lockdowns has allowed him to return to his favourite pastime – meeting people. "I'm not a party animal, but I quite like to meet new people over a drink or two, or sometimes more!" smiled Menezes.
It's a lie… but a beautiful lie
Both Menezes and Guha grew up at a time when Christmas was more of a private affair. "We didn't get to see Santa, I suppose, in the sense of meeting people dressed up as Santas in public spaces," explained Guha.
Does that mean they became skeptical about Santa sooner?
"Probably not, throughout my childhood years, I remember waiting for Santa. Then, after a while, you obviously realise it's all a lie. But a beautiful lie all the same," acknowledged Menezes.
Animals we neglect need a real Santa
But, coming back to the original question, what would Kolkata's Santas really want for Christmas, if someone was there to be Santa for them?
"Life's not as simple anymore, due to everything that's happened due to the pandemic. Perhaps I'd like that simplicity to return," said Menezes.
And what about Guha?
"If luck and funds permit, I'd like to open an orphanage for stray dogs. Humans, for all their struggles, are much better off. They're well looked after. Sometimes it's the animals we neglect who need a real Santa."