Ever since Neeraj Chopra burst onto the scene with his individual javelin gold in the Olympics in Tokyo 2021, the first in track-and-field for India, he became a sensation overnight. The Neeraj t2oS chatted with recently was a voice of calm and composure without a zilch of arrogance. His earthy-rootedness is almost palpable, laced with a certain innocent charm. All of 24, Neeraj who hails from Khandra village near Panipat in Haryana, is a youth icon with 6.2 million followers on Instagram. Switzerland Tourism recently appointed him as a 'friendship ambassador'. We caught up with Neeraj to know about his Swiss loves and his mantra in life.
Q What are your first memories of Switzerland?
My first memories date back to 2017 when I had gone for my first Diamond League. Bahut hi aachha laga tha. I loved the mountains. I have seen greenery too over there. This time when we went in summer. I want to see the snow there too. 
Q What did you indulge in?
We explored a lot, starting with skydiving in Interlaken, sabse jo khatarnak cheez bolte hai. Then we went to Zermatt too. It is a great place to visit. The old part which dates back to 400-500 years is lovely to see. We did a running tour in Geneva because the weather was conducive. It worked well both for fitness and also seeing the city. Then we had hot coffee! We also visited Jungfraujoch. There was an Indian restaurant there too with posters of Bollywood films. We also saw the statue of Yash Chopra. I also went for a helicopter ride, hiked, did paragliding and also canyon swing, which was also quite dangerous. We did a lot of adventure sports. It was great fun. The itinerary was fully planned and it was great fun.
Q What will be your tips for all those visiting Switzerland for the first time?
Switzerland is known for its snow-capped mountains but this time we tried adventure sports, which not many associate Switzerland with. It was great fun.
Q What food did you try?
We had pizza and tried their famous fondue. I noticed it is mostly cheese-based.
Q Are you a foodie?
Bilkul ji. While training, I follow a strict diet. We had our last competition in Zurich, the Diamond League. That went well and I also ended up winning the trophy (Diamond League Final). This was my third time but this was the first time I won. Then it was like jee bhar ke khana hai and mazaa lena hai. Even the Indian restaurants were very good. I tried some in Interlaken and Geneva... whenever I felt like bringing in some Indian touch.
Q Friendship ambassador sounds so feel-good...
Switzerland is so beautiful that I tell people that they must pay a visit. This friendship ambassador seems to have linked me even more to the country. As an athlete too, you have so much to enjoy... the Olympic Museum in Lausanne. I have loved my experience... from the cities to the smaller villages.
Q What did you bring back?
I have got back quite a lot, including chocolates. Switzerland gaye aur chocolates nahin laye, aisa ho nahi sakta. I picked up souvenirs from Zermatt and their famous Swiss knife. I have brought back memories of Switzerland to my home.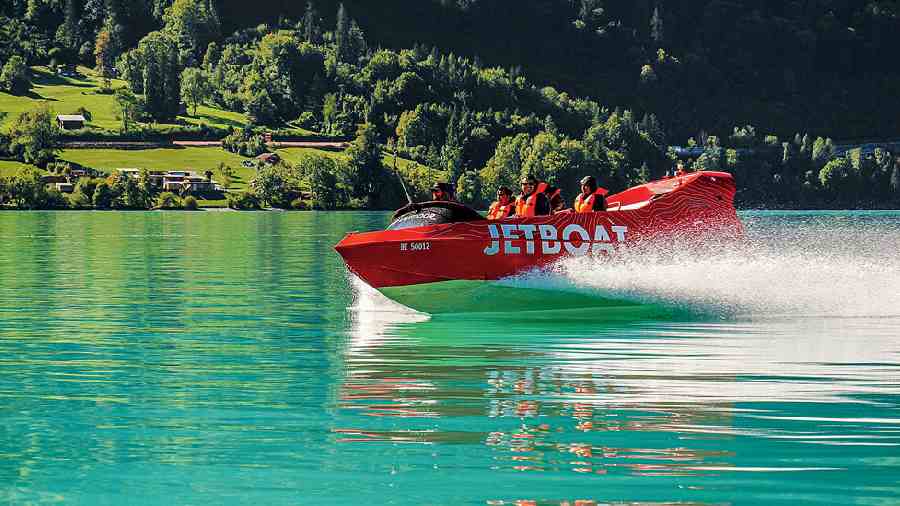 Q How has life changed in the last one year?
There have been lots of changes. The biggest change post-Olympics has been brought about by learnings that I gathered at Olympics like the ability to handle pressure. All that reflected in all the competitions I took part in thereafter. It gave me a lot of confidence. I knew how to handle pressure and give my best at a competition. Iss saal ka results sabhi dekhenge toh bahut hi aachha raha. Usme kaafi mazaa aaya.
Q Fame is also pressure, right. How did you handle that?
When I start training, I am fully focused on that. When I was in Switzerland, I did want to go around and explore, but then I chose to focus on my game. My target has always been to give my 100 per cent in whatever I am doing. That balances it out.
Q Has this restraint come to you after years of practice?
Bilkul ji. It's come from training. When I started, bina position ke hi aana parta tha. Toh haar ke dhire dhire jeetna sikha and then to stay put. Then the focus was improving myself alongside holding on to my position. All this comes from discipline and focus.
Q What do you for fitness? Your body is so flexible...
The flexibility is important for a javelin thrower. I do gymnastics and special stretches. I also exercise with medicine balls. I also sprint and lift weights and work on my core. As a javelin thrower, you need strength in your joints and muscles so that you can control the impact.... So, it is a combination of everything that culminates in my throw.
Q What do you do for mental health?
When you are at a big event, there is so much expectation on us for a medal, to handle that you must be mentally strong. I don't do anything special, but when I am training, which is for seven-eight hours a day, I already know what my next target is and what am I training for. That is topmost priority. Even if I were to go back by a few years, when I didn't have so many international medals, my mindset was the same. The idea was to be positive and have patience. When we start thinking itni mehnat kar rahe hai, par yeh nahin ho raha... remember, it takes time. And, if you work hard, it will definitely take you somewhere in life. And even if that doesn't happen, you will learn a lot. To be positive, you can do what you like... shopping, spend time with your family....
Q Who are your idols?
I have watched Jan Železný's videos. He was technically strong and he also had a world record. I have met him too.
Q What else have you played?
I have of course played cricket, like everybody in India. Also, volleyball and a little bit of kabaddi. I follow a bit of what is happening in other sports.
Q Who are your favourites from other sports?
Sachinji (Tendulkar) ka naam raha hai. Virat Kohli is doing very well. MS Dhoni... in football, Ronaldo has great fitness. In Indian football, you have Sunil Chhetri whom I met in 2016. He is an icon.
Q You are just 24. What are the 24-year-old things about you?
I love driving cars. I want to drive in Europe... wahan pe mujhe ek bar bhagani hai gari. Hopefully, in Switzerland, in a nice car. I like doing what I want to.
Q Did you know that about yourself that you are such a good actor? You are so good in the ads you feature in...
Nahin ji nahin! Like I said, when I am doing something, the idea is to focus on that. The team was also great... thoda bahut kar lete hai ji.
Q Where do you get your sense of humour from?
Aisa toh pata nahin aisa tha... aapne bola hai. (Laughs) Whenever I am at home, we are all laughing and enjoying ourselves. It starts from the family... family hasmukh hai....