With the honour of a Grammy Award freshly inducted in her discography, Falu Shah, aka Falu, promises that her homecoming India tour will be more than a musical escapade. The trained classical singer who is known for her Indo-American melody won the top musical award in the Best Children's Album category this year for her album A Colorful World. A positive album that cuts across gender, age and ethnicity, the album talks about inclusivity and co-existence; elements that are essential in today's world. Currently on a multi-city tour, US-based Falu talks about her album, making music more accessible and why it's India's time to shine. Excerpts.
Welcome to India and congratulations on the Grammy. You will be performing in Mumbai, Pune and Goa. Kolkata will be missing it….
I am coming here post-Covid and I am looking forward to this tour. I have never been to Kolkata so yes, if people of Kolkata are reading this let's make it happen the next time.
What can we expect from the playlist?
There will be original numbers plus some versions of songs that I have learnt in India and coloured it with American music. So, some folk songs and a lot of classical and thumri because that's where my training lies.
Will there be songs from A Colorful World as well?
Oh yeah, that will be there.
Let's talk about the album that got you the Grammy….
You know America is a melting pot of cultures and sometimes being brown South Asian, you sort of get lost in the mix. And A Colorful World was written for young people all around the planet to just give them a tap on the shoulder saying: 'Just as crayons have different colours and identities, they too can live peacefully just by being united and not fighting and getting in each other's way.'
Basically, it was an album written for peace and harmony and friendship and I think that message is universal and I think that's what resonated with everybody and especially Indian kids who are minority here. So having a representation and giving Indian people a voice here is very important to me.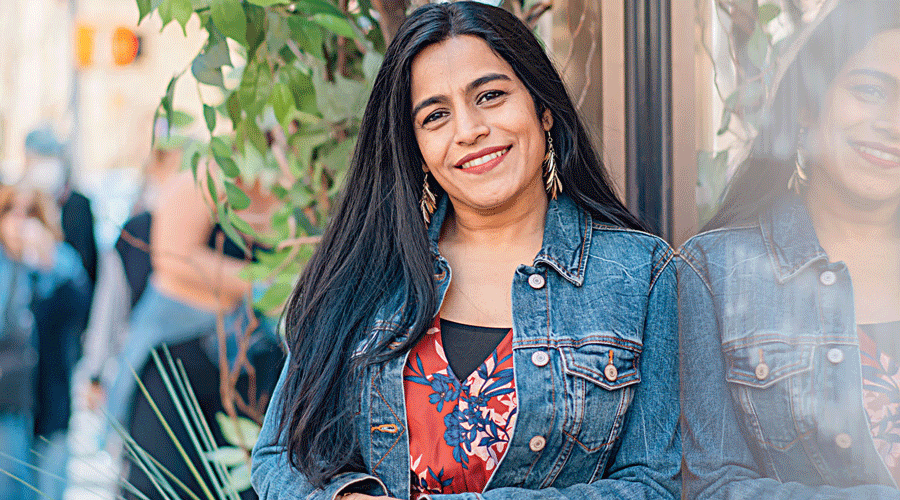 Falu Shah.
The Telegraph
Do you think the idea of inclusivity and co-existence is more required in India now?
I think the idea of inclusivity and positivity is always needed everywhere because it gives people hope and determination that they can thrive.
As a cultural community and as parents we want to tell our young people that the sky's the limit; don't be afraid of flying. I think this message has no boundary and it will penetrate into every soul. I believe firmly in Ustad Aamir Khan's line — Gaana woh hai jo ruh gaaye aur ruh sune (a song should be such that a soul sings and listens to it).
The album is such a happy one and though it's meant for children I guess adults cannot not love it….
I think good music is something that everyone can enjoy; it does not have any age restrictions. A Colorful World resonates with every soul because it's a vibrant, inclusive and positive album. And through my album I want to send the message that if you can live in peace now then that would be a big gift to the next generation.
The album has nursery rhymes. Which one is your favourite?
The first song has Twinkle Twinkle and yes, that's my favourite too.
Your audience is quite a mix. Who do you like performing for more, kids or adults?
I have learnt from my own experience that we interpret songs according to the situation. So, when I was unmarried the ghazal Aahista meant somebody coming slowly into my life… and now that I am married and a parent the same ghazal means… have some patience, everything will be fine. All those who come to my show are either parents or grandparents and even young people who relate to the music at the level they are. Like I have a song called Rabba and the lyrics are like Tere karan tere karan mai to ho gai jogan tere pyaar mein. A teenager might think about it as love for another human but a 50-year-old will think of it as a divine love.
You think the West has become more open to Indian music now?
Oh absolutely! This is our time. Right now, everybody is looking at India. And if we want to share our culture then this is the time because the world needs it. I am so happy to share everything that I have learnt from my gurus Ustad Sultan Khan sahab, Kishori Amonkarji, Kaumudi Munshiji, Uday Majumdar and others and to bring it in the West and give them a little glimpse of how beautiful our poetry, embroidery, fashion and music are. So, this is the time to innovate and push boundaries and make India stand out… I mean it's already being done but there's no limit to that.
What new music are you working on?
I am looking forward to writing new music while on this tour because post-Grammy I am not getting time to write new music. So, while travelling to different places and meeting new people here in India, which is so inspiring for a creative person, I am sure of creating an album.
Will there be collaborative music as well?
We are looking for many collaborations with this trip and more because I am going to keep coming back here not just for music but for my social justice work. So, anyone who wants to collaborate with me can come, I am open to all kinds of projects if it clicks.
Talking about social justice work, what kind of work can we expect here?
Over the years in New York through Carnegie Hall, which is one of the most beautiful and prestigious auditoriums, where I am the ambassador of Indian music and teach world music, we have taken music to places where it is inaccessible, like prisons, hospitals or women's shelters. When a convict gets out of control, we rehabilitate them with music. Over the last 15 years it has expanded to 60 countries and I would love to bring those reformed programmes to India. There are talks about me doing it in Tihar Jail and other facilities in different Indian states.
We do have similar projects in Kolkata and would love you to add a new dimension.
Certainly. I will go whenever music will take me.