I grew up in Delhi, but I spent my summer holidays at my pishi's (aunt) place, in Lake Gardens. For my family, those two months here meant being able to drop our struggles as a middle-class family and just come together to have a good time and share beautiful things.
Melody of Bengali language as background score
The melody of the Bengali language is the background score to my early montage of Kolkata memories – hawkers calling out, the maachher bajaar, Bengali parents nudging their kids to practice singing, a priest chanting shlokas as he walks down the road. And there was plenty of music too – the strains of tanpura down a street, young people strumming guitar by the Lakes as they sang Dylan or Simon & Garfunkel. All of this was fascinating to me, for North India was very different then. In Delhi, we would travel miles to visit someone simply because they were Bengali and we could listen to our language. Here, there was Bengali being spoken absolutely everywhere.
Kolkata was like Disneyland and my flying carpet was the Rajdhani Express. When we reached Howrah Station, it always blew my mind that the cars could roll right in till the platform; in Delhi, the car park was so far away.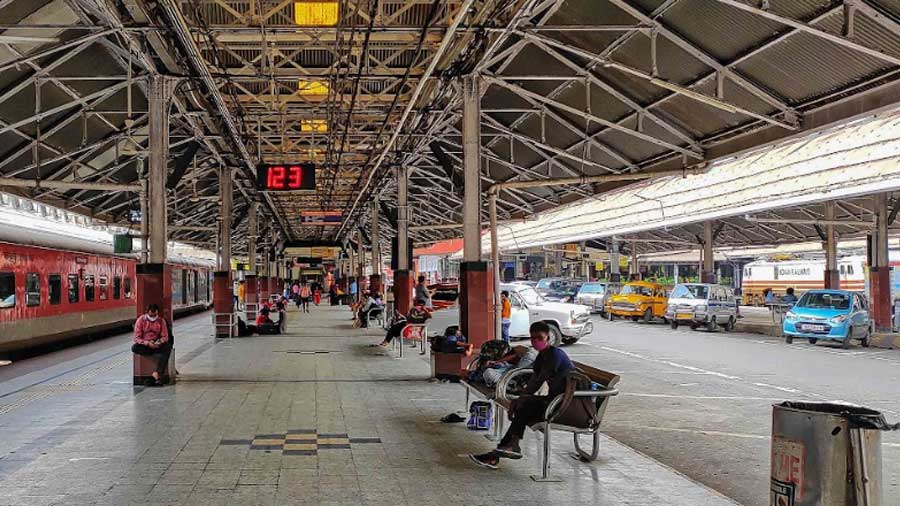 Howrah Station and its convenient car park
Amit Datta
And then there was the tram, which seemed to go slower than you walked. You could hop on and hop off as many times as you liked. I remember the thrill of crossing those tracks and watching the sparks ricochet off the metal!
In Kolkata, I was like a child in a candy shop. The flower markets were mesmerising… I had never seen so many flowers in my life, and my aunt sent for Rajanigandha sticks every evening.
Later, when I was older, I discovered College Street, where people sold books because they loved books and people bought books because they loved books. There was absolutely no middle ground. And you could read a book in the shop and not buy it; no one ever said anything. I remember returning to College Street as an adult, my mother's advice to strike a hard bargain at the back of my mind. I remember the man in the shop I entered – an elderly, bespectacled gentleman who clearly loved the place he was working in. He didn't haggle with me, even though I kept slashing everything to half price. I kept stacking up the books, but when I dug out Hitler's Letters and Notes and did the same, he took the book from me, removed my stack and snapped at me to go away because I clearly didn't understand books. I stood there flummoxed as he launched into a sermon about the value of the book I was trying to haggle down to half-price, as though it was just another bestseller. I realised then that College Street is not about the books; it's about the people who sell those books.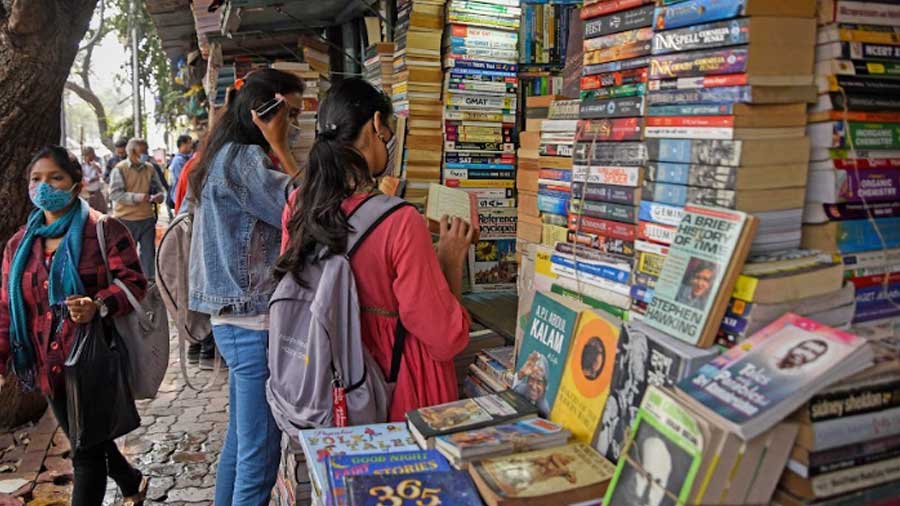 Boi Para, College Street
Amit Datta
When I was 12, I woke up to a bandh on the day we were booked on the train back to Delhi. It was a quintessential Kolkata bandh – called on short notice and causing mayhem. We joined the swelling crowd at the bus stop but no buses appeared; it was clear we were going to miss the train. Then a minibus rolled up with the conductor hollering that the bus will have to turn back. When my mum protested that we have a train to board in an hour, the conductor actually paused, asking for our bags, recalibrated the route, and then announced that the bus would be making exactly three stops on the way. "They are our guests and we have to get them to their train," he explained to the clamouring hoards all waiting to board the bus. And we did in fact make the train. What a world this was!
Return to Wonderland
Later, in my adulthood, after many years of working in advertising, I found myself reaching the end of my tether with the corporate world. I quit out of the blue, with only one desire – I wanted to go back to Kolkata for a week. I wanted to travel by Rajdhani and relive some of the moments which had disappeared from my life.
I never take this city for granted. I've been bowled over and humbled by the love and affection I've received from this city. Right from day one.
It was Aniruddha Roy Chowdhury who brought me into Bengali movies with Antaheen. When I met him, I had already done Parineeta and Lage Raho Munnabhai. I was wary of doing a Bengali film because I knew that the Kolkata audience is the most ruthless. They really know their music. Every senior artiste and musician had told me that. Aniruddha came to me with a Hindi film, he went ahead and booked the studio even though there was no script, then decided he wanted to make a Bengali movie instead! I would later come to recognise this as exactly the sort of thing he often does! But at that moment, all I had was a studio waiting to record a song I didn't have. And so I turned a Hindi song I was working on into what became Jao pakhi bolo. Antaheen marked the beginning of a new chapter in my friendship with Kolkata. And when Manna Dey himself – a god to Kolkata music-lovers – praised my work, that was more than half the battle won.
This Antaheen-led association also opened up a whole culinary world for me. The best food I've eaten has been in Aniruddha-Indrani's house. In fact, the best food in Kolkata is made in people's homes, which is why I am guilty of not going out to eat as much anymore. When I'm shooting for Sa Re Ga Ma Pa Bangla, I eat what the crew eats, because they eat the best, most authentic kind of food. When working in Kolkata, it's part of the routine to have elaborate discussions on meals. The first person to be summoned in the morning is the cook, for a debate on the menu which is carried out with an earnestness and attention to detail which makes us all salivate. After that's settled, the day begins.
Where people follow their dreams
Kolkata is a city where people follow their dreams, it is not about money. It has inspired many of the projects I do, primarily because of what this city stands for. My aunt called me after the release of Parineeta and asked me where I had learnt "to do this"! A compliment from people I've grown up with in Kolkata always makes me emotional. Everything I knew I had learnt from them. We're from a musical family in Benaras and when I was visiting Kolkata, my aunts would play music and gather around to sing in the evenings. I knew it was not a trivial pursuit. The arts are taken seriously in Kolkata. Most artistes will pause before performing here, for you can be king of the world but in Kolkata you still have to prove yourself.
When the dust settles…
Once when I was in Kolkata for Sa Re Ga Ma Pa, a little boy on the show picked up my iPhone and stared at it in wonder. He didn't know it was a smartphone, which was puzzling for me. Later I discovered that his father made a living by stitching suitcases at Sealdah station, but he had managed to assign a "gaaner master" for his son even if that meant settling for one meal a day. It was incredibly eye-opening in this era, where YouTube is the most sought-after teacher. That's Kolkata for you. The episode took me back to my childhood immediately, answering a question which had occurred to me then. My ears had always been alert to the sounds of Kolkata, and etched deep in my mind was the sound of a beggar playing a violin – Phoole phoole dhole dhole. I had not come across another beggar who could play a violin, and I couldn't help but wonder why he needed to beg if he could play music. Now I understand.
It's been proven that Kolkata has a mind of its own. It's a highly intelligent audience here, able to grasp the nuances of art. Gulzar once told me how he was floored by a hotel staff, who wanted to know exactly why a word had been used in a particular line penned by the legend. This is Kolkata. After the dust has settled, the real Kolkata comes out, and that's when you can see what it's all about.
I will always defend Kolkata; this is the city which has made me who I am.
(As told to Ramona Sen)
Video edited by Madhurai Banerjee