If you hear Polocorp or Polo & Pan tracks, the words 'melodic', 'playful' and 'happy' come to mind. The words were true for his recordings with the kids at Ek Tara foundation in Topsia, recently. French artiste and DJ, Paul Armand-Delille of Polocorp of Polo & Pan is currently on a mission to record as many sounds as he can from around the world, including in Kolkata, to use in his upcoming projects as well as archives. On Friday, November 17, he visited Ek Tara foundation to record the voices of the children from the school. Currently, he has returned from Sanktiniketan after recording with Baul musicians, collecting more data for his releases.
The idea of Polocorp coming to West Bengal was conceived four years ago when he met with Nicolas Facino, director, Alliance Franciase du Bengale, in Ukraine. Facino connected him to Meghdut Roy Chowdhury of Techno India Group, whose initiative Make Calcutta Relevant Again has been highlighting all that Kolkata and Bengal have to offer. Meghdut is currently the man who's making this project happen by connecting Polocorp to local and traditional musicians from the district. Speaking of locals, 8 Bit Culprit and Sambit C, both of whom are leading in their respective musical careers, are also involved in the project, working closely with the French artiste.
Currently on his honeymoon with DJ Ayca Armand-Delille, Polocorp has planned to take a six-month break and see the world, while also recording music and sounds for his upcoming projects.
My Kolkata spoke to the artiste during his Kolkata visit before the Santiniketan trip to chat about his music, his travels, and much more. Edited excerpts follow
My Kolkata: How was the experience working, and dancing, with Ek Tara students?
Polocorp: It was amazing! When I arrived I didn't really know what it was going to be. This was kind of a semi-public event with so many people and teachers. I came directly to the school, discovering the neighbourhood and the community, so it was a big experience for me and I love the way we got some great music recorded and we had a great party to finish off. I was getting emotional seeing all the kids there. That was a lot for me. Kolkata is really bringing the energy on.
Coming to their talent, you worked with them for a few hours today. What do you think about their skills when it comes to music?
I was impressed and I was happy because, with kids, I don't like to push them in the studio. They give what they can give. However, we have potential songs from all the three groups of kids here today. I was very impressed by the Kids on The Rocks (a musical group from Techno India School). They were on a professional level. The five-year-old's group was spot on as well. They knew their songs really well and with the other group, we had a little difficulty because they were used to playing with background music. So we invented a little thing on the spot that I'm going to be able to use to make a song. But every group was very nice, with great faces and great energy, and it was a pleasure to record with them.
We were told that you are on your honeymoon. So was this the plan?
I never thought I would have a honeymoon in Kolkata and meet so many children. The plan was to take a six-month break and travel with Ayca, who wants to see the world. We wanted to get out of Paris and see other things, and I've been working for 10 years with Polo & Pan so I planned this two years ago. I told Alex (Alexandre Grynszpan aka Pan), "Let's take a break. It's good for us also creatively. Take a bit of space and come back with new creative energies."
On this trip, I planned a few moments that are residencies focused towards work but we have other moments that are a little more honeymoon-y. Ayca loved it! She really enjoyed meeting the kids. She was a little scared after first arriving in India and it was hard because of the intensity of the energy here. But after two days she's loving it and embracing the experience. So, it's a great trip for us.
You're also going to Santiniketan. Could you tell us a bit about how you will be spending time there recording with Baul musicians?
I really don't control much about what's going to happen while recording so I don't really know the programme. I'm trusting Meghdut (Roy Chowdhury), who has been amazing in organising this residency. He has a beautiful team around who are helping us and he's sent me a lot of music and information from before so I've seen and heard a lot of cool things! I'm not sure in what order we're going to be meeting these people but I know that the Bengali music culture in general is very interesting, very rich. And this is the city to go to if you want to record Bengali music. So I trust we're going to meet the right people.
How did that friendship brew between you and Meghdut?
I met Nicolas (Facino) in Ukraine four years ago, by chance. I was DJing back when we could go to Ukraine and I had the chance to discover this amazing country where they have fun people. Nico then told me that he was going to be in charge of cultural projects in Bengal soon and he wanted to take me. So we stayed in touch for the past three years and finally, we managed to organise this and he put me in touch with Meghdut. He told me he was going to be my chaperone. He's a very important cultural person here in Kolkata and I can see he's very generous with those activities. He's the perfect partner to be here in Bengal who can help discover interesting artistes to work with.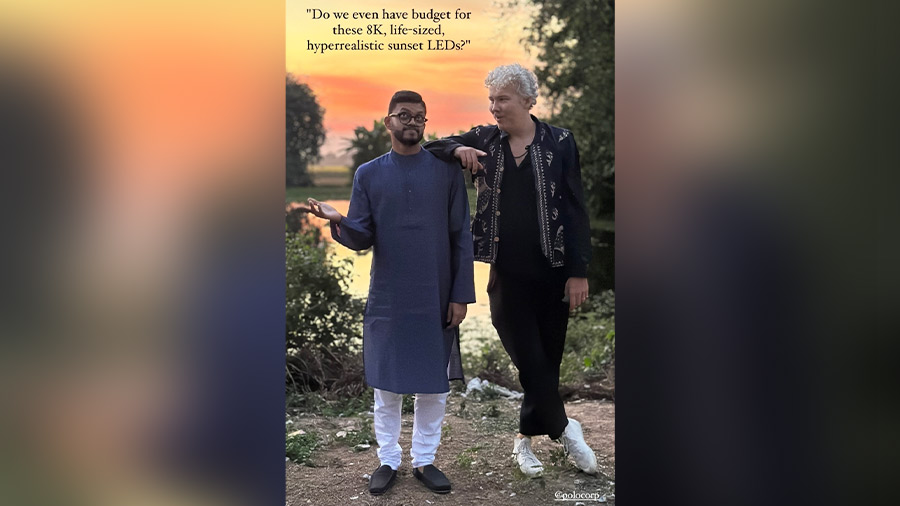 Meghdut Roy Chowdhury and Polocorp in Santiniketan
Instagram
Other than recording this album, what else are you working on?
We have a third album with Polo & Pan that's in the works. I also have some personal stuff with my project Polocorp. I'm here doing my work, recording and not trying to control anything. I'm not trying to do anything except have a good time with people. I'm a musician, I want to do music. I'm just doing my artisanship and we'll see how we use it afterwards. Of course, I'm not here with Alex, so I want to see if he likes the songs and how interested he is in working on these songs but I'm confident he'll love the kids' energy so I'm sure something interesting will come out of it. From what I have recorded today, there's going to be a small percentage of stuff I'm going to use for big songs and most of it will be for mixtapes for smaller things and for my archives.
You're collaborating with 8 Bit Culprit as well. So what do you think of his skills?
I like his music. We had the pleasure of meeting two days ago and we're going to go to the residency (in Santiniketan) and spend more time in the studio working on the songs together. I like what he produces and I'm looking forward to working with him and making more connections with the Kolkata scene.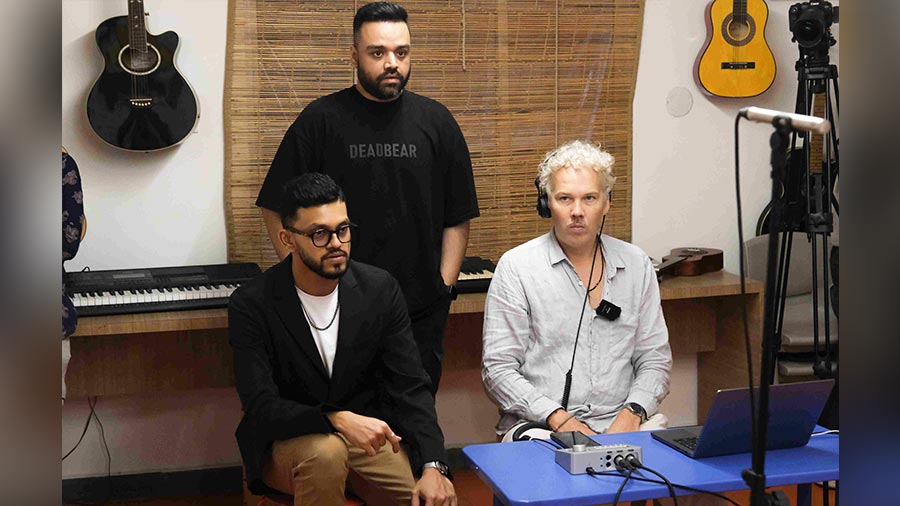 Meghdut Roy Chowdhury, (back row) 8-Bit Culprit and (right) Polocorp with their work mode on
What is your impression of the music scene here?
I have to be honest, I just arrived and I haven't had a real taste of any live music. But I arrived on the day of Kali Puja and there was a party — it was crazy everywhere in the city. That was a strong energy in Kolkata. The streets were intense with energy. I know a lot of the '60s and '70s music but I don't know the modern scene so well minus Faraz's music.