An unassuming gate. Cobbled driveway. A portico. A wide, marble staircase. Two flights later, a carpeted drawing room. And beyond that, a sunny morning room. Here sits Roma Bhagat, draped in pink, a strand of pearls around her neck — regal, charismatic and sharp as a pin.
Roma turned 90 last year. She's lived through the uncertainties of Independence and Covid-19, danced the foxtrot and seen K-pop become all the rage. And yet, the phenomenon that has marked the passage of time for her is that young people these days don't seem to want to get married. As we meander through the decades, she circles firmly back to the point. "But why, my dear?"
There are no socio-cultural, zeitgeist-ical arguments I can put forth which she's ready to buy. "Oh, don't worry about bringing up children. You're lucky we're in India and there are boy-baburchi-bearers to do that."
You know then that within these walls, under the high ceilings and in the crevices of the 100-year-old furniture, time has stood still.
Roma Bhagat has about her the guileless candour and innocence of someone who's been fortuitous. And for that she is, in fact, grateful. "The greatest joy of life is love. But the next greatest joy is gratitude. There is great joy in being able to say 'thank you'," she says, gently but firmly, as is her manner.
You might think you have everything figured out just because you follow #personalgrowth on Instagram, but beware of being caught off-guard by the simple philosophies of a nonagenarian.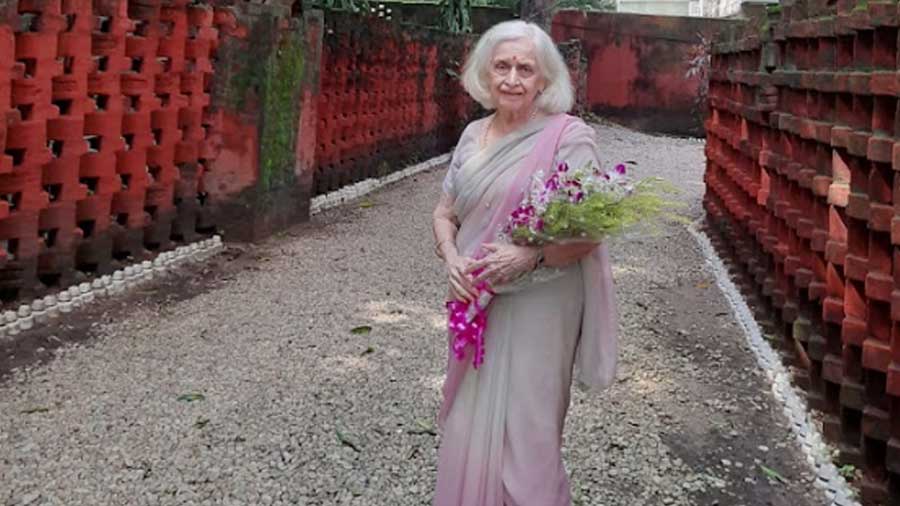 In the driveway of her house
A life of love, luck and gratitude
Roma Bhagat née Singh was born in August 1930. With her father posted in Madras with the MSM Railway company (Madras and Southern Mahratta), Roma was brought up by her grandparents in Calcutta, usually seeing her parents only for a few days during Christmas. When she turned five, she was taken to Loreto House, "where there was a section for the English girls and a section for the Indian girls".
Soon after, her grandfather, B.R. Singh (who has a hospital named after him in Kolkata, for being the First Agent of East Bengal Railways in the pre-Independence era) decided to spend his retirement in Mussoorie. Roma was enrolled as a day-boarder at Caineville House School for Girls while her grandparents moved into their usual rooms at The Savoy Hotel – suites 17 and 18. When she was 16, she took a flight for the very first time. She'd done well in her exams, even winning a scholarship to Cambridge, and the gift she demanded was a flight from Delhi to Bombay. "It was considered a daring thing to do those days. It was more about the idea of being in the sky, than the experience of it. The propellers were noisy. I think the person behind me was sick, so the smell made me sick and after that the whole line may have been sick. It was disgusting."
The next year, nestled in the misty mountains of Mussoorie in 1947, she was far removed from the devastation in Bengal which occurred in the aftermath of Independence. But she suffered a personal loss shortly after, with her grandparents passing away. She skipped Cambridge and left for a Swiss finishing school instead, where girls representing 49 nationalities were taught ballet, tap dancing, history of art and how to ski and swim. Roma wouldn't return to Calcutta until 1953, as Gopal Krishna Bhagat's young bride, moving into her current address on Rawdon Street.
Firpo's to The Slap and Tickle to The 300 Club
Roma remembers the stark segregation of popular social spots in the city during the 1950s. "There was Firpo's which was frequented by the British and some rich Indians. There was a long staircase which led into the main dining room where there was a small dance floor and a band at one end and at the corner of the main dining room sat Angelo Firpo himself," recalls Roma.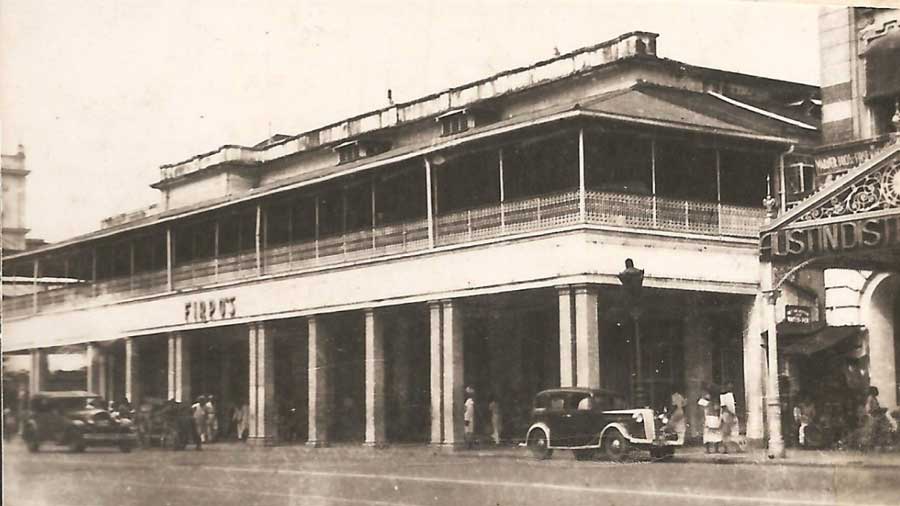 Firpo's opened in Calcutta in 1917
Frank B. Sykes, circa 1927
Then she chuckles. "Do you know what the junior English officers used to call The Saturday Club? 'The Slap and Tickle'. And I remember 'The 300 Club' too, where we danced under the Gulmohar tree. The most we'd have then is a wicked cocktail – a Manhattan. You do know the reputation of 'The 300 Club', don't you?"
I want to hear it from her, though.
"You know, you went in as one couple and came out as another."
She moves on to recalling the slow but deliberate crumbling of ethnic discrimination in Calcutta in the latter half of the decade. "Slowly, the clubs started to open up to Indians. The Tollygunge Club, for instance. The Bengalis had founded Calcutta Club, the Punjabis formed Punjab Club and RCGC was already open to Indians. I became the third Indian member at Calcutta Ladies Golf Club, which is now the oldest ladies golf club to exist. The upkeep of that little club is well done. They still have very good tea…."
In 1966, Roma happened to overhear her husband and the president of the Indian Chamber of Commerce, S.S. Kanoria, discussing the possibility of starting a ladies' wing. "I told them what it should be is a proper Ladies Study Group, and that's what we set up that year."
Her abiding memory of the 70s is a lot less sunny. She remembers her husband's cousin being shot by an unidentified Naxal boy in the Tollygunge Club. "He was a retired colonel, so they rushed him to the Army General Hospital but he was brought dead. His wife heard the gun go off while she was playing Bridge but they assumed it was a car malfunctioning."
The spirit of Calcutta has not changed
One quickly gauges that Roma learnt early on not to take life too seriously. "Just know that positivity always wins. Negativity cannot be the ruler." Having lost her husband in 2013, she remembers him with love, fondness and a certain wistfulness. "When we met, he asked me if I liked tomato soup," she says, thereafter referring to Gopal K. Bhagat as 'Tomato'. "I didn't pay any attention to him at first, although he thought he looked like Lawrence of Arabia!"
Now that her children have fled the roost, and her grandkids are scattered across the globe, what does she really like doing? For one, she can't do without her daily glass of frothy, creamy cold coffee from the Cafe Coffee Day near her house. She's also constantly keeping an eye out for a great roast chicken. Besides, she still enjoys going to Park Street. "Calcutta hasn't changed, and neither has Park Street. I'll say this… I've travelled to many places and I have never found anywhere where money is not important. This is the only place that I am aware of which really doesn't care about money, as long as you're a good person. Calcutta has generosity. I know many Calcuttans who went and settled in London and other places abroad and are now hankering to come back. Essentially, the spirit of Calcutta has not changed."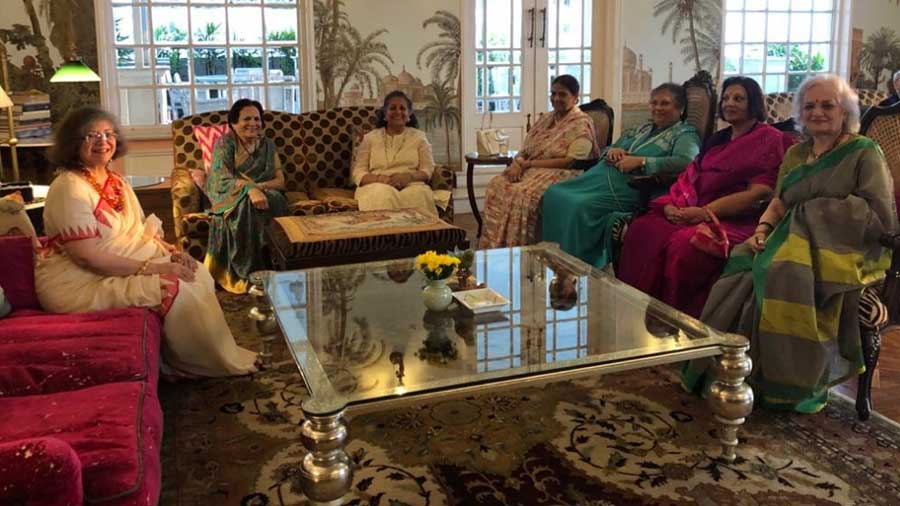 Roma's 90th birthday party at The Glenburn Penthouse
Roma celebrated her 90th birthday at The Glenburn Penthouse. She's brimming over with youthful enthusiasm, her hair coiffed firmly in a bob. Her toenails are painted a delightful shade of wine and she potters down two flights of the marble staircase barefoot. Though she moves staidly, she's quick with repartee. Even without her 'boy-baburchi-bearers' these days, she's just fine, entirely unfazed by nine decades. In a nutshell, Roma Bhagat is entirely chill. Even though she just can't wrap her coiffed head around why so many young people these days just don't want to get married.