A 15-year-old girl baked cakes and cookies with her mother to help raise Rs 35,000 for children and elderly women of East Midnapore struggling amid the Covid pandemic.
Class XI student Mannya Dhelia collaborated with an NGO because she wanted to help. For every donation that was made to the NGO, Mannya would send out a hamper of goodies that she baked.
"I had been reading and hearing stories about how the pandemic had intensified the hardship of some people. I am fortunate that I am getting the facilities I am used to, but not everyone is so privileged. I wanted to do my bit," said the student of La Martiniere for Girls.
The money has been used to buy stationery and meals for children who go to an ashram in Thakurnagar, about 40km from Tamluk, in East Midnapore, for remedial classes.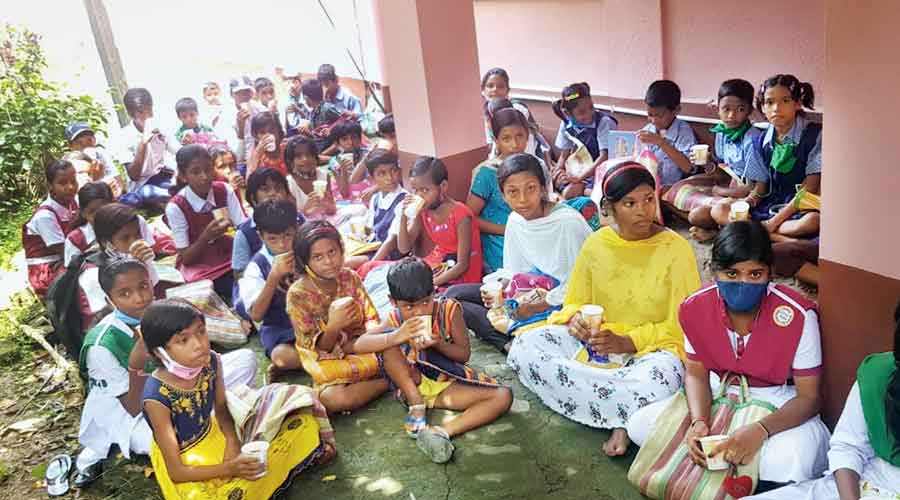 Children in Thakurnagar, East Midnapore, who received stationery from Pukaar
Telegraph photo
The elderly women, some of whom are infirm and unable to work, were provided ration.
Mannya collaborated with NGO Pukaar, which has been working in rural Bengal.
The NGO said this would go a long way in inspiring children in the city to do their bit.
"When students see their peers come forward, it leads to fission, and I am confident it would inspire many more students and also adults," said Swati Gautam, the managing trustee of Pukaar.
"It also shows that the young are aware of what is happening around them and are thinking of how they can contribute," she added.
When Mannya called Gautam, she only knew she wanted to help but not how.
With her mother, Mannya had started home-based baking last year. So, she decided to use her baking skills.
"Stationery seemed like a good idea because many of these children or their parents might not be able to buy these during the pandemic," Mannya said.