Shatbhi Basu mirrors a 50-year-old single malt — rare, robust and remarkable. 
She began her career as a mixologist at the tender age of 21, with nothing more than a manual gifted to her by her mother. "It's my reference book for everything. Every time I'm in a fix, I go back to that manual. It has some words of wisdom that are really strong," she smiles.
Over the years, Basu has donned many hats. She's one of India's leading mixologists. She has authored a snazzy guide to mocktails — Can't Go Wrong Book of Mocktails. She has been appointed as the American Whiskey Ambassador for India for a period of three years and recognised by the President of India and the Ministry of Women and Child Development as India's first woman bartender. And most recently, in what is perhaps her greatest honour so far, she was inducted into the Keepers of the Quaich — an exclusive and international society that recognises individuals that have shown outstanding commitment to Scotch whisky.
My Kolkata caught up with the merry mixologist at Kolkata's popular sky bar LMNOQ (whose cocktail menu Basu curated) on the honour of being inducted into the Keepers of the Quaich, her love for scotch and more…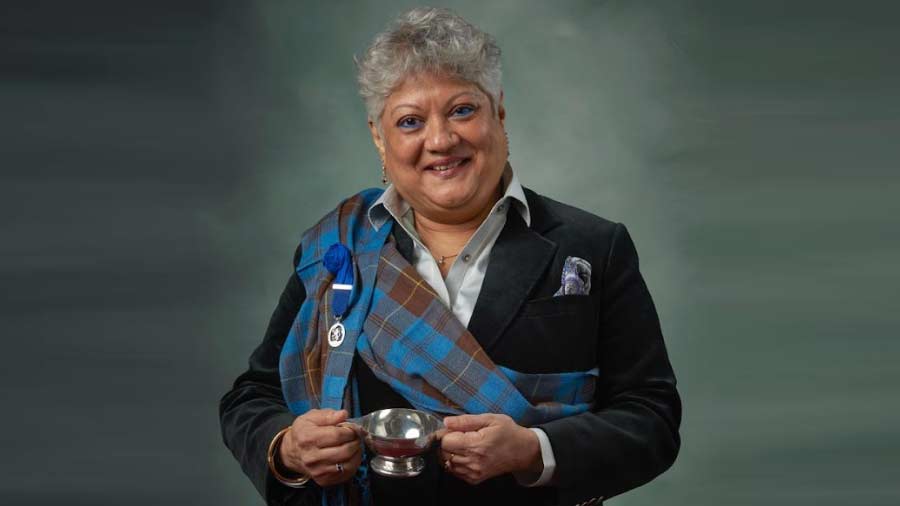 Basu's official portrait taken at the ceremony
My Kolkata: Congratulations on being inducted into the Keepers of the Quaich! Tell us about the experience…
Shatbhi Basu: Thank you! It was really a spectacular experience. When I first reached Blair Castle in Blair Atholl, Scotland, they introduced me and the other new members to the whole concept of Keepers of the Quaich. Diageo had attire set aside for the keepers along with a medal and the court of arms — tartan sashes for the women and kilts for men, which were pretty cool.
Blaire Castle is absolutely fantastic. It's really old and a stark white against the sky, so it's extremely beautiful! On the day of the ceremony, the Atholl Highlanders — the only legal private army in the whole of Europe — were present, and they performed a guard of honour as the keepers walked in. It was really a spectacular sight. In fact, it was pretty inspiring to see the army standing there at attention playing their bagpipes and welcoming us in. The Duke of Argyll, who is the 'Grandmaster', was there as well for the pledge.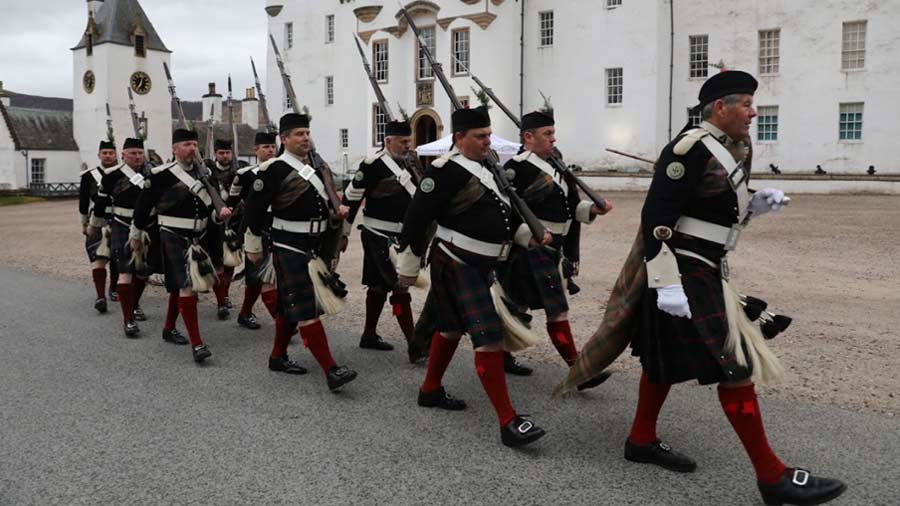 The Atholl Highlanders — the only legal private army in Europe
The evening ended in this massive banquet which saw lots of little speeches, stories and readings of poems by Robert Burns and of course, scotch. It was really a fantastic experience especially because I got to meet so many people who share the same passion for whisky.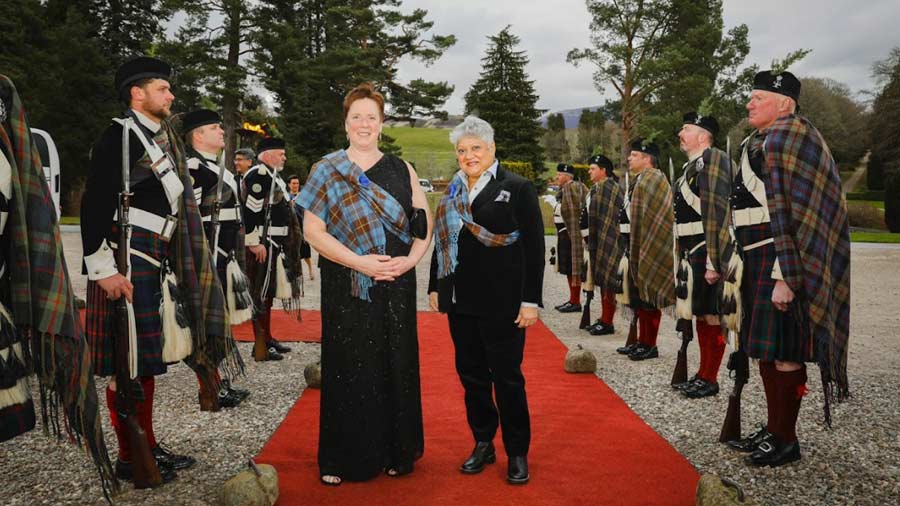 Basu with Jackie Robertson, the master distiller of Brora Distillery
The ceremony is known to be a very solemn affair. What was it like?
Yes, it was very ceremonial. The Atholl Highlanders welcomed the Keepers in and then they brought in this gigantic Quaich! Now the Quaich is actually a little silver receptacle with two handles — so seeing this one was quite shocking. This was the ceremonial receptacle that the Scottish use for all special ceremonies – whether it's a child being born, a wedding, or an anniversary. It's always brought in with bagpipes playing in the background and then placed in a special room. The new Keepers are then asked to put their hands on the Quaich as the Keeper, and the chairman of the Keepers of the Quaich, read out the allegiance pledge. Everyone then says, 'I do!' and drinks a little whisky.
My first thought was, 'Oh my God, I am now married for life!'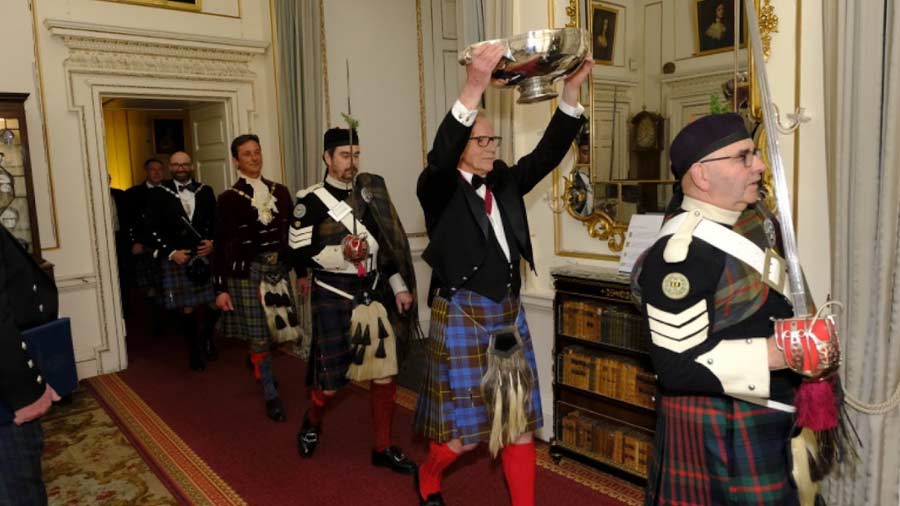 The Grand Quaich to which the Keepers pledge allegiance
'Scotch was one of those things that just happened to me. I went with it and fell in love'
Tell us a bit about your love affair with scotch…
It all began when I first learnt about whisky — I was in college at the time. But I was afraid of it then. I began learning about scotch from my father and a really good friend. I was extremely interested because so much goes into the making of a good whisky — it is not simple at all. So many factors influence the flavour of the whisky. It's really fascinating to see how small things like the environment, the weather and the wood would control how a whisky would taste in the end.
When I began my career, which was very early on, there was very little whisky or scotch in India. But as the market opened up and I began to travel a little bit, I was able to taste unique blends of scotch. I was very lucky because I had family who would come in from all over the world and bring lots of stuff for me to taste!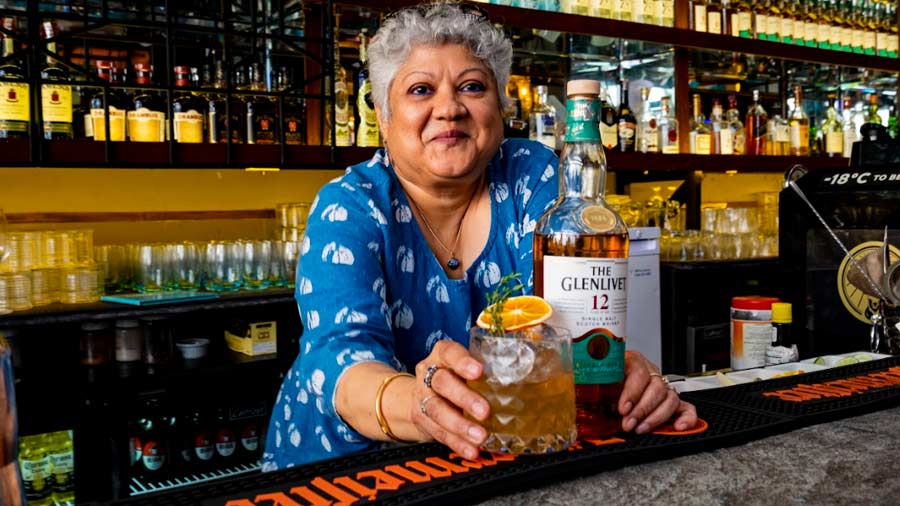 'I first learnt about whisky when I was in college – but I was afraid of it then,' says Basu
Then came the second part of my 'love affair', where I started writing about scotch. I realised that people wanted to know more about it, but there was no material that broke it down in simple terms. So I started writing a column on spirits in the Mid-Day newspaper. This writing translated into actual on-the-ground workshops — we did tastings, showings of the different single malts, how to turn malts into blends and so much more. I think scotch was one of those things that just happened to me. I kind of went with it and fell in love.
What is it about scotch that fascinates you?
It's very challenging! Each whisky is different. Each flavour is different. And therefore for the same cocktail recipe, if you use three different whiskies, the cocktail would actually taste different. If you're making a drink that's fresh and light, then you want to choose a whiskey that is also light. You don't want a whisky that's very strong, because it will destroy the lightness of the flavour. So, it's very important to understand flavours. It is very important to understand the whisky itself, because that will dictate how your cocktail will taste.
For example, a Whiskey Sour with a Glenlivet, which is a gentle, fruity whisky, but still very full-bodied, will taste completely different from one made with an Ardbeg or Caol Ila because these blends would give the cocktail a certain smokiness. On the other hand, if you add bourbon, the cocktail will be very edgy and again, completely different. Being able to create such a wide range of drinks is what fascinates me!
'I absolutely adore creating whiskey sours'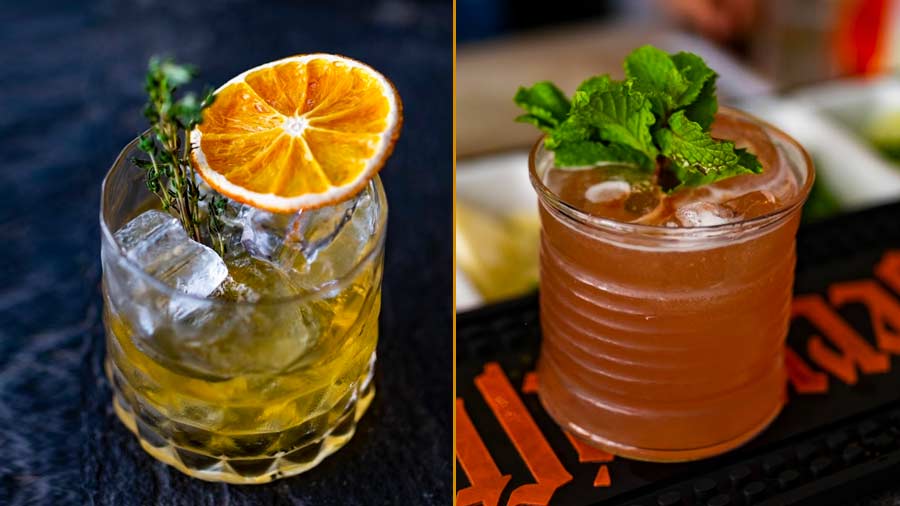 A Pomegranate Whiskey Sour and a Marmalade & Thyme Old Fashioned by Basu
What are your favourite scotch-based cocktails?
There are so many! I like long drinks a lot. It could be whisky and ginger ale, a whisky and lemonade or a whisky and apple juice. Then there are the slightly deeper whiskies that I love. I absolutely adore creating whisky sours of different kinds and different flavour profiles. I make one cocktail that is a whisky with a hint of coffee liquor — that's really fantastic. I even make an Espresso Martini at LMNOQ that is great.
There are five types of whiskey sours that I love. In fact, I'm adding some of them to LMNOQ's summer menu which will launch soon! There's a passionfruit and rosemary whisky sour, a pomegranate whisky sour and an orange and ginger whisky sour. The good ol' Penicillin, which I love to call the 'Smokey Penny', will also be added to the menu. It's a gingery whiskey sour made with lime, ginger, and sugar and a real smoky whisky like Caol Ila or Lagavulin or Paul John. When you sip on a 'Smokey Penny', you get that smokiness right on the nose and then the smokiness is caught by the freshness of the lime and ginger in the whiskey sour. So yes, that's a really cool cocktail.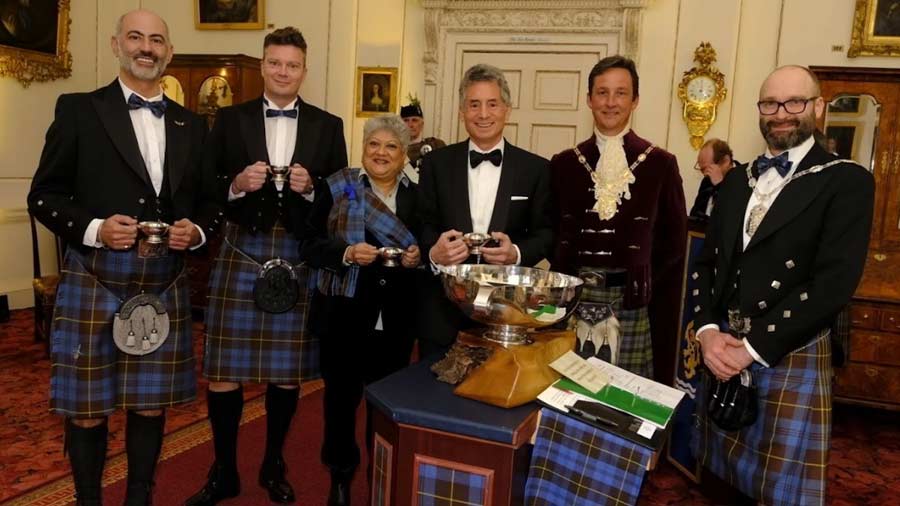 The new Keepers with Grandmaster The Duke of Argyll (far left), and the chairperson Ian Smith (far right)
'Do not drink things like whisky and water or whisky and soda at 21'
How does a newbie acquire a palate for scotch?
Always experiment in the company of people who know their whisky! This way, when you're ready to buy a bottle or order a drink at a restaurant, you know what you will like. I would recommend starting with lighter whiskies. Don't try and compete. Don't do what other people do — this is very important. Find out for yourself what you like and what you don't. Remember that whisky is about acquiring a palate. Do not drink things like whisky and water or whisky and soda at 21 because you won't like the flavour.
I think having a nice cocktail like the long drinks I mentioned before should work well. Keep it simple — try a whisky and ginger ale or a whisky and lemonade. Whisky with apple juice is one of my favourites. I used to make a drink with Johnny red, I used to call it red on red. It was Johnny red and apple juice — a really fun drink. And it's very easy on the palate. If you'd like to add more layers to it, add in a stick of cinnamon.
How does Shatbhi Basu pour it out?
I like to pour it out, add one cube of ice and wait for it to melt so my scotch becomes nice and cool and then I sip on it. I love gathering a group of friends in a quiet place and just sipping away on a good scotch.