She loves her cappuccino and is as warm and fuss-free as the comfort beverage. Rafiath Rashid Mithila — 'Actor, development worker & a mother', as her Instagram bio says. We have put Mithila in five looks for a Puja shoot, all in sharp contrast to her usual style. And, she rocks them all. Not a brand person, Mithila wears what she likes and has one mantra in life. Live a "simple" life shorn on pretence. A t2 chat.
How do you dress up for Pujas?
Any festive look would mean a sari... Jamdani. That is my fashion statement. Ota Srijit (Mukherji, her husband and film-maker) o jaane... that I'll buy one Jamdani. I wear a lot of Aarong. I believe in simple living and don't buy more than I need.
Should we ask how many Jamdanis you own? 
Countless! And, in many different colours. Now I am exploring the many different shades of the same colour.
What kind of trends do you see in Bangladesh?
There is a lot of global influence. Sometimes, it comes from India, Bollywood. A lot of looks from serials become popular and people sport it during festivals like Id. We also look at Hollywood and all kinds of brands. It is a nice mix.
Have you ever been in Calcutta just to shop, say at New Market?
I have never been to New Market and I never came to India before 2018. It was for work and then I when I met Srijit in 2019, I started coming (regularly). My sister and mother, however, have been to Calcutta just for shopping. Clothes are less expensive here and the kinds of designs and patterns... Calcutta has unique prints from what we have in Bangladesh. We love that. Even though I never came, I loved gifts from Calcutta (laughs). The local handicrafts of Santiniketan are also popular. My cousin Arnob (Bangladeshi singer) studied there. So, there would be gifts from there too. Bangladeshis love the fabrics available in Calcutta. The kurtis are popular. That's one request I get a lot when I am in Calcutta, be it from Westside, South City Mall or say dupattas from Dakshinapan. Since South City Mall is closest to my house, I end up going there most. I am not a shopaholic and I know what specific things I need to pick up.
Does your daughter have preferences now?
She'll wear what I'll give her, but aajkal ektu fashion shikheche, like halter necks and short skirts.
You are such a happy person! And Pujas mean happiness. So, what is happiness for you?
I try to stay happy and make people happy. I try not to judge people and focus on my work, meet new people and explore new cultures, talk about thoughts and ideas, music, books, philosophies. As an international development worker, I have been to war-torn countries like South Sudan. The socio-economic group I work with... the most marginalised... I feel blessed as a person and I only wish good for people.
I am a mother and the happiest time is when you see your child happy. I want to see happiness in this world and wish peace and happiness to everyone this Puja.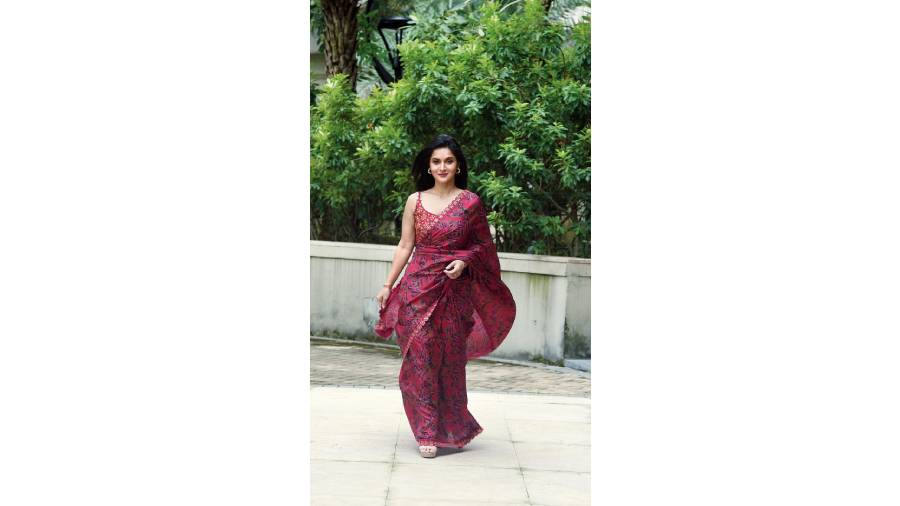 Mithila looks pretty in this simple and elegant sari (available at Bombaim; 8, Dr Sarat Banerjee Road). "This sari is a completely different material that I usually don't wear, but it is very comfortable and I like the design of the blouse. I like to explore different designs for blouses nowadays," she smiles.
"We start with a sari. For this look, we have her in her comfort zone," says Ankita. Abhijit gives her a fresh look. Well-defined eyebrows + mascara + pink-brown lips + blow-dried hair. Though the wind has other plans, we just about manage to get a shot!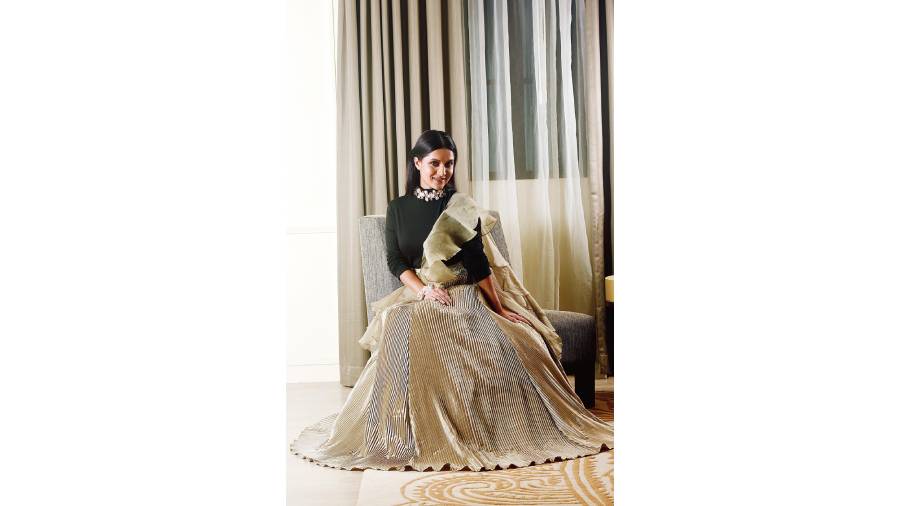 The strong look is great for an evening, feels Ankita. "The high-neck crop top, the metallic skirt and ruffle dupatta (both available at The Hanger, 222 AJC Bose Road) with the bold choker is royal and a nice style statement where you want to leave a mark," says Ankita. Mithila says she is "most comfortable wearing this". "I wear high-neck tops in winters and long skirts too... but I looked very different with a different kind of eye make-up and hair," she says. The centre-parted hair and metallic shadows, plus, the liner spell drama. The lips are kept creamy nude.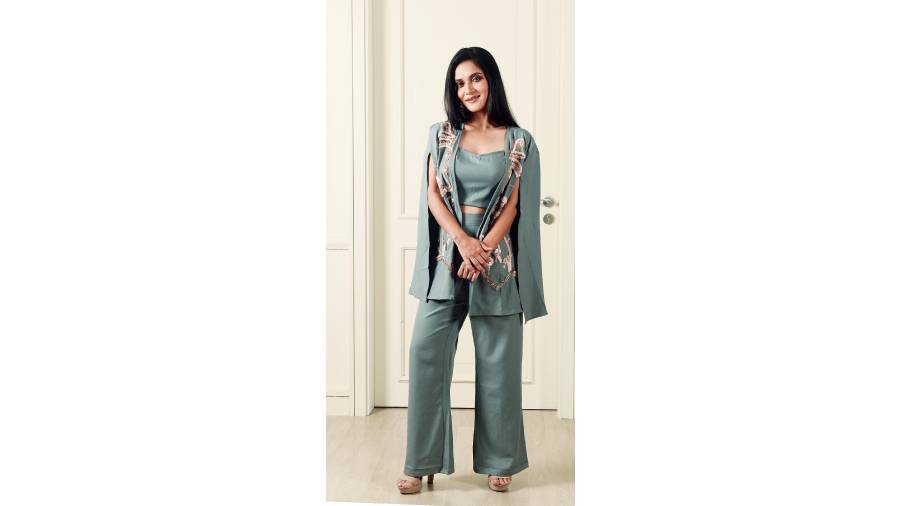 Mithila loves pastels and Ankita feels the cape jacket with trousers and bustier (available at The Hanger) is a great sundowner outfit. The fresh look complements the pastels beautifully.
This floral midi skirt with a crop top (available at Citrine — The Multi Designer Store, 70A Shakespeare Sarani) is unlike anything Mithila has worn before. "I have given her a statement bag from Outhouse," says Ankita as Abhijit gives her a casual tie-up. "I don't think I have worn this style anywhere... very different. Edgy," says the actress.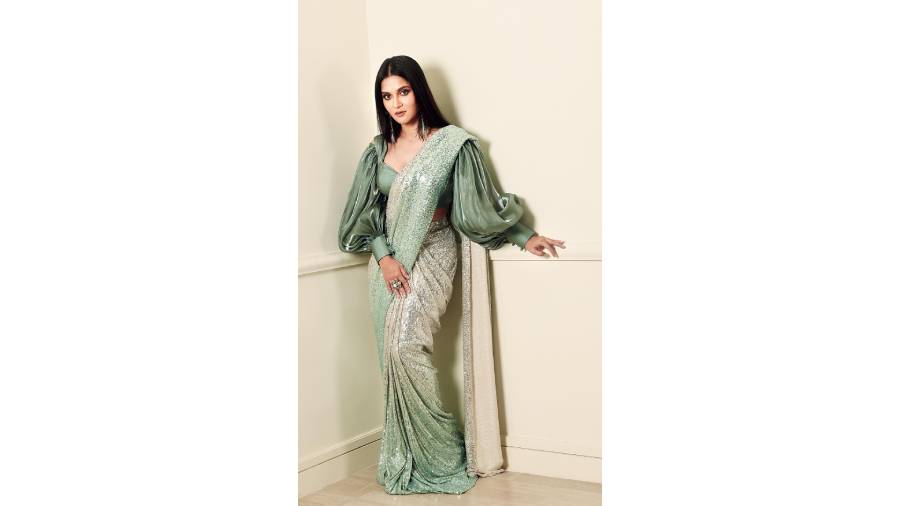 For Mithila, the best part is that the sari is pre-stitched. "Bling is new for me, but I love it. The blouse is also very different," she says. Ankita feels this look defines oomph. "The metallic sari with bell sleeves (available at Citrine — The Multi Designer Store) in that iridescent fabric is the absolute favourite glam look I have for Mithila," she says. The eyes add to the charm. Brown smokey + black smudged. The mouth is soft.
Pictures: Rashbehari Das
Styling: Ankita Banerjee
Hair and make-up: Abhijit Chanda
Jewellery: Outhouse
Location courtesy: ITC Royal Bengal